Blackboard Collaborate Ultra FAQs
How do my students access a Collaborate Ultra session?
Go to Collaborate in your course. Select the session name and select the join option. To get the best experience please use a Chrome web browser.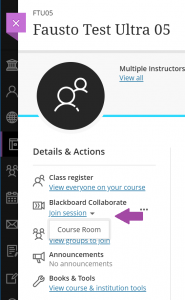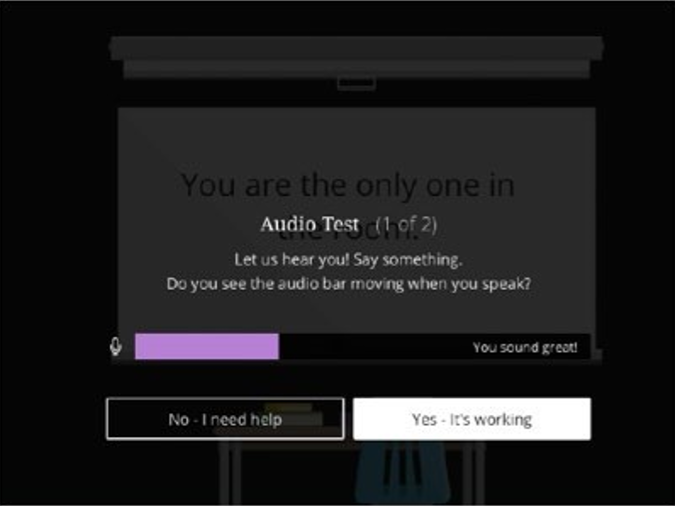 You must give the browser permission to use audio and video to participate in a session. This is necessary so that you are seen and heard.
You'll be asked to do this when you first join a session or when you first go to share your audio or video.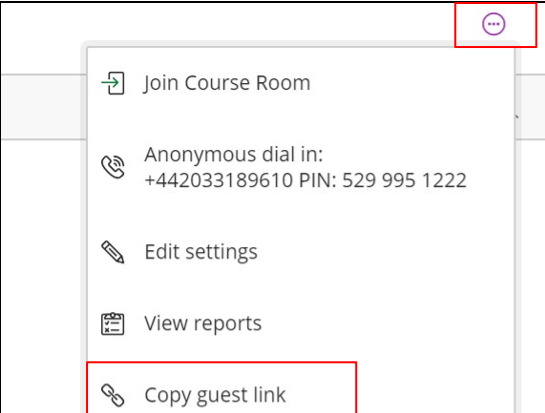 Blackboard Collaborate Ultra is found under 'Course Tools' on your module.
From the Sessions list, select Create Session and fill in the details. 
Once you have created your session click on the Session Menu (the three dots) and click on 'Copy guest link'.
Send the link to the lecturer.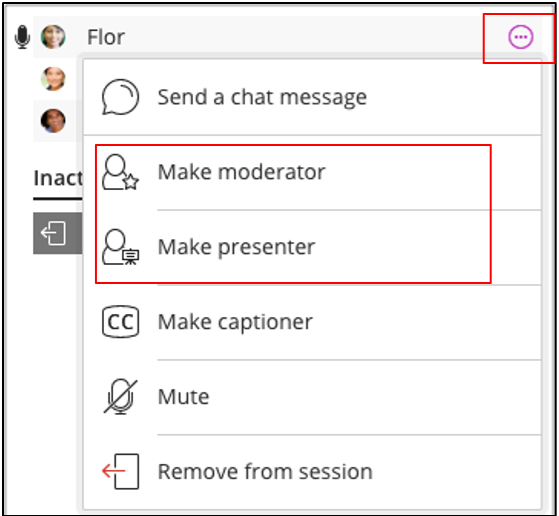 Once the lecturer has joined the session, find the lecturer in the Attendees panel and click on Attendee controls (the three dots next to their name). Select 'Make
Moderator' or 'Make Presenter'
For more information on Promoting attendees please see Blackboard's Promote attendees webpage
At any time during a Collaborate session, open the Session Menu by clicking on the icon at the top left of the Collaborate environment.

Then click on Start Recording in the session menu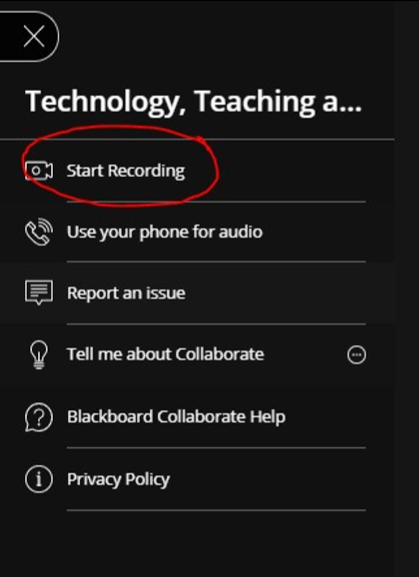 When I try to join a Collaborate session all I see is spinning purple circle in the middle of my screen. What can I do?
If you have tried to open a Collaborate Ultra session and only seeing a purple spinning wheel, please follow the below steps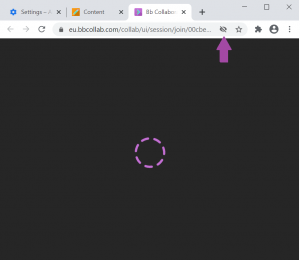 Cause: 3rd party cookies have been disabled or/and Blackboard sites blocked in cookies. This will be shown with a cross eye mark as shown in picture.
Resolution: Enable 3rd party
cookies and remove any blocked sites
Google Chrome Instructions Method 1
Click on cross eye icon in the browser. A popup window will open . Click on Site not working?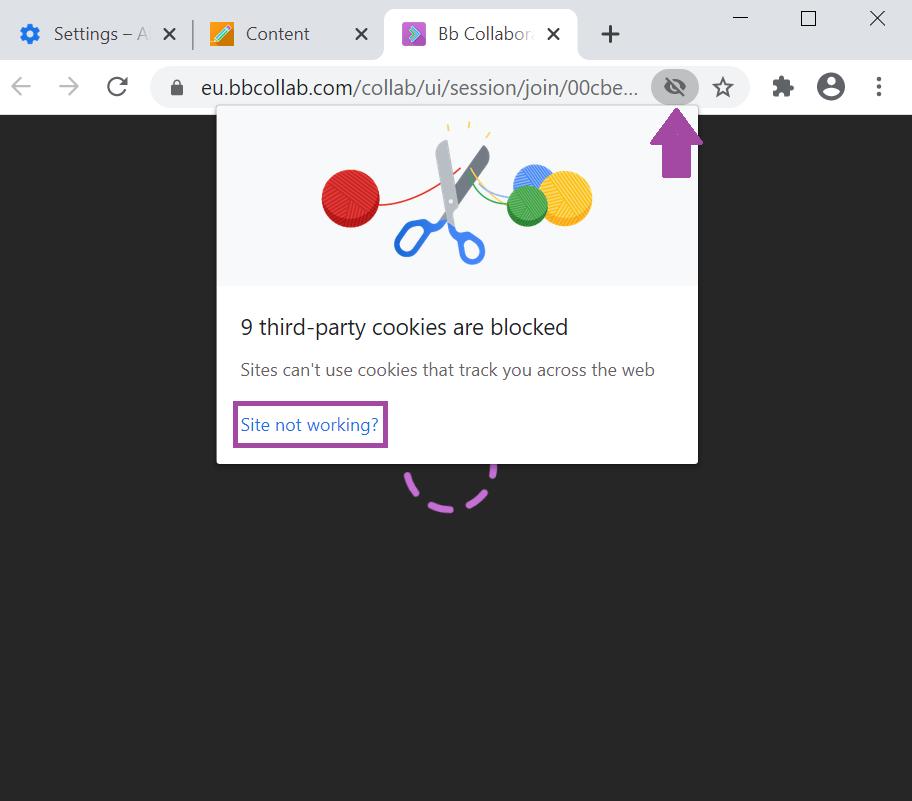 Then select Show cookies and other side data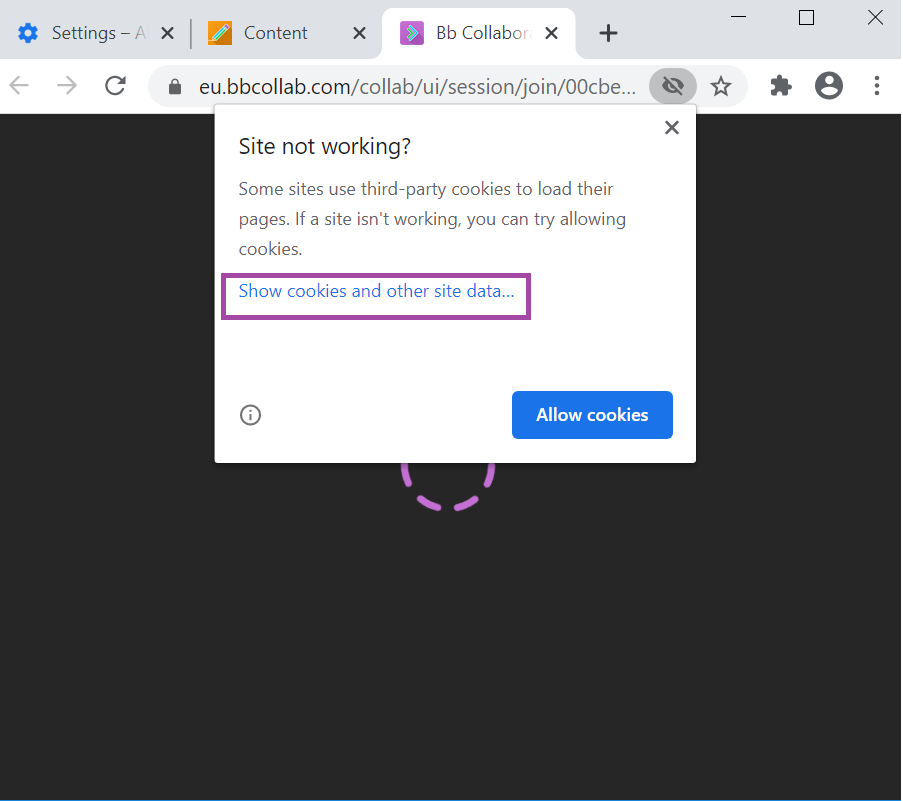 Another popup window will open. Follow the following steps:
1. Select Blocked from top as shown in picture below.
2. Select eu.bbcollab.com 
3. Select Allow from bottom
4. Press the Done button.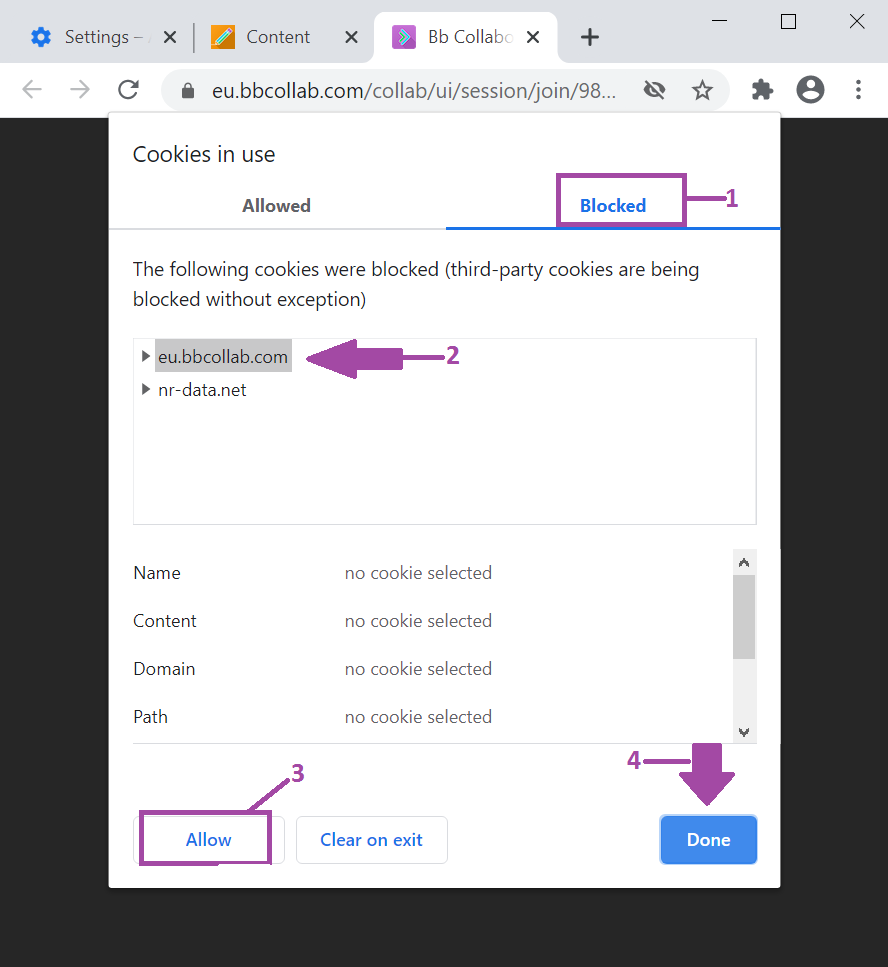 Browser will ask for reload. You should be pressing the Reload button.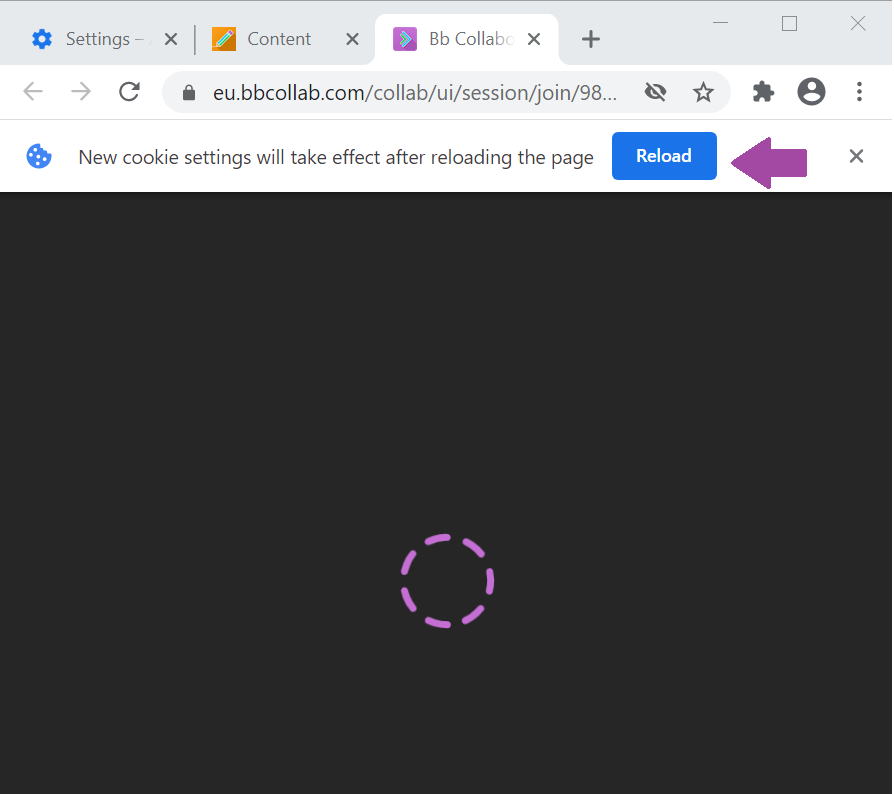 Google Chrome Instructions Method 2
Click on three dots on top right of browser and select Settings.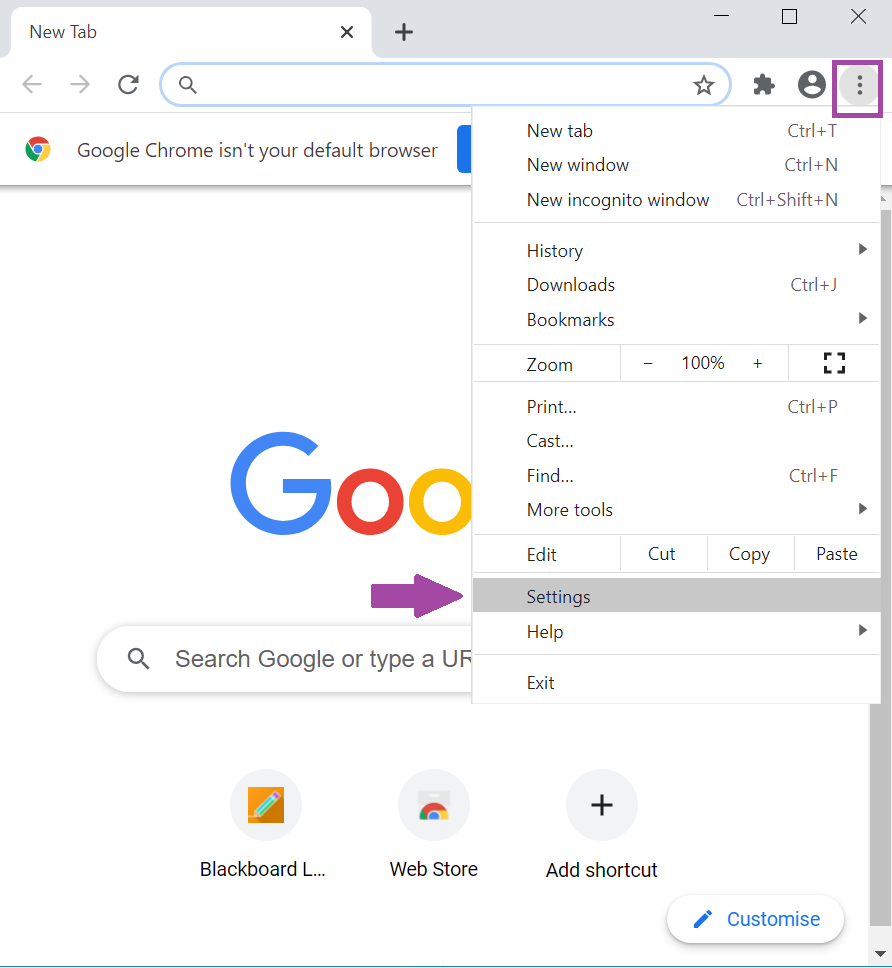 On top left side of the browser window select the the three horizontal lines to open left menu and select Privacy and security.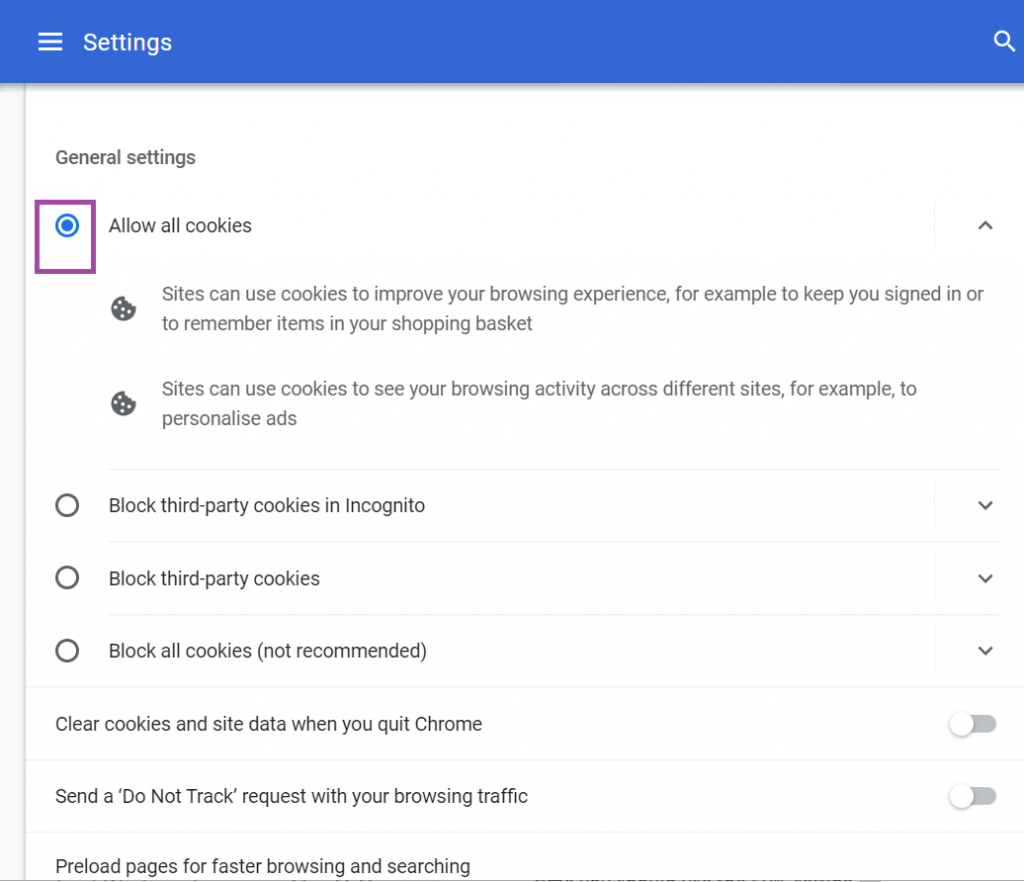 In your browser go to 
Settings

Privacy & Security,

Cookies and Site settings
Turn off Block third-party cookies Remove any Blocked websites which relate to or Blackboard
Your page should look like the picture opposite. 
Once these settings have been changed, navigate back to your Collaborate session and refresh your page.  Collaborate Ultra should now load.
University of Westminster 309 Regent Street, London W1B 2UW General enquiries: +44 (0)20 7911 5000 Course enquiries: +44 (0)20 7915 5511 The University of Westminster is a charity and a company limited by guarantee. Registration number: 977818 England