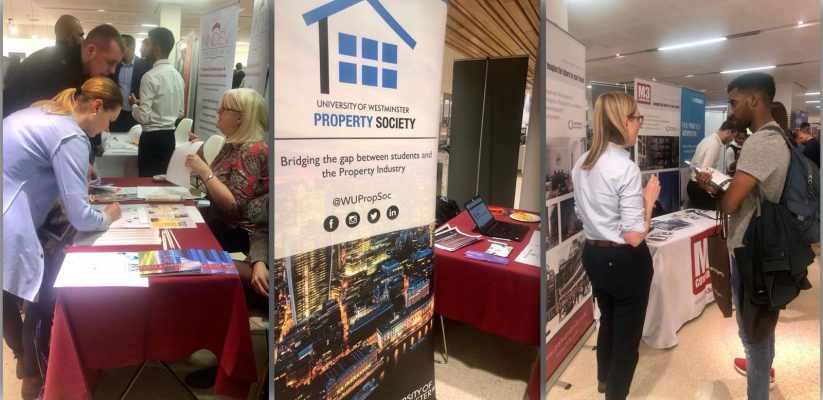 Property and Construction Fair 2018
Last Thursday 11th of October 2018, the Marylebone Campus hosted the Property and Construction Fair, an opportunity for current students to explore their career options within the industry.
The event started off at 5 pm with a presentation, followed by the opening of the fair. The fair took place in the campus' learning platform, a great location for events like this as it allows students to pop in and out to check out the stands in between classes and presentations. Various companies were present on the day, including Lambert Smith Hampton, a leading UK consultancy firm focused on commercial property and real estate; but also Designer Group, Cushman & Wakefield, Mace Group, Colliers International, Knight Frank as well as the University of Westminster Property Society.
The fair was organised by the Careers and Employability Services (CES), a team that specialises in supporting students to achieve their career goals. CES also had a stand at the event for the purpose of answering any questions that students might have had with regards to choosing the right career path, but also to promote a brand new project – the Westminster Employability Award.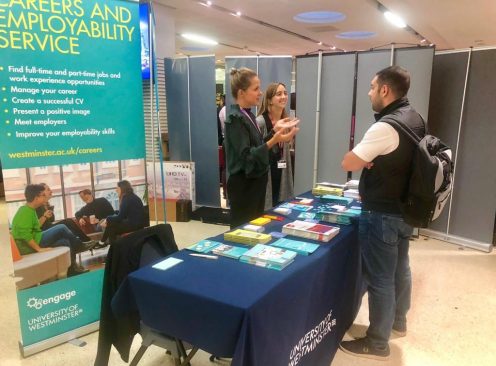 Altogether, this was yet another successful event, where our students had the chance to better comprehend their career options within the Property and Construction industry and to make a great first impression in front of their potential future employers.
Find out more about any upcoming employability events similar to this one here!
We are so excited that over 40 companies attended our Property and Construction Fair this year! We are keen to highlight a little known fact: that even though these companies operate within the construction industry, there are actually all kinds of roles (such as finance, business, managerial) within these organisations also. You don't have to be studying a construction subject to pop along to the fairs – in fact, we'd encourage you to be open-minded to find out about a range of employers from all kinds of industries! The next fair is the Westminster Business Career Fair, taking place tomorrow, the 17th of October, in Marylebone campus, 1:30 – 3:30 pm. For more information and to book, please visit Engage!
A very special thank you to Nicole Pramotton for taking the time to write this wonderful blog; Nicole is a final year BA International Business with Chinese student, who also completed a work placement within the Marketing Department at Westminster Business School. Nicole, we hope you enjoyed the fair and found it useful! 
Passionate about Student Engagement, Data Management and content creation
Latest posts by Anna Dolidze (see all)