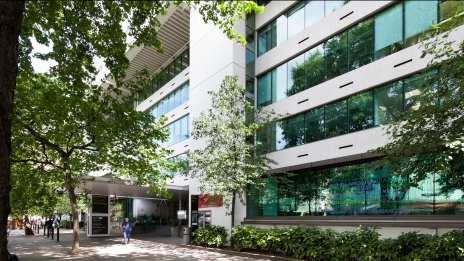 Yesterday, Wednesday, 17th of October 2018, we hosted the Westminster Business Career Fair at Marylebone campus. It provided an opportunity for current students to network with employers, get some first-hand advice and explore their career options within their field of interest.
The fair took place on the learning platform and started at 1:30 pm (though we had many eager employers setting up even earlier and already chatting to some engaged students!). Simultaneously, an Advice Clinic ran in MG28, where our consultants and some company delegates (e.g. from ICSA, Goliath Advisory and Xinlung Group) happily provided guidance (e.g. on CVs, what skills the industry is looking for, interview tips) to students on a first-come, first-served basis.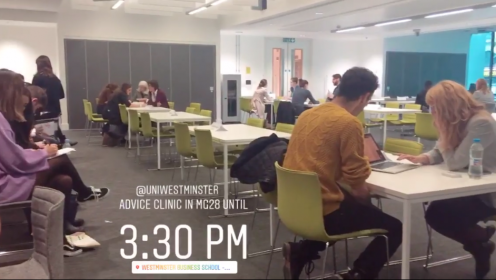 More than 20 employers came on campus to promote the opportunities that they offer and really help students get a better understanding of their career options. Examples of the companies that attended included Bank of England, Civil Service Fast Stream, CRCC Asia, HM Revenue and Customs, New Look, Rate my placement.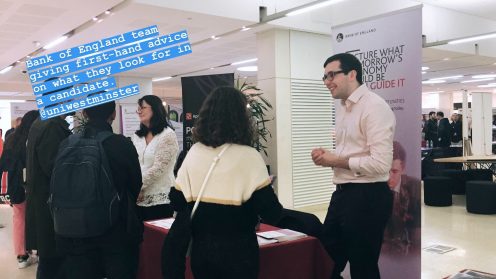 We also had our Careers & Employability Service stand and really enjoyed talking to our students on the services we offer and giving advice!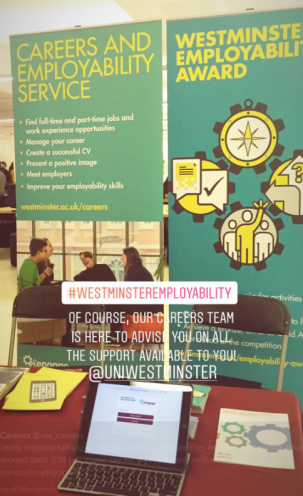 Some of our most popular topics of discussion included the Westminster Employability Award, which gives you the chance to boost your CV and become more attractive to potential employers; as well as upcoming events, online support and finding work. All of this is available on Engage – for future events, please access the 'Events' tab ; for any online support (e.g. CV checks, interview preparation), please go onto the 'Resources' tab; and all job opportunities can be found under the 'Opportunities' tab.
The Westminster Business Career Fair finished at 3:30 pm with many new connections made and pieces of practical, industry-specific advice given!
For upcoming events like this one, please check out what else we have prepared for you as part of our Employability Month.
Passionate about Student Engagement, Data Management and content creation
Latest posts by Anna Dolidze (see all)