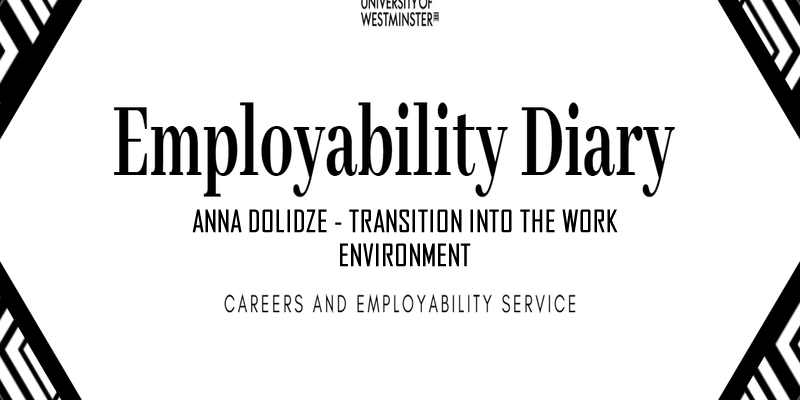 Transition into the work environment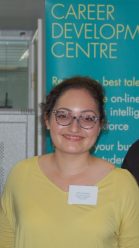 Welcome back to the second part of Anna's employability journey so far! Last week Anna shared her university experience and how the Careers and Employability Service helped her get experience and a part time job through Talent Bank. If you missed the first part, click here to read!
This second blog post will be focusing on Anna's transition into her work life!
Hi Anna, I just wanted to ask a few questions about your transition from a student at the University of Westminster to now working for the University of Westminster!  I think the University allowing students to work within their internal departments is great for students to get some good work experience and also good pay!
So how did you go from being a student working part time at the university to being a permanent member of staff?
So, during second year and final year, I worked part-time as the administrator of the university's school scheme, called Explore Teaching. This work experience showed me not only what I was good at, but also made me realise that I would absolutely love to stay and work for the university after graduation! So, naturally, closer to the end date of my part-time contract, I started to look for full-time positions available at the university and managed to become the Information and Communications Assistant at the CES Department.  
Congratulations on getting the role! How did you prepare for the interview, any personal tips?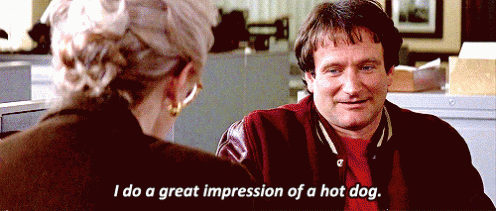 My personal tips for preparing for an interview are the following:
Do your research before going to the interview as you want to show the employer you know what you are signing up to and show why you chose them in the first place!
Have a list of your skills and experiences, of everything you've done basically. Then, before the interview, think about what points from this list you could use to impress the company you're now applying to! It really helps with structuring your answers as they are bound to ask you to give examples of specific skills you have or what makes you suitable for the job you're applying to at the interview;
During the interview, structure your answers using the STAR model (situation, task, action and result) as it gives clarity and coherence to your responses.
And last, but not least, choose a company / role that you really feel excited and passionate about and don't apply to a lot of random companies. Sometimes less is more!
 After being in the role for a few months now, do you enjoy your current job? What are the highlights?  Are there any lowlights?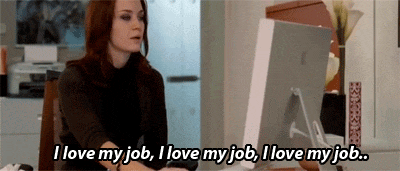 I do quite enjoy my current job mainly because of the following three reasons:
The variety. It is a very varied job and every day is different because we are often the first point of contact for both employers (e.g. wishing to advertise their vacancies) and students (e.g. trying to book a 1-to-1 appointment with one of our consultants);
Project work. I feel I can really grow and learn a lot on this job as I am given various projects to help with and, overall, I work with extremely supportive people in an environment, where ideas can develop into something great!
Marketing and Research. There are actually many aspects from Marketing (e.g. e.g. promoting our services on Twitter and Facebook) and Research (whenever I am working on my projects) to this job, which is great because I can use my degree (Business Management specialised in Marketing) and is also similar to one of my career options as a Market Researcher.
Honestly? I cannot think of any lowlights! Hopefully, none to come!
Anna it is lovely that you are really happy with your job and feel that you are growing professionally! Before you go, any last words of advice to current students at the University of Westminster?
My last words of advice would be simple – get involved in as many things as you can manage while being a student (e.g. project work, societies) and do try and balance your studies with some part-time work on the side (e.g. work as a student helper through Talent Bank for the University itself!). The more things that you do, the better your CV would look like and the more equipped you'd feel for the real world of work out there after graduation.  Also take into consideration to learn to balance your time and duties well.
If you are a student and you're not sure of the career path you would like to go down, that is completely okay! It is normal for your interests to change as you go through university, and bear in mind that a lot of roles can include a lot of skills from different degrees. For example, if you study Psychology, you do not always need to end up as a Psychologist!
The Careers and Employability Service do have a tremendous amount of resources available for students, from interview tips, CV writing help to posting amazing graduate and student part time opportunities on our website Engage.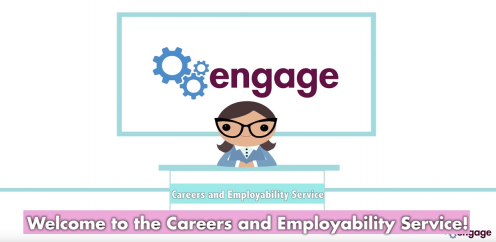 Be sure to look out for more stories from University of Westminster staff and students in the Employability Diary blog series: 'Most awkward interview question you've ever been asked', 'Best interview tips you've been given', 'Best interview attire' and many more!