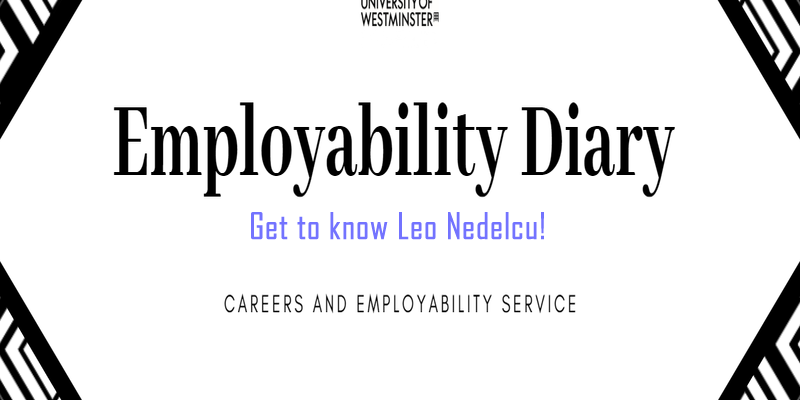 This week I had the honour interviewing the lovely and talented Leo Nedelcu. If you would like to catch up on the other Employability Diary blog posts, click here!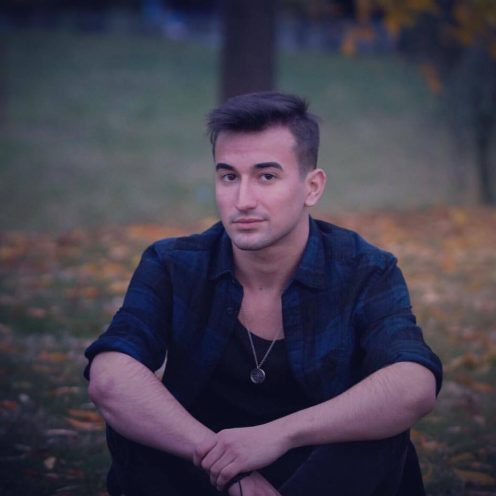 ➡️ Hi Leo, thank you so much for wanting to be a part of the ED blog! For all of our readers, do you mind telling us a bit about yourself?
Hi Nina. Thank you for having me. My name is Leo and I am the new Work Experience and Recruiter Engagement Administrator for DCDI (The College of Design, Creative, and Digital Industries). I also act as a freelance Singer/Songwriter and my biggest dream would be to become a successful artist and guest-star on the Ellen DeGeneres Show.
➡️ Well I can't wait to see you on the Ellen show! But first what three words would you use to describe yourself? 
Confident, Charming and Creative.
➡️ I completely agree with those three words! So Leo, going a little back in your career journey, you started out as a student at the University of Westminster. How would you describe your student experience?
My University experience was a wonderful journey of discovery and self-development. I made friends for a lifetime, I took on new challenges and I explored the variety of opportunities that Westminster and London had to offer. In my three years as a student here I got to feel like the University of Westminster is my second family, it's becoming one of the most beautiful chapters of my life.
➡️ It sounds like you made the most of your student experience! I think it is great you had the mind set to really explore London in all its entirety. What would you say is your worst and best memory of University?
What I treasure most about the University are its people, so my best memory would be represented by all of the amazing collaborations I have developed with them. From being a Course and Faculty Representative, to representing the University at a couple of International Student Fairs and getting the chance to direct the University's choir, all of these opportunities gave me the chance to be around creatives and to contribute to our wonderful community. I got to be part of one of the most diverse and inclusive communities and I can't express how grateful I am for this. #WeAreWestminster
I can't really think of a worst University memory. On a more of a funny note, I found the Friday 10am Fire Alarm drill in the Halls a bit of a nuisance, but I must admit that I do sometimes miss it,  all part of my student experience hehe!
➡️ Being a third year student myself, I would definitely advise students to get involved with the University like yourself by being a Course Rep, student ambassador and joining societies. So how was it studying in the Harrow campus?
I genuinely love Harrow Campus. It always felt like a proper campus for me, with a lot of green space, the Halls of residence, a true centre of the Arts. With all of the creatives in one place, it was such a joy to see students from varied courses getting together, be it in the library, canteen or the Loft and discuss creative projects or ideas. It always gave me this kind of amazing energy. I mean even now, as a member of staff I feel so empowered and happy coming to work each and every day.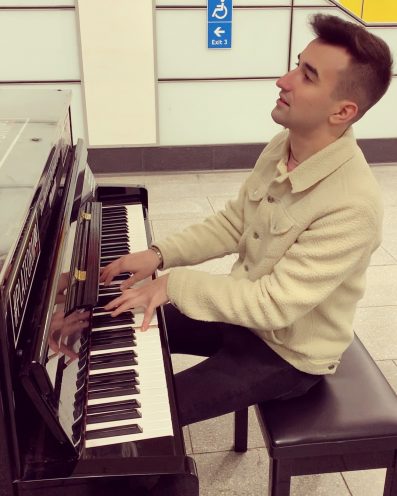 ➡️ Harrow sounds like the ideal network and hub for creatives. Being a creative person yourself I'm really happy you got to thrive in such an amazing moment. If there was one thing you could change during your university experience what would it be?
I know there is always room for change and improvement but I loved my university experience the way it was and personally I wouldn't change a thing.
➡️ Amazing! It is amazing that you are now working for the University, too! How did you get to that point? Were you a part of Talent Bank?
It is a lovely job and I am so happy that I get to come back to the University each and every day. I felt quite lucky to have managed to take on a full-time job only a month after I graduated and really grateful to the Career Service for advertising the role. I like to think of myself as one of those people who always goes through his emails no matter what (a 6th sense I acquired during my student years), as I am aware that there are a variety of opportunities I might be missing on otherwise. Being part of the Talent Bank as an Admin Assistant, as well as acting as a Student Ambassador, was a huge asset for me, equipping me not only with a set of transferable skills but also helping me to explore different options in terms of employability opportunities as well as providing me with a steady income.
➡️ Wow Leo, I think it is amazing that you have a lot of experience working within Talent Bank! At any point in your university experience, did you use the CES services?
I had a good knowledge of Engage and I did take part in a couple of workshops and projects organised by the CES. All the support provided was really helpful and a brilliant addition to the experience I gained by going 'out there' and doing various jobs. This year, as an Alumni, I had the chance to take part in the Mentoring scheme which provided me with a whole new range of opportunities. The only thing I will say is that through this amazing programme I got in touch with a three times Grammy Award nominated Producer from LA, who's mentoring me and with whom I have developed a wonderful collaboration which has benefited both my personal development as well as my music, getting me one step closer to my dream career.
➡️ I think it is amazing how much you have benefited from using the CES services. I would recommend that as students of Westminster we have to take advantage of the brilliant resources that are made available to us through the CES. What is your current role and what is currently your favourite aspect of the role?
I currently work as a Work Experience Admin. My role mainly involves sourcing vacancies (both work placements and internships) and uploading them onto Engage, as well as general admin duties and some recruiter engagement. What I enjoy most about my role is that I get to contribute to the student experience. I love the fact that I get to meet with academics as well as employers and discuss different employability perspectives as well as share my own knowledge with the students and support them in their employability journey.
➡️ I think that as you are an alumni as well,  you're a great person to understand what University of Westminster students are experiencing. Do you have any interview tips?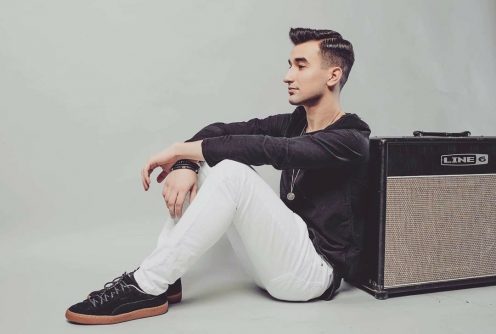 Just be yourself. I think this is one of the most important tips I could give. Also remember to do a bit of preparation beforehand and be ready to ask your own questions as well.
➡️ Thank you for the great tips Leo! Do you have any extracurriculars outside of your job? If you have, how long have you been doing these for and how do you fit them in with your job?
Yeah, I am a Singer-Songwriter and I've been playing the piano since I was 3 years old. Last summer I have graduated from Westminster with a First-Class Honours in Commercial Music Performance. I like to think that I've been doing music since forever and music is one of my biggest passions. I am aspiring to a career in the music industry and my dream would be to tour the world and play my own music everywhere. Again I consider myself quite lucky as my work fits in perfectly with my music and at Westminster I have the chance to do both. After work, almost each and every day I will be in the music studios, working on some new ideas or collaborating with friends or ex-colleagues.
➡️ Wow Leo, your passion for music is infectious!  So, I have to ask, where do you see yourself in five years?
I definitely see myself working in the Music Industry as either an artist or a professional working for a Record Label as either an A&R or a Talent Scout.
➡️ I look forward to hearing about you in the music industry! Any last tips or words for advice for University of Westminster students?
I would say don't give up on your dreams and whatever you choose to do, do it with passion. Make the most out of any opportunity that comes your way, regardless of whether its 100% relatable to your chosen career and don't forget that any Work Experience is great Work Experience.
➡️ Thank you Leo! It is has been lovely interviewing you!
For all our Employability Diary readers, I hope you enjoyed this read. If you like would like to be interviewed and you feel you have something to share, please feel free to email careers@westminster.ac.uk!
The CES offers a range of services and resources to help you develop further in your employability journey. Applying to jobs, finding work experience and prepping for interviews can be hard! However, the CES team are here to help you out and support you, please visit engage.westminster.ac.uk to explore!