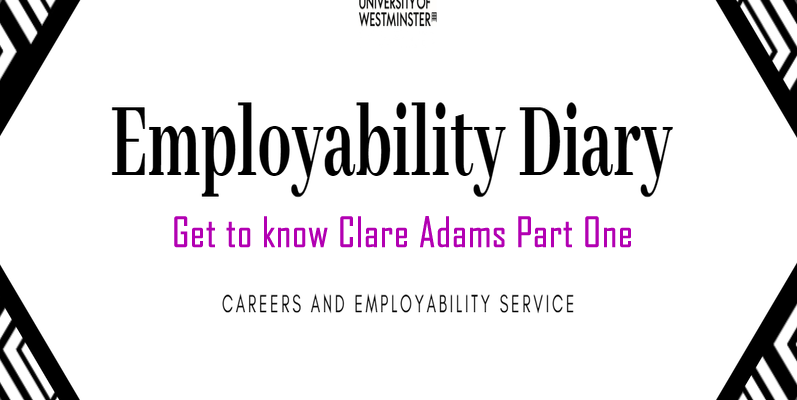 To help lead on with this Friday Feeling, we have another blog post! The Careers and Employability Service is filled to the brim with talented members of staff. Today Anna and I had the pleasure of interviewing Clare Adams who is the Careers and Employability Manager. If you happened to miss last week's post, click here to have a look and the other Employability Diary posts. 
Please read through to hear about Clare's university experience, as well as some excellent tips!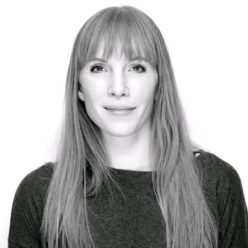 These first set of questions will just be for our readers to get to know a little bit about you. So firstly, a staple Employability Diary question, what are 3 words you would use to describe yourself?
Organised, loyal and empathetic.
Okay, that's a great trio of words! Where did you grow up?
I grew up in Woking, which is a town about a 25 minute train journey outside of London
Do you currently have any hobbies?
I like to keep fit, so I like to go to the gym, interval training and cycling mainly. I like to get out into the country when I can, especially to Shropshire, where I have some family. I like to read and cook, and see friends and my family. I am currently reading 'The Suspicions of Mr Whicher', which is a true crime novel of a murder case that happened in 1860. The book focuses on Mr Whicher and his investigative work to solve the case but also is a sociological history of that era. I am also reading a book based on a Ted Talk 'Three Small things to do about measuring impact' and next on the list is 'The One Minute Manager Meets the Monkey'.
That is a lot of hobbies, I have to say the 'The one minute manager meets the monkey' book is calling my interest! What are your favourite travel destinations? Is there any particular continent that appeals to you?
I like Asia, my favourite place I've been to is Japan. I just find that culturally and architecturally it is so different from the UK. I have a friend that lives there that I met from university, which really allowed me to get the most out of my time there. I was very lucky to meet friends at University that now live all over the world, I have learnt so much from them and it has made holidays a lot easier!
I haven't been to Japan before, but based on what you've said it sounds like something I would want to explore. Is there any charities that you are interested in?
Anything to do with social mobility, upReach I think does some great work in our area. Some smaller charities that I love like Smart Works, provide interview attire for unemployed women. I am hoping to volunteer at the branch near where I live!
Thank you Clare, I think it is also lovely that you are planning to volunteer at one of the branches! So the next few questions from me are based around your student experience at University. To begin with, what did you study?
I studied Contour Design, at De Monfort University. The course focused on any clothing that sits close to the body, so underwear, swimwear etc.
Okay, that sounds like an interesting course! Did you get involved in any extracurricular activities during your time at DMU Leicester?  
I got involved in the Ski and Snowboard society, which was actually something I had never done before. But my friend, who now lives in Japan, who I met in halls persuaded me to go and ended up really enjoying it. I went every Friday and eventually got more involved in supporting the Training Officer and organizing the Friday trips. In my final year I nominated myself to be the society Training Officer and won the election. Which was rather challenging combined with the work I needed to complete for my final year. However from doing this I realized I enjoyed organizing and supporting opportunities for people to learn new skills, more than I did the content of my university course.
I think it's great how you were able to find something new to do and actually take up a leadership role within the society. So you were quite involved in extracurriculars, did you have the opportunity to do some work experience too?  
I did a lot of work experience when I was at university. I started working part time from when I was 13, so I have always been used to balancing work and study. I also took a year out to work at Heathrow as a member of the customer service team before going to University, as I wanted to have some extra money and time before starting my course. Throughout university I worked part time and took internships. It was very common for internships to not be paid, so I did a lot of that in London and I was lucky enough that my parents did not live too far away from London.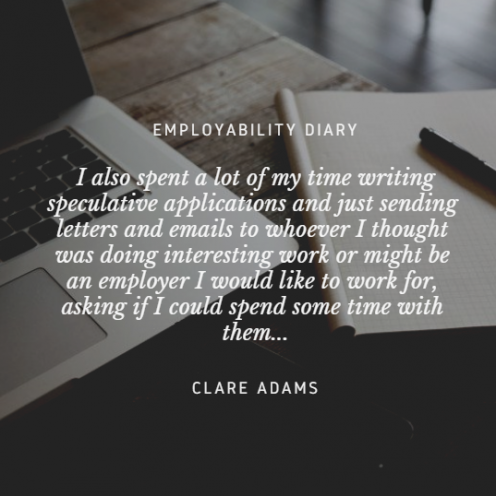 Every summer and Easter I would do work experience. I worked for different designers, high street brands and a global trend prediction agency company called WGSN. I tried to do as much as possible as I wasn't really sure if I wanted a career in my degree discipline, so I wanted to explore different areas. Because a lot of my course was project based, I had to spend a lot of time researching. I was lucky that the commercial research we had to do in order to develop a project and product, then exposed me to different areas of the industry. So I thought I would go and see what it was like to work for a small brand and then a big retailer, an industry magazine and a trend prediction agency. As my course was one of the only ones in the world, I was lucky in the fact that there was a lot of good industry links and if you said to someone 'I'm studying Contour Design at DMU', and they were Contour Design graduate they would often be open to help or they could you put you in touch with someone, it opened a lot of doors. I would definitely recommend students at Westminster make the most of the amazing alumni network they have access to, it certainly helped me when I was starting out. I also spent a lot of my time writing speculative applications and just sending letters and emails to whoever I thought was doing interesting work or might be an employer I would like to work for, asking if I could spend some time with them, which really helped me to gain work experience and ultimately help me decide what types of roles and areas suited me and my particular set of skills and interests. 
I really admire your 'go getter' attitude in regards to your work experience, it is fantastic that you were able to get so much experience under your belt. Since you've graduated University have you done any further qualifications or study?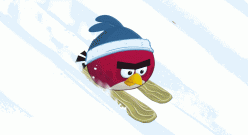 After University, because I enjoyed the teaching and planning element with the Ski and Snowboard Society, I got accepted to do a PGCE, to teach Art and Design for secondary school children. Before I started, I thought I'll spend a year working in a school as a Special Educational Needs Teacher and an Art and Design Technician. I found the roles very challenging and realised that teaching probably was not for me at that particular time in my career, so I did not take up my place on the PGCE. I have a huge amount of respect for Teachers, it is a hugely challenging but also rewarding job. However since then I have been completing a Masters in Career Education Information and Guidance in Higher Education. I do this alongside my job, though it is taking a while for me to complete. Because it is distance learning I can dip in and dip out of it. Other than that whenever I have had an opportunity to do any kind of course or development opportunity, I've always put my hand up. I think it is really important to always be learning.
That is great, I wish you the best with your Masters! What are some useful habits and routines you had as a student (e.g. related to coping with stress, time management)?
I've definitely always been someone that had a lot of to do lists, and I always try to plan my time. As a student I was definitely a night owl. So I would use mornings for house things like doing the washing and at night I did my work. I always found that at night I was more creative which was important for my course. I always had music to help me focus and I would lock myself in the room and shut out the rest of the world and focus on what I needed to do. But I would allocate clear chunks of time to complete my work, setting myself mini deadlines or milestones to keep my motivation up. But also I made sure that there was time to relax, let my hair down, forget about things and get a fresh perspective. This is really important for creativity and for your own wellbeing.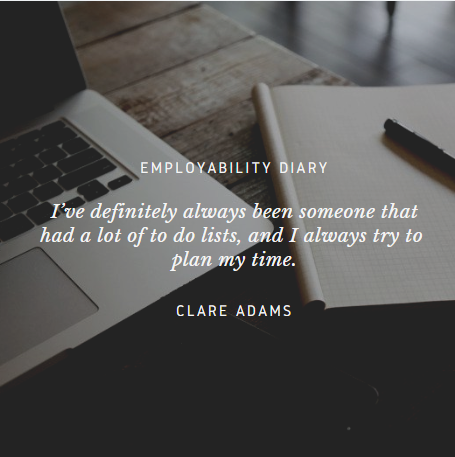 From your answer, it is clear to see that it is really vital to know how your body works and how you work best. Can you share a few highlights and lowlights of your university/student experience?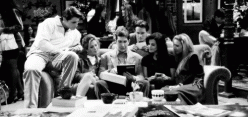 Highlights for me were definitely being involved in the student societies and student union side, as well as the people that I met in my halls. We had no internet and no TV (no TV signal), which was great for me because you had eight people in a flat from completely different places and backgrounds who were forced to get along and socialise. So we played cards, cooked together etc. I liked this because where I grew up, though it was diverse, it was not particular culturally rich place, with little integration back then. I also did not travel much as a child, so for me it was really interesting to meet different people and this started a passion to learn about different cultures and travel to different countries.
A lowlight for me was my final year in the last few weeks it was just so busy and I could not see how I was going to get everything done to the standard I wanted to. In an arts degree it can be really tough when you have to write up your dissertation but also have to physically create a lot of items and complete all the sketchbooks that go with the final project. Though I had six months to do this, it was just a huge amount of work and I think I put a lot of pressure on myself. So yes, the final few weeks of my final year was definitely my lowlight but looking back on it now, I learnt a lot about myself, how I coped under pressure, what kind of work I enjoyed and most importantly how to look after yourself and those around you when the pressure is on.
 I hope you all enjoyed reading the interview and the second part of this interview, where Anna sat down to chat to Clare about her career progression and personal motivations will be posted next week Friday, watch this space!
As a student of the University of Westminster, you have the amazing CES at your fingertips! The core services include Work Placements, 1-1 appointments, E-advice, Mentoring, Volunteering, Employer Events, Talent Bank, Engage and the Explore Teaching Scheme! To find out more, visit Engage and the CES page.