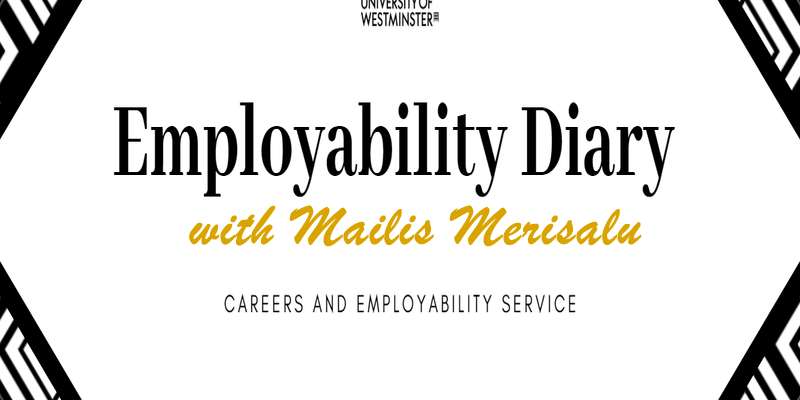 Happy Friday and welcome to another post as part of the Employability Diary blog series! 🎉 Today we sat down to speak to Mailis, our Office Coordinator, and she gave us some very excellent tips on staying motivated and chasing your goals! 
If you have missed last week's post, you can read it here!
We hope you enjoy this and, if you have any feedback or would like to contribute to the Careers blog, please email us on careers@westminster.ac.uk 🙏
***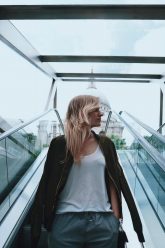 Hi Mailis, thanks for agreeing to do this. Could you start by telling us a little bit about yourself by describing yourself in 3 words?
Hi, no problem! I'd say creative, independent and determined.
What do you do during your time when you are not at work?
I do a lot of photography, mostly urban; I try to travel a lot, which kind of links with my passion for photography; and I watch (perhaps too many) TV series and I also like going to the cinema.
What series are you watching at the moment and what is the last movie you watched?
The last movie I watched was 'What Men Want', a spin-off of 'What Women Want'. Watching Blackish at the moment and it is hilarious. I like it because they have managed to take serious social issues and make them easier to consume through comedy: such as race, sexuality, feminism etc.
Favourite travel destinations?
I prefer having anything with fresh air – like mountains and lakes; so my favourite so far has actually been Norway. Though, I did go to South East Asia recently and it was a different kind of holiday – mainly a beach holiday, which is good as well. But if I have to choose, I would always choose mountains and lakes because I really love hiking.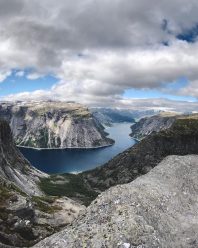 What's your favourite book at the moment?
Overall, I quite like to read biographies because it is interesting to know how people got to where they are ; it can be very inspiring! My favourite book so far has been Trevor Noah's Born A Crime. I finished it in 2 days because it was so interesting – he is a comedian, so the book is really funny; but he also talks about serious things and how life in South Africa was for him, growing up with a single mother and how he got to where he is now. My favourite quote from the book is "People love to say, 'Give a man a fish and he'll eat for a day. Teach a man to fish, and he'll eat for a lifetime'. What they don't say is, 'And it would be nice if you gave him a fishing rod.' That's the part of the analogy that's missing." This is exactly how I feel.
And a very random but important question – what is your favourite food?
It's hard to choose just one as I like food in general and I love to cook, but if I have to pick one, it would be mashed potatoes. I could eat that any day.

What did you study?
I studied Business Management with Marketing Management at the University of Westminster, same as Anna!
How was your overall student experience (highlights and lowlights)?
Highlights for me would have been meeting new people, networking and making valuable connections and learning many new skills and information that has helped me to get where I am.
Experiencing different teaching styles made studying interesting but the lowlight was that some academics had language barriers that made learning and asking questions a little frustrating at times.
Did you participate in any extracurriculars and / or work part-time while studying?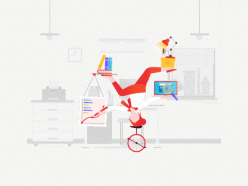 In my second year, I became Editor in Chief for Smoke TV, and then from later I was voted to be Head of Factional Department. In 3rd year, I became a Station Manager for Smoke TV. I was also involved in the Entrepreneurial society, worked on various projects with the Student Union and I was part of FANs. In my first and second year I had three part-time jobs, then, in my third year I cut down to one – Short Course Coordinator – it just got a bit too much. At some point I was also involved in other societies such as Law Society and Debating Society, but not throughout my whole student experience.
Wow Mailis, that is amazing that you got involved in so many things during university! How did you manage to fit all of this in whilst studying as well?
I am very good at time management. I think I also got lucky that all the societies I wanted to be involved with were at different times and none of my jobs required weekend work, so I was able to fit this all in and organise my own time better. For example, with Smoke TV, as I was the station manager, I could schedule meetings around my availability. My office was in Cavendish campus so, I was able to have the flexibility to work and study from my office. Society meetings were usually held on Wednesday and Thursday evenings, which suited my schedule as I had work and lectures until midday. Finally, working in the bookshop in Marylebone made it easier to juggle all as I was based on the campus and didn't lose time commuting.
What's the one thing you would go back and change about your student experience?
Everything that I did whilst at university, got me to where I am now, so I wouldn't change anything. The only thing that I would probably add to my experience, would be to get an internship outside the University. I had jobs outside of the University, but they were not connected to my degree of study. A lot of large organisations want you to have experience outside of your University as they would want you to have transferable skills, and doing an internship would be a great example of showing this. This is based on a feedback I have received from graduate recruiters.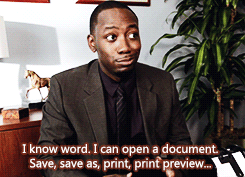 We know that you've been with us at Westminster for quite a while, would you mind sharing what other roles you have done at this university?
I started by working in the Marylebone bookshop – I literally just went to the bookshop and asked them if they had any job opportunities; because I wanted to work in the campus as it was so much easier and the pay rate was excellent (compared to other retail jobs at the time). After that, I got a job as a Residential Coordinator and then I was a Short Courses and Events Coordinator. 
I quite like your direct approach to that job at the bookshop! What is your current role and how does it differ from your previous roles at the university?
My current role is that of an Office Coordinator and it includes a lot more responsibility and it is a permanent position (whereas I was a part-time student helper in the Residential Coordinator and Short Courses and Events Coordinator roles). Now, I also do a lot of finance work (e.g. I prepare student payroll) and I work very closely with the management on various projects. It's mostly about managing the office and making sure its running smoothly, being a problem-solver – if anyone has any issues, they come to the management team and myself! Oh, and another part of my role involves covering the Student Desk, so I am student-facing at times.
Excellent! It sounds like you are heavily involved with the operational side of things and keeping everything going. And, did you do any other full-time positions before coming to the University of Westminster?
Yes, back in Estonia, I was a Personal Assistant to the Director of Sales in the automotive industry; then I was a Personal Assistant again for another director in the construction & manufacturing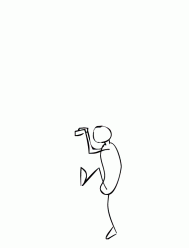 industry. Then, I moved on to work for the Construction & Manufacturing industry as a Personal Assistant for a Sales Director and my last job before I moved to London was being an office manager for a retailer developer company.
And then when I moved here, I had to start all over again; so I did some work in Retail, which was the job I did before and while I was at university. Basically, I started to build my career all over again from scratch, which was really hard and frustrating; but I was determined to climb up the ladder. It took a while, but I got there and I am not planning to stop here!
That is really great, Mailis! What are some of the highlights and lowlights in your career?
The lowlight, as it seemed at the time, was having to start all over again when I moved to the UK; because it was really hard and frustrating having to start over, and difficult to prove the value of any overseas work experience. Though, having said that, this moment in my professional life was also a highlight because it taught me a lot. It taught me how to motivate myself, to keep going and to be determined, not to give up. And, in the end, I was able to build myself up, whereas a lot of people aren't able to do that. Plus, where I am now is just the start! 🙂

Fantastic, that is what we like to hear! What motivates you to succeed?
I think the main motivation for me would be the fact that I know where I want to be in the future, what I want from life and that I want to be successful. I want to make a difference and have a certain lifestyle. I want to be able to make the world a better place in some way, so that is my main motivation – knowing where I want to end up; and unless I am there, I will keep going!
Great, having a purpose to work towards is really important! Best piece of advice you've been given / Favourite quote you stand by? 

What I try to follow a lot and something that describes my own attitude towards work is: 'Fall down seven times, stand up eight.' It just shows that you have to keep on standing up until you succeed. The advice that I have personally been given is 'Hustle until you have the life that you want.' You need to know what you want, but you also need to be ready to work hard to get there.
It's not going to come easy, you're going to have fallbacks, but you just have to keep going even if it's a rocky road!
Very motivational! What would you say are good habits you have accumulated during your student life and work career?
I don't get stressed that easily and I feel as though I've built this resilience throughout the years; mainly because I've learned to let things go. If someone says something to me or something goes wrong at work, I've learned to let it go – we are all just human, we make mistakes and we aren't perfect. Even if the mistake is significant, you just have to accept it and find a solution to it, fix it as well as you can and move on. On this note, overthinking is really dangerous! I've also learned to understand that people are so different, not everybody will like you and vise versa. So you need to be more relaxed and let things go. Personally, if I am really stressed, I just go travelling and do my photography because it relaxes me. And if you don't have the means to travel, then just do something that relaxes you. Just try not to focus on what stresses you out. If nothing else helps, just talk to someone. Especially if you need advice on something, but are overthinking it…

We quite like how you linked those good habits with careers! Final question, do you have anything else you'd like to share with the readers of this blog?
Yes! Re-evaluate where you are in your career and think about what your priorities and motivations are; see if your current job gives you the satisfaction that you want from your career. If it doesn't feel right, then you should change what you can for the sake of your own happiness. Life is too short to be stuck in a job, or a situation, that you don't like, but you can control. Of course, there are also situations, which outcome you can't control, and that's simply part of life; but if it is anything you can change or try to change (either with your career or life in general), you should do it. And, finally, don't be afraid to ask for help – asking for help is half the battle.
***
A big thank you to Mailis for sharing so many excellent tips on working hard and pursuing your goals and for being so motivational! We hope you enjoyed reading this blog and see you again next Friday with a new post!
And for any careers support, please contact us, your dedicated Careers and Employability Service team!
DL: 0207 911 5184  | E: careers@westminster.ac.uk| Website | Facebook | Careers Blog
Passionate about Student Engagement, Data Management and content creation
Latest posts by Anna Dolidze (see all)