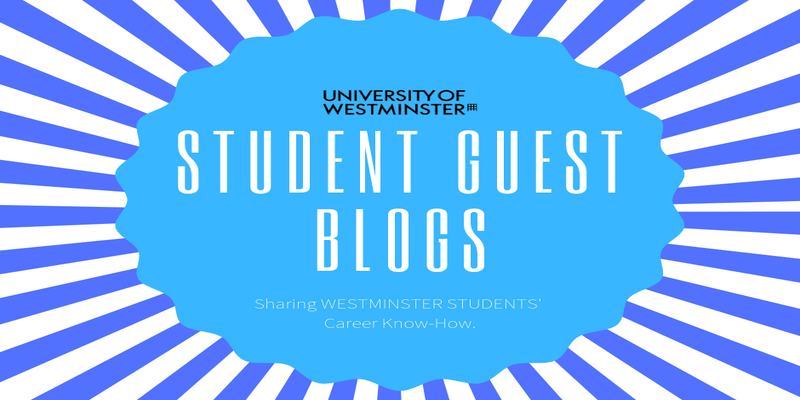 Happy Friday! This is the second post to our recently launched new blog series, where YOU, our students, can share your employability experiences (from participating in a scheme like Westminster Working Cultures to how you prepare for an interview)!
Today we spoke to Lucas, one of our student helpers, who works in the careers team. Lucas shares some excellent advice on his approach on applying to jobs, tips on successfully passing an interview and much more below!
Have some blog ideas? Interested in writing for us? Email Anna at careers@westminster.ac.uk with your blog idea and get a chance to shine on the official Careers blog!
For now, grab a cuppa, make yourself comfortable and read Lucas' guest blog below.
******************
➡ About Lucas
My name is Lucas Dalla Vecchia and I am a final year BSc Biochemistry student from Brazil. During my time in the University of Westminster I got the opportunity to work as a student helper for the communications team at the Careers and Employability Services. As a result of this experience I learned a lot and developed many skills that I will use in my professional career.
➡ Talent Bank
Within my first week studying at the University of Westminster, I learned about talent bank in one of my drop-in sessions of my course and I immediately signed-up for it. I really liked the idea of working as a student helper and all the different possible roles that I could participate in. It took a while for me to get a position in via talent bank, but it was all worth it. I failed a couple interviews before getting this position, but in each interview I was progressively getting closer to getting an offer. It is a natural part of looking for a job, and it is essential that you as a job seeker learn from your mistakes.
➡ Preparing for that job interview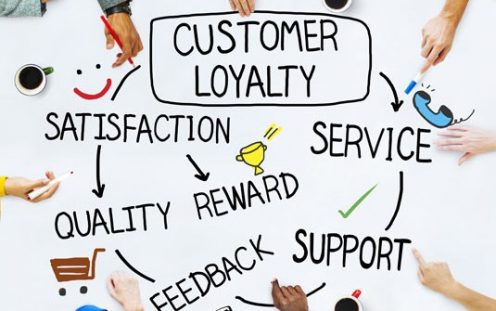 When I was preparing for this interview I prepared myself both in terms of knowledge and my mental state. Understanding what is expected from you is fundamental, 💡 if you want a job you need to know what the job is about. To do this, you need to understand the service you will be offering as part of your role. 💡 My special tip is to position yourself as a client of the company you are applying for – you want to work in a consultancy business? If you had a company, why would you approach a consultancy business in the first place? You want to work in investment banking? Why would you as a client choose specifically this firm instead of other firms?
These are the type of questions I asked myself when applying for my current role. What will my customers want (e.g. what services) and how can I provide this in the role that I am applying for? Every business offers something, this is what keep the business alive. so if you want a job in any company, understand what it is that they are offering and show that you can deliver this when you come for an interview. 💡 Understand the business and how your role fits in it.
When it comes down to preparing myself mentally, I always remember something my first manager told me; profit is the fuel of any business. If you are paid, that means you are being invested in and naturally you are expected to provide a return. If you return only what you have been invested in, there is no profit. This is my mindset when I come for an interview, I want to be profitable to the business, and I want to be able to do all that is asked from me in the job description and more. I want to come for an interview and exceed expectations.
➡ Highlights from current role & additional advice
Working in the Careers team has been great since my first day. When the phone rings you could be talking to anyone, from people in HR from the biggest companies in the world to the CEO of a local start-up. I always like this about the role and it motivates me a lot. My manager also gave me time to work on side-projects that I wanted to, this was very nice as I got to do many things and even learn new skills. In one of these side-projects I even learned how to code in JavaScript, albeit, very beginner level. Still, it is a new skill that I picked up during this role and it might be useful in the future.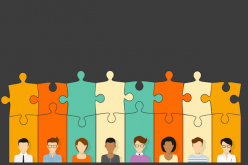 Working as a Talent Bank student in the University of Westminster is a very unique experience, the management style that you will find here is like no other. You really get the chance to make a difference – of course, if you are a job seeker you are tired of hearing this sentence, or you also know that eight out of ten times this is simply not true. In this case, I am a student like you and I can tell that in this position you do have the opportunity to make a difference. So, 💡 my advice for you is that you must always try to create something, innovate or improve things.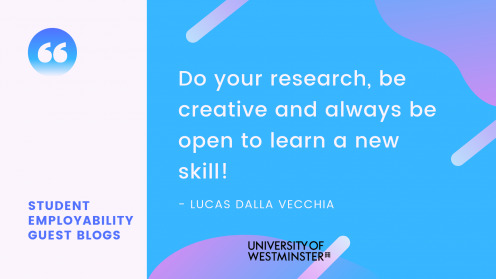 You may not be asked to do this, and I think that this is good, that is when you really get to be creative and put your mind to work. Obviously, if you want to create or innovate something you need substance or really good evidence to back up your claims and your idea – if you are a science student like me, you know what I am talking about. So do your research, be creative and always be open to learn a new skill!
******************
A big THANK YOU to Lucas for sharing his experiences and his insightful advice! Watch this space for more student employability guest blogs. And if you, like Lucas, would like to work part-time as a student helper on campus, please fill out the Registration and Induction to the Talent Bank!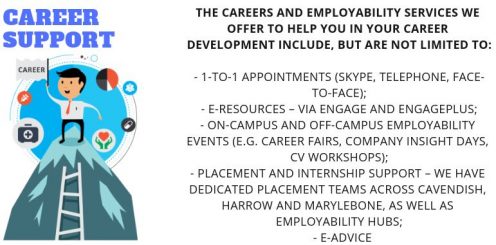 And remember that the Careers Team is here to help you with succeeding in your employability journey!
DL: 0207 911 5184  | E: careers@westminster.ac.uk| Website | Facebook | Careers Blog 
Passionate about Student Engagement, Data Management and content creation
Latest posts by Anna Dolidze (see all)