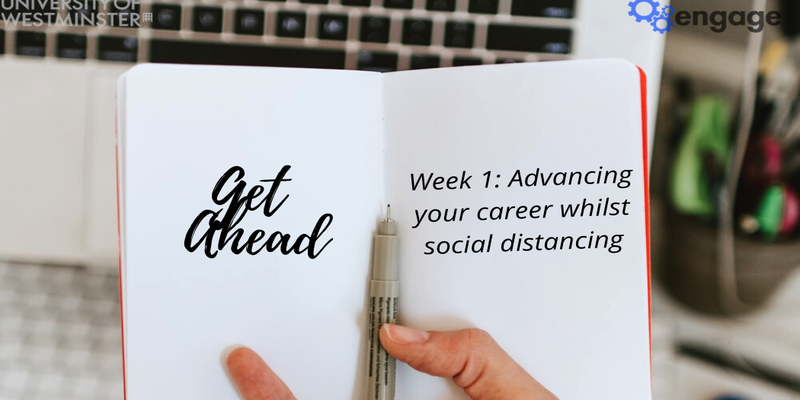 Welcome to the first blog post of the new #GetAhead blog series we are introducing to inspire you during this new period of distant working and e-learning. This post was written by one of our own career consultants, Elishba, who supports the schools of Arts and Media and Communications. Enjoy!
***
It goes without saying, our worlds have changed drastically in the last few days. Many students were planning to find casual jobs, go travelling, undertake work placements, volunteer or start their graduate career. If you find your plans are in disarray, or it's too soon to be able to make firm plans, in the next few weeks you will need to think about career development outside of the box and look at alternative ways of gaining transferable skills under the current environment. I have made a few suggestions to get you started.
🔎Volunteering
• The NHS need 250,000 volunteers for delivering medicines, driving patients to appointments, bringing them home from the hospital, or making regular phone calls to check on people isolating at home.
• Look at your local social media, what do people need help with? There may be foodbanks or local faith groups asking for additional assistance.
• There are 1000s of children missing out on their normal schooling. Use your degree knowledge to create engaging educational videos.
• University of Westminster volunteering support.
⚙️Jobs
• The UKs largest supermarkets are seeking  45,000 new recruits. They have become the main community hubs supplying basics to customers.
• Follow Twitter for daily updates on job opportunities
• Check the Engage portal for tips on CVs, interviews and job sites
📱Digital Networking
• Networking with employers and professionals may be helpful for your future job search. A huge amount of opportunities are not advertised. Therefore, maintaining and engaging with a range of contacts in this current environment is vital. Networking Tips.
🚀Self-Development
• Take a look at  LinkedIn Learning free access to 1000's of training videos for the University of Westminster students. Ranging from skills relevant to business, technology and the creative industries.
• MOOCs are open online free courses covering a whole range of topics.
• Develop your own projects enhancing your expert knowledge, it could be a key selling point with future employers. Share snippets of your research on your LinkedIn profile, demonstrating you are active and engaged.
• Creative students could remotely collaborate with other peers developing briefs which may help with portfolio development Folio.
🎓Postgraduate Study
• If you would like to gain specialist knowledge, enter a specific profession, or are seeking a career change ,then studying at postgraduate level may be appropriate. To find out more go to Prospects or University of Westminster.
🕴️Business Ideas
• This may not be the best time to launch a business, but you could explore ideas for the future through the Creative Enterprise Centre.
🙏Further Help
If you require support with your CVs, interviews, LinkedIn profile or career options please book a remote appointment with Careers Consultants who are happy to discuss any concerns you may have. Appointment bookings.
***
A big thank you to Elishba for sharing some best tips on advancing in your career whilst social distancing. We hope you find this useful and tune in again next week for another post as part of the #GetAhead blog series! 
E: careers@westminster.ac.uk| Website | Facebook | Twitter | Instagram |Careers Blog 
Passionate about Student Engagement, Data Management and content creation
Latest posts by Anna Dolidze (see all)