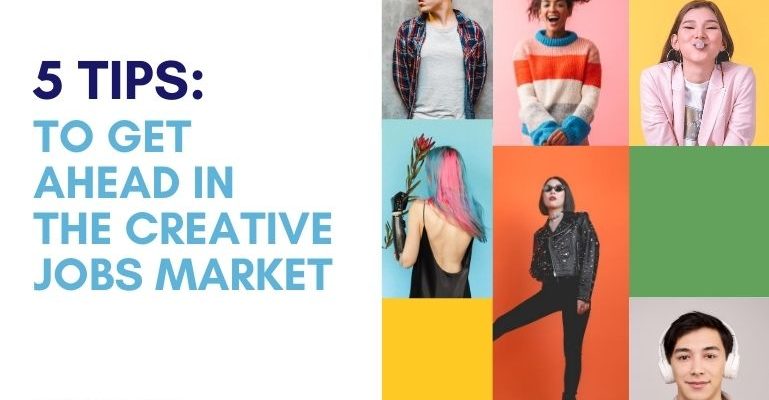 👋 Hi, my name is Sam and I am a senior graphic designer at London based design agency – Pemberton & Whitefoord (or P&W for short): www.p-and-w.com
I graduated with a 2:1 BA (Hons) in Graphic Communication from the University of the Creative Arts (UCA) in 2007 and I have loved every minute of my career in my specialist sector – branding and packaging design – ever since.
My first career 'spark' happened in my second year of Uni when an alumnus called Mark Link – then designer at Ziggurat Brands – came in to do a workshop with us about branding and packaging design.
Our tutor, Catherine-Slade-Brooking, had recently urged us to start thinking about work experience which filled me with dread as, at the time, I was quite a shy student who found it difficult to voice my opinions in group settings.
Doing the workshop with Mark was incredibly interesting and made me realise that this was the design sector I wanted to pursue. Because I found the analysis, brainstorming and concept phases of this workshop so interesting, I felt I was able to ask Mark a few questions, get stuck into the task at hand and even articulate my ideas in a confident way. This helped me stand out in the class and to my delight, Mark invited me to Ziggurat for a 2-week work placement.
That placement was the start of many more and a journey which ultimately landed me my first full time job as a junior branding and packaging designer with a salary of £19,000 per year.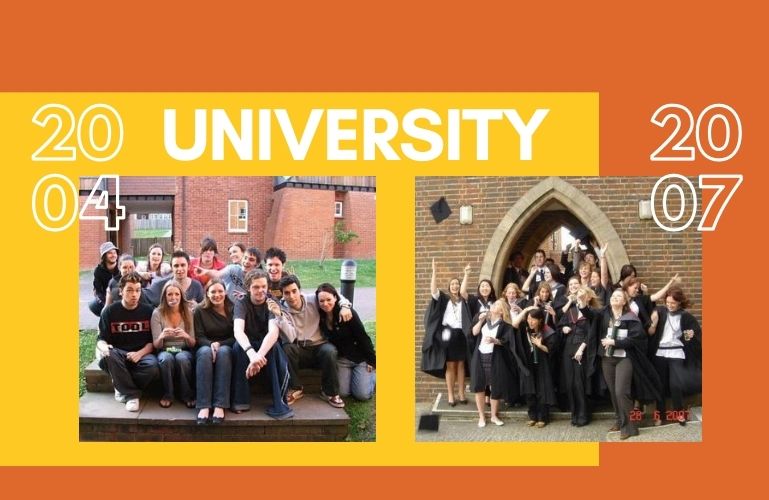 Tips & Advice:
😱 That was (scarily) 13 years ago now and for the last 8 years I have been in charge of finding, interviewing and mentoring our interns at P&W.
It is due to this experience that I decided to build an online platform called Tern Heads (www.ternheads.com) which aims to help more UK creative students find experience and jobs, while also connecting businesses with Universities in order to encourage more mentorship and collaboration between education and industry – basically making it easier for all three parties to showcase their work and find each other!
Tern Heads has already received great interest from professionals and students within all creative sectors and I have had the pleasure of interviewing and speaking to many other creatives who want to share their tips, advice and insights with the next generation.
So, with that said, here are my top ten tips to get ahead in the jobs market (even during a global pandemic!):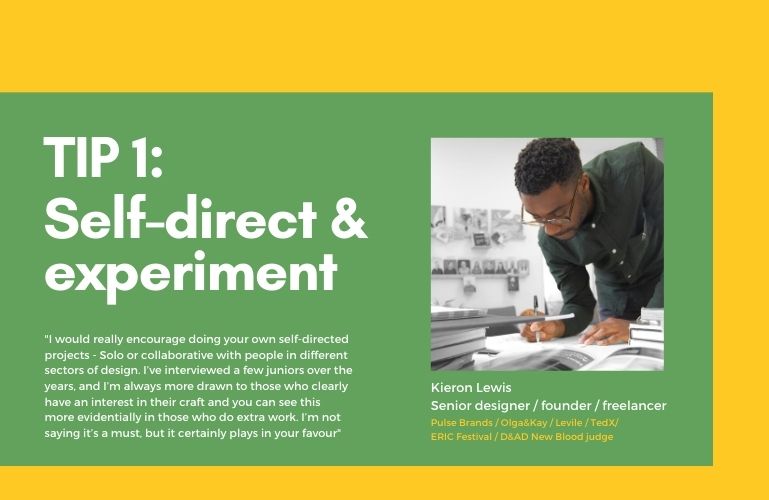 1. Self-direct and experiment 🎥
Now is your time to experiment – embrace it!
Team up on a project with creatives from other courses or sectors and play around with the different iterations of 'outcomes' you can create for a single brief.
Give your projects more reach and flare by extrapolating your designs across multiple medias. For example: Why stop at a poster? Why not see how the design would look on a website? Or as a printed menu? Or as a TV advert?
Take this time to learn new skills and take advantage of the facilities and software available to you while at University. This will help you understand what you are good at and what you enjoy so that you can make informed choices moving forward.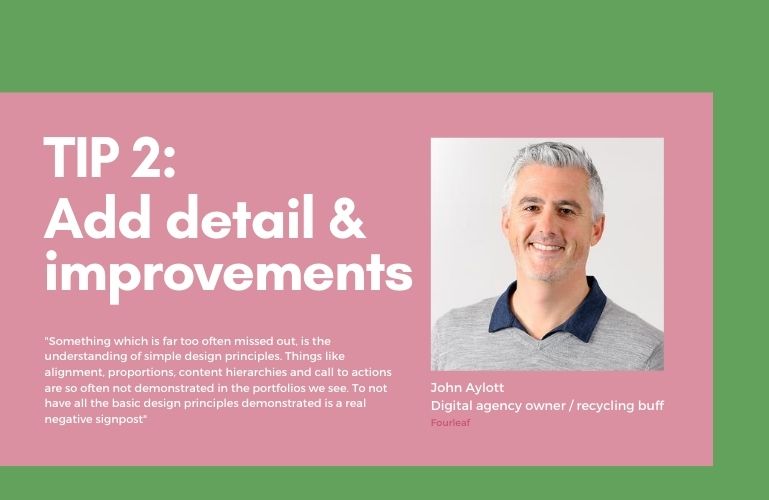 2. Add detail and improvements to your portfolio 👨‍🎓 👩‍🎓
The truth is, you never stop learning. Keep your portfolio up to date and looking sharp with the new skills you will pick up over time.
Don't forget the basics! And maintain a strong eye for detail. Remember that everything you show a potential employer or client needs to be the best it can be. Treat your CV and portfolio layouts as a design project in their own right. Don't overcrowd pages and make sure all your information is easy to read and beautifully structured.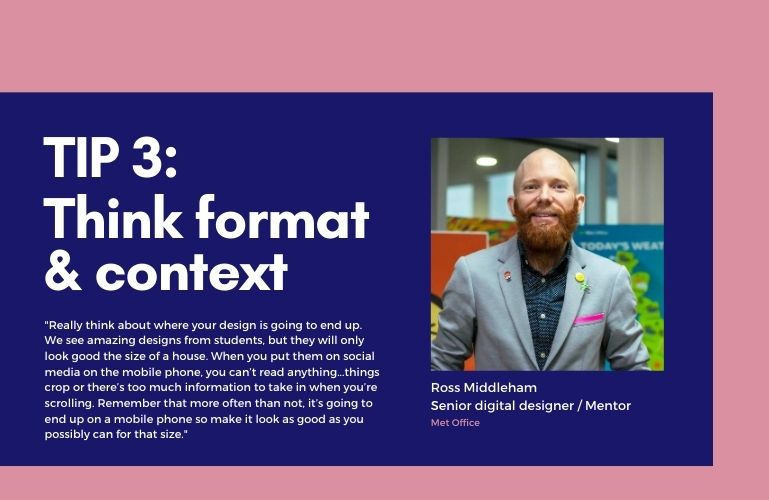 3. Think about format & context 🌎
Think about all the different places your brand, product or production could be seen. Always show your final designs in the most relevant context first but don't discount the secondary spaces in which it may appear (for example: marketing materials).
Part of being a designer is mastering communication delivery across a wide spectrum of medias. Think to yourself – will my design deliver its message as successfully on an Instagram post just as well as it does on a massive billboard?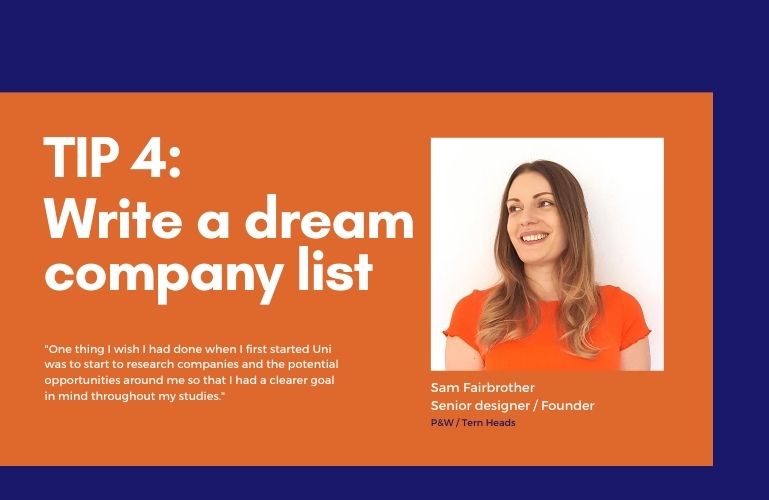 4. Write a dream company list 🖊️🏽
A huge part of finding your dream job is understanding the kind of company or the type of clients you want to work for.
If you are looking for some work experience opportunities, try googling businesses around your Uni, home or ideal work location to get a sense of where you might want to target with your CV application.
If you are a geek like me and you love a good spreadsheet – make a note of what clients/brands/products each one has and what their company mantra is. This will need to resonate with your own if it's going to be a good fit.
Try to figure out the best person to contact and connect with them on LinkedIn (or Tern Heads!) if you can.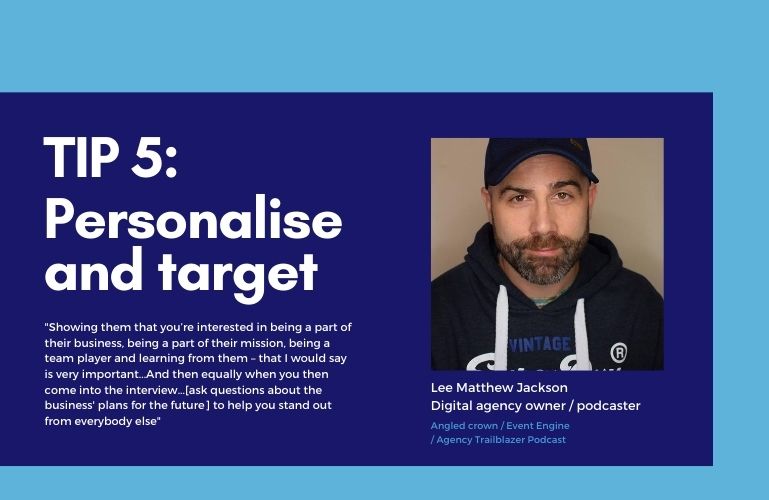 5. Personalise and target 🎯
Understand that businesses, brands and potential clients are probably inundated with CV's and portfolios from other budding creatives. In order to stand out you need to convey why you want to work for THEM and what you could potentially bring to their business.
A good way of doing this is referencing a specific project or service within that business that you would really love to be a part of and any skills or experience you could lend to becoming a productive member of their team.
For example: If you see that a UK company has one Japanese client and you are fluent in Japanese, you could help their new business team secure new work in this area.
Having a particular background or an understanding of particular software, methodology or culture can really give you a unique selling point to agencies or brands who are looking to expand and offer new services – use it to your advantage!
—
➡ A big thank you to Sam Fairbrother, senior designer at P&W and founder of Tern Heads, for writing this blog! We hope you all find it useful.
➡ If you enjoyed this blog and would like to read more like it, then head over to ternheads.com/blog where you can read the full interviews with all the creatives featured in this tip list.
If you need local careers support, your Careers Team is only an email / a message away!
E: careers@westminster.ac.uk| Website | Facebook | Twitter | Instagram |Careers Blog 
Passionate about Student Engagement, Data Management and content creation
Latest posts by Anna Dolidze (see all)