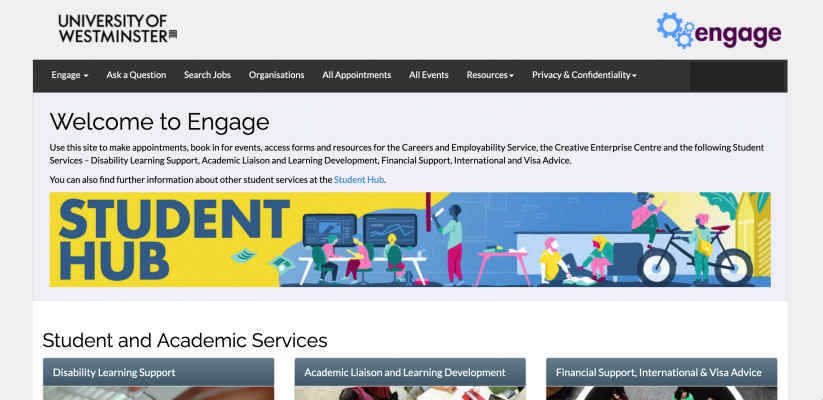 Whats NEW About Engage?
Our new frontpage design (our featured image) makes it more easier for you to navigate our website and find what you need quickly!
Each image leads you to a different section of the website.
Student Hub: for all non-Careers related queries. I.e, Course Advice, Academic Registry, Lecturers, etc.
Student and Academic Services: including Disability Learning Support, Academic Liaison and Learning Development, Financial Support, and International & Visa Advice.
Careers and Employability Service: each image links to an article or resources related to your careers-related personal development written by a Careers Consultant. Everything from careers events to attend, to learning how to construct your C.V. can be found here.

What career would suit me?
Searching for jobs or experience?
How do I apply for jobs?
Frequently asked questions
Resources at your fingertips
Mentoring
Careers events
Westminster Employability Award
The Engage Menu Ribbon

At the top of the page there are 9 tabs that when clicked will take you to their contents.
The tabs are:
Engage – Where your Engage Dashboard is located. This displays new updates or reminders for any appointments or events that you have booked to attend, or jobs you may have recently viewed or bookmarked all in one easy to understand central place.
Ask A Question – Where you can ask Career-related questions
Search Jobs – This is the jobs board, where job roles are advertised
Organisations – This is a search for organisations / companies advertising job roles
All Appointments – This is where you would book appointments with Career Consultants
All Events – This is where you would book attendance at Careers-related events such as job fairs, webinars, etc
Resources – This is where your access to career-related resources are. There are two tabs on a click-down menu: Local Resources and Engage Plus.
Privacy and Confidentiality – This is where our Statements of Service are located and explanations of how we use your data are located.
"Your Name" – This is a tab that will display your name. It consists of a pull down menu with various tabs including Contact Details, Preferences, Profile, Dashboard, etc. This is also where the Logout button is located
How to Log in to Engage:
There are two options for logging in to Engage which depends on your status: as a Current Student, or as a Graduate.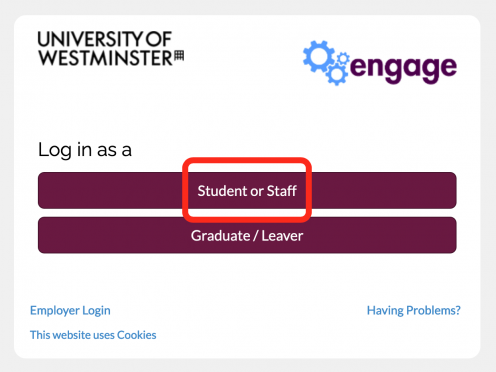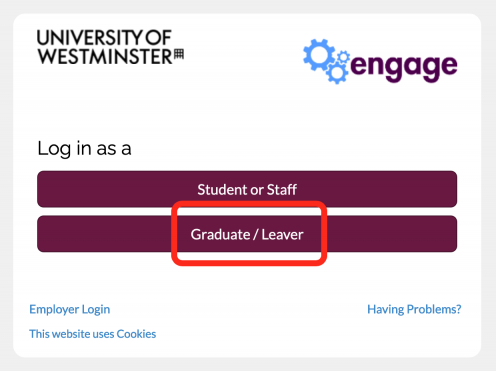 Click on the appropriate button and enter your details: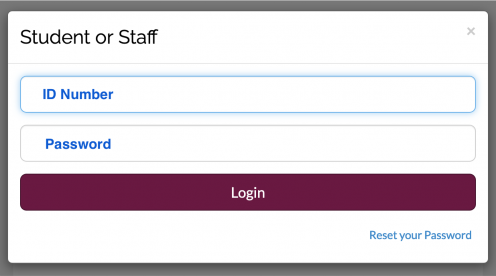 If you forget your credentials you can click on the Reset Your Password link underneath the login button and an email will be sent to you.
However, if you wish to contact the Careers and Employability team directly you can email us: careers@westminster.ac.uk or call us on 0207 911 5184*. We are also on social media: Facebook  Instagram
*Please note that we are currently offering remote services only due to the Coronavirus outbreak. For more information, please click here.
Latest posts by Danielle Doherty (see all)