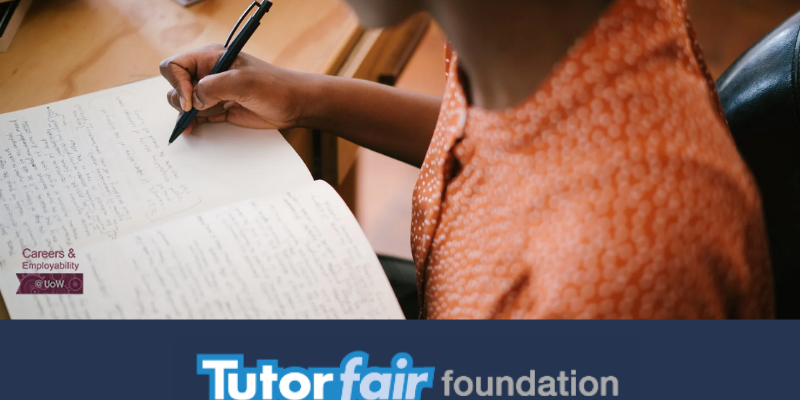 We held an interview with Joss Serraillier, the director of The Tutorfair Foundation, to talk about tutoring, and how students can gain experience in education through volunteering.
💡 About The Tutorfair Foundation 💡
The Tutorfair Foundation was established in 2012. We provide placements to volunteer tutors who wish to boost their experience and tutoring skills and make a difference. The volunteers are paired with schools and pupils from widening participation backgrounds, or students with social, mental, or physical health issues. Each student receives a minimum of 10 hours of tutoring, and this is expected of all our volunteers. We offer primary and secondary tuition, in a wide range of subjects; this mostly focuses on core subjects but can also cover languages and more niche subjects like economics. We partner directly with schools and other educational charities, rather than work on a family by family basis. We had our 1000th volunteer in 2019, and we are hoping to tutor our 10000th students in 2021.
💡 A typical day volunteering with The Tutorfair Foundation 💡
All our volunteer tutors received training before beginning tutoring. Each will offer a certain number of hours each week, and then have a timetable of when you will see your students. We send out links to all the tutors and students but leave lesson planning and lesson creation up to the individual tutors.
💡 What are the skills and qualities of a good tutor? 💡

 
Adaptability, confidence, empathy, and a good sense of humour.
💡 What can students gain from volunteering with the Tutorfair Foundation? 💡
All volunteers receive training, which includes safeguarding and what makes a good tutor. Everyone also gains an enhanced DBS certificate. Tutors gain experience of working with young people and work closely with the foundation. Volunteers can broaden their horizons and gain valuable experience for a further career in education. On top of this, tutors create a valuable set of skills, such as communicating complicated ideas, connecting with a variety of audiences, controlling a learning environment, and leadership skills.
💡 Tell us about your favourite experience as a tutor. 💡
I was doing regular sessions with between 10-20 students in year 8. It was sometimes hard to gauge how much they were gaining from the sessions, but at the end of the year, I got a card signed by all the students. It was a very touching moment and made the work over that year worth it. There were also the moments of working with students with SEN where they understood the work for the first time, and that was always special.
💡 What do you think is the most challenging aspect of tutoring? 💡
A big challenge is technology: not everyone has the same tech or is at the same level. There is also the problem that it doesn't always work! Online learning also has problems with student retention, and lots of hours on Zoom can make some students very low energy and start to become apathetic. However, I think that all these are easy to get over, once you become comfortable with tutoring online.
💡 What advice would you share with students interested in tutoring? 💡
Get involved! It's easy to find tutoring experience, and it's a great way to help young people and gain experience if you want a career in education. Lots of organisations are offering volunteering roles, and tutoring is generally a low intensity role that you can fit around any other commitments.
💡 How has tutoring changed with the move to online teaching? 💡
It changed a lot in March, with the sudden change to online teaching. I think we realised how useful online tutoring is, as you can reach students who would not have previously been able to attend sessions. The approach to online teaching is actually more creative, as you feel that you have to think of new ways to use resources and to share learning with the students.
💡 Can you recommend any professional journals or industry websites for students? 💡 
There are lots of free training events that you can sign up for, and the best way to know if teaching is right for you is to get involved! TES have a range of great resources that can be very helpful if you want to find out how to make the biggest difference in education.
You can find out more about The Tutorfair Foundation here. If you want to talk more about a career in education, please book an appointment with a Careers Consultant.
————————————————————————————————————–
☞ A big thank you to our Work Experience & Recruiter Engagement Team, and Joss Serraillier, the director of The Tutorfair Foundation, for this blog! We hope you all find it useful.☜
If you need careers support, your Careers Team is only an email / a message away!
E: careers@westminster.ac.uk| Website | Facebook | Twitter | Instagram |Careers Blog 
Passionate about Student Engagement, Data Management and content creation
Latest posts by Anna Dolidze (see all)