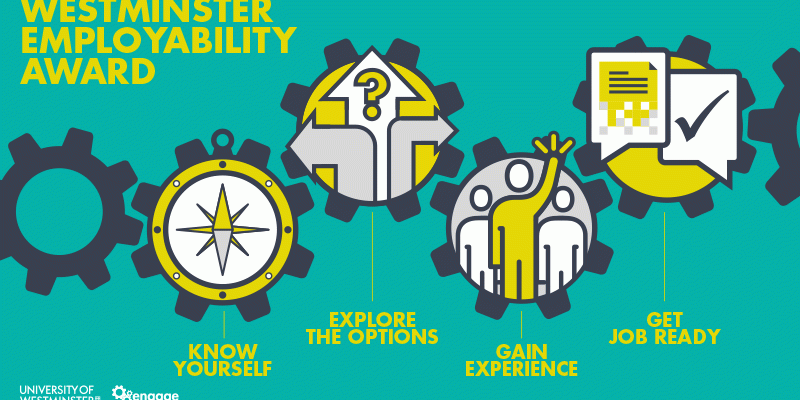 The Westminster Employability Award is a scheme for Undergraduate and Postgraduate students to develop key employment skills and gain work experience during their time at University. It helps you to develop your personal skillset and show employers that you have additional skills that put you above and beyond other students applying for jobs after graduation. There are a number of core and optional modules for you to complete, and you have until 1 May on your year of graduation to complete them.
After you finish, you will be given a certificate and digital badge which certifies that you have completed the Award. You can share this with future employers and put it on your CV, helping you to stand out of the crowd.
Who can do it?
 Anyone can do it – undergraduate or postgraduate – and in any subject area. Just make sure that you complete it by May 1 of your final year!
How does it work?
 You sign up for the scheme through Engage. It takes about thirty seconds to get involved; all you do is click that you want to participate at the bottom of the page!
After signing up you will need to complete the Core tasks, as well as some of the optional ones.
The tasks are divided into four categories:
Know Yourself
Explore the Options
Gain Experience
Get Job Ready
You gain between 10 and 20 points for each task you complete.
The award has three levels: Bronze, Silver and Gold. To achieve the Bronze Award you need to have 50 points, Silver is 100 points and to receive the Gold Award you need 150 points.
What are some of the core tasks I need to complete?
Complete a skills audit. You are provided with a list of skills and abilities, such as 'Working in a Team', 'Communication' and 'Problem Solving'. For each one you will provide an example of when you have experienced this in either your working or non-working life.
Attend at least three careers and employability events on campus (or online).
Improve your CV and interview skills, using the online help provided.
 Examples of optional activities
Get a part-time job through the Talent Bank or keep a record of your part-time work outside of the University.
Become a course representative.
Complete an online digital skills course.
Create a good LinkedIn profile / work portfolio.
Become a Friends of Arriving New Students (FAN).
Record any volunteering hours you do.
How can I make the most of the experience?
Try and pick activities outside of your comfort zone. It can be tempting to choose some options that you already feel comfortable with, but by challenging yourself a little bit more you will be furthering your skill set and developing a well-rounded set of skills that will help you in the workplace.
Use the help available on Engage to complete tasks. You can get help with writing your CV, Covering Letter, LinkedIn profile here, as well as so much more.
What do I achieve by completing the Award?
 When you complete either the Bronze, Silver or Gold level you will receive a certificate and digital badge which you will be able to put on your CV and show to employers.
Developed a wide range of key skills that employers are looking for. You will know what it takes to write a great CV and how to come across well in interviews. There are also plenty of other useful skills you will learn which will put you head and shoulders above other applicants.
You will also be invited to attend the Vice-Chancellor's Employability Awards celebration event to celebrate your achievement.
As an extra bonus, there are 12 prizes of £500 available to Undergraduate students that have the most points, and three prizes of £500 to Postgraduate students with the most points.
Taking part in the Award is a simple way for you to get the most out of your University experience. Having these Employability skills, combined with your degree, will set you off on a great path in the next chapter of your career. Undergraduate or Postgraduate – let's do it!
Latest posts by Fiona Tweed (see all)