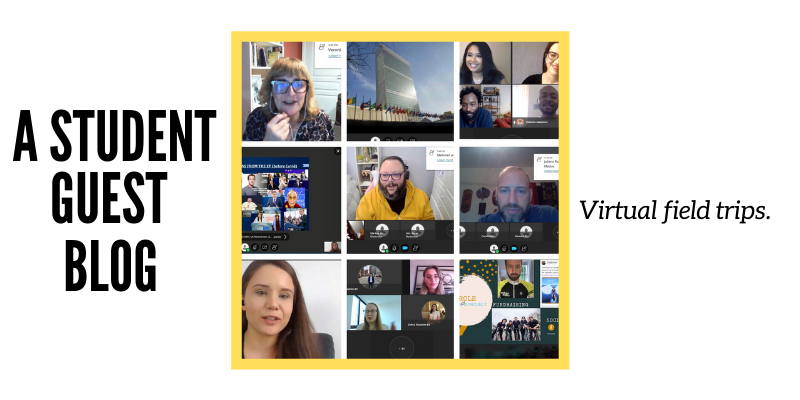 At the beginning of March, I had a chance to participate in three days long virtual fieldtrip. It took me all across the world from Bangladesh through Europe to New York. I had a chance to meet professionals working for the UN agencies, for the European Union, UK Home Office and a British NGO The Bike Project. Although each of the nine sessions was different, every single one of them equally inspired me. I am not exaggerating when I say it, because during those meetings I learnt about so many opportunities that await me after graduation, I even began to rethink my future. Talking to professionals who work on the positions that I dream of holding made me feel that anything is possible.
What can you do to get a job in the NGO of our choice, the Home Office, the UN or other international organisation? During the fieldtrip I learnt that there are so many pathways that we can choose to get there. One of the most obvious routes is to continue education and pursue a master's degree. Working hard and getting a high grade during undergraduate studies can help you get to a top university and even get a scholarship. This will not only look great in our CV but also increase our chances to get that internship or a job we dream about. On humanrightscareers.com you can find a list of some of the universities offering scholarships for Social Sciences' students (1).
Another route is to apply for internships or traineeships that many international institutions offer. Most of them are very competitive, thus you might need a lot of patience and persistence to get that chance. But once you are in, you will be able to build up a network of contacts and gain important experience. In the best-case scenario, you might even get a job offer. Here is the list of some placements that you might want to apply for:
Traineeships in the EU institutions (2),
Traineeship in the European Parliament (3),
UN Young Professionals Programme (4),
Volunteering opportunities in the UN (5),
Internship at the UN (opportunities available at the job opening website – (6),
For many other opportunities visit humanrightscareers.com (7)
There are also many alternative routes you might want to take. Applying for a job in an NGO is one way. While talking to Qussai from The Bike Project he mentioned that although working for a small charity might be difficult because of the volume and variety of work that he needs to do, it is an incredibly rewarding experience, which will additionally help you gain a lot of transferable skills. Giorgi who is the head of IMO in Bangladesh also suggested that sometimes, rather than going through all the formalities that might be tiring both for the person applying for an internship and organisation receiving interns, it is worth going to your chosen country and approaching an organization that you want to work for in person. As crazy as it might sound, many professionals appreciate having additional hands to help, without the trouble of going through all the paperwork.
Above mentioned opportunities are just a few examples of routes that you might want to take. But the list of possibilities is endless, so if you have a dream job or organisation that you want to work for, be creative and persistent and you will eventually get there.
Resources:
*****
Big thanks to Katarzyna for writing this blog, we hope you find it useful! Katarzyna Ozga is a level 6 student, completing her BA in International Relations and Development at the School of Social Sciences. If you wish to be informed of future fieldtrips related to Politics and International Relations, please contact Sahar: S.Rad@westminster.ac.uk. 
E: careers@westminster.ac.uk| Website | Facebook | Twitter | Instagram |Careers Blog 
Passionate about Student Engagement, Data Management and content creation
Latest posts by Anna Dolidze (see all)