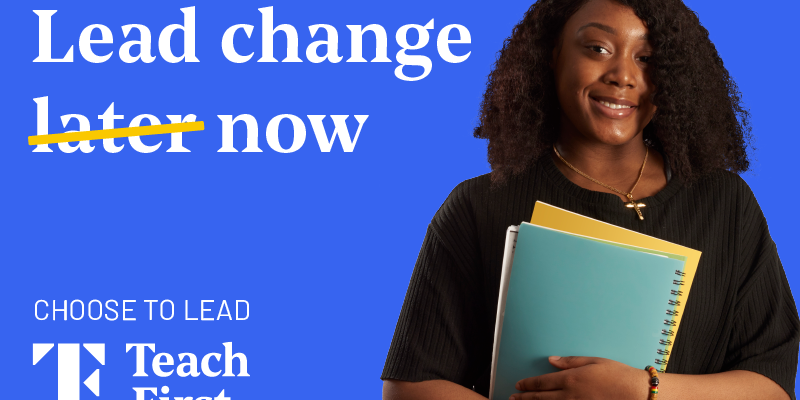 Want to change…
A) Their life?
B) Your life?
C) Both?
Before the pandemic, disadvantaged children were 18 months behind their wealthier peers by the time they took their GCSEs.
And now things are even worse. Ten years of progress towards all children getting the education they deserve has been lost.
This is your chance to change the future.
If you have the relevant A-levels or degree, you can join our teaching and leadership programme – consistently ranked in the top ten of the Times Top 100 Graduate Employers list. You do not need any previous teaching experience. We want to see your passion and enthusiasm for your subject as well as our mission.
Our two-year Training Programme offers:
a salary from day one in the classroom
invaluable career-boosting skills
a fully-funded Postgraduate Diploma in Education and Leadership (PGDE), worth double the credits of a PGCE
a career with a clear leadership and progression pathway
access to our unrivalled networks of likeminded people and organisations
connections to our corporate partners, including Amazon, PwC and Goldman Sachs
You'll get into the classroom quickly, so you can start making a difference right away where it matters most. And you can count on us to back you all the way with training, leadership development and ongoing support.
Where will you teach?
We work with schools in England from the North East to the South Coast. When you open an application, you can inform us of your preferences. We will then reach out to you to discuss these further, offering support and guidance through the entire application process.
If you want to find out more information and what you're eligible to teach complete this form.
Help us transform countless lives – starting with your own.
Choose to lead. 

Big thanks to Kate Weaver, University Recruiter at Gradconsult, for writing this blog! 
"There are many career options open to you, but few have a clearer progression pathway than with Teach First.
Join one of the UK's top graduate schemes and see the opportunities unfold while transforming countless lives – starting with your own.
Choose to lead."
Please be reminded that if you need careers support, your Careers Team is only an email / a message away!
E: careers@westminster.ac.uk| Website | Facebook | Twitter | Instagram |Careers Blog 
Passionate about Student Engagement, Data Management and content creation
Latest posts by Anna Dolidze (see all)