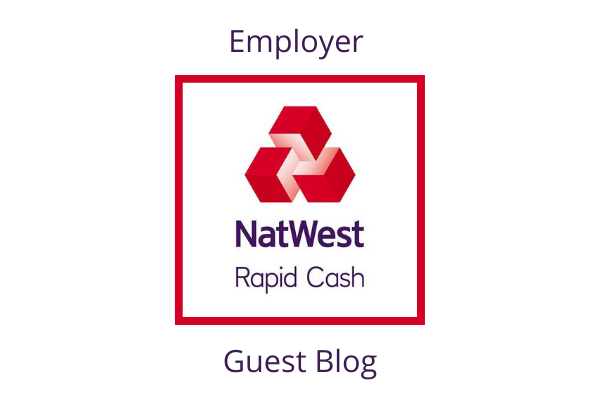 Landing a job in finance can be quite competitive; students and graduates may feel the additional pressure, especially after recent (Covid-19) events.
Whether you're just looking at your options and wanting to get a heads-up on how to land yourself an entry-level finance job, or are a graduate actively looking for a role – here are a few tips from Rapid Cash, on what is expected from someone that is looking to pursue a career in the finance industry.
We are a NatWest-owned company, offering an innovative invoice financing product, with years of experience in the financial space. Our reimagined invoice finance model helps SME owners overcome cashflow challenges and access growth opportunities.
➡ Getting the relevant qualification
The first step towards getting an entry-level job is, of course, getting the relevant qualification. This doesn't obviously mean that your qualification is restricted to a financial degree. It could be a degree in fields such as business, maths, management, or economics as they all help you develop the skills needed for a career in finance.
However, the world of finance is constantly evolving, and creative skills are also needed for technological innovation such as FinTech. This means that if you have a degree in the creative field, such as marketing, journalism or even arts – there is nothing stopping you from pursuing a career in finance. You just need to have some essential financial knowledge, which can be achieved by taking online courses or enrolling in Chartered Institute courses such as CII, CISI and CFA.
➡ Gaining work experience
The next step that will massively help you prepare for your entry-level job is gaining relevant work experience within the field. Whether it's an unpaid experience, internship, or part-time job – you should take any opportunity to immerse yourself in the industry, learn how it works and develop essential skills.
There are various ways in which you can gain experience such as helping your university societies, charities, and friends and family who have small businesses. This help can vary from financial administration and client management to accounting and business analysis.
This would help you learn industry-related skills and know what you'll be getting yourself into when applying for a full-time position in finance. But it would also be a great selling point for your interview, compared to other candidates who don't have experience.
➡ Learn basic technical skills   
Although learning and developing technical skills is something that comes with practice and experience, there are some basic skills that you could learn to prepare yourself for a finance job – for example:
Microsoft Excel – brush up your skills and start learning how to filter data sets, do conditional formatting, build reports, set up balance sheets and use formulas such as 'ACOT'.
Mathematics – your calculation skills will be widely used across various elements of your job, such as data management, financial analysis, financial reporting, and modelling.
Depending on the type of job you'll be applying for, you can develop further mathematic, accounting and other software-based skills either through expert blogs, on YouTube or through online courses.
➡ Be passionate about the finance industry
The last thing that will really make you stand out even if you don't have the relevant qualifications and experience is your passion for the industry. You should learn about the fundamentals of finance and understand how banking, capital markets, funds, FinTechs and investments work.
Reading newspapers such as the 'Financial Times', 'The Economist' and 'The Financial Chronicle' will help you understand what's going on in the world of finance. This knowledge will play an active role in your interview and indicate that you understand the industry pain points, possible solutions and future trends.
***
Big thanks to Julie Ashmore, CEO of Rapid Cash, for writing this blog!
About Julie:
A highly experienced senior leader, Julie has been working in the banking and finance market, in the UK and internationally, for over 35 years. She began her early career at Natwest in retail and then corporate banking, before moving into the world of receivables finance. She spent 13 years at Bibby Financial Services where she established a new venture in Poland, led a global change programme and took on her first formal Board roles.
With a passion for innovation, over the last decade she spent 4 years at HSBC and has worked increasingly closely with fintechs, developing new digital products to support lending to SMEs. In January 2020, she returned to NatWest, after a 25-year absence, to take up her latest position as CEO of NatWest Rapid Cash, an award winning, market leading digital lending business. Julie enjoys a challenge personally as well as at work; and is an adventurer in her spare time. She has skied to both Poles and completed 2 Atlantic crossings in the Clipper Round the World yacht race 17/18.
Please be reminded that if you need careers support, your Careers Team is only an email / a message away!
E: careers@westminster.ac.uk| Website | Facebook | Twitter | Instagram |Careers Blog 
Passionate about Student Engagement, Data Management and content creation
Latest posts by Anna Dolidze (see all)