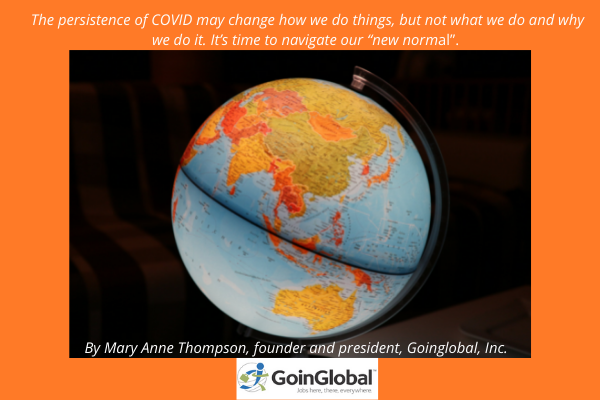 More than a year and a half into our COVID reality, there is much we understand that we didn't in early 2020. Social distancing, masking and vaccinating are part of our daily thoughts and conversations now, and we have learned to navigate in this new world, despite its challenges. We now know that life goes on amidst a pandemic, and we must find our way in it. Graduations happen, first jobs must be found, interviews must be conducted, and decisions must be made about careers, family and more. Those things haven't changed, but how we conduct some of these things certainly has. Remote work, research and surveys show, is here to stay, impacting job opportunities, internships, volunteering and study abroad programs.
Remote Work
The number of employees working remotely is likely to keep growing post-COVID-19 show most studies being conducted in companies around the globe. Born out of necessity, the trend has shown many pros for workers and companies, including the absence of a commute and more work life balance for employees and low overhead for companies. There are cons, too, of course, as some people and jobs are not as conducive to working from home. But, overall, it seems we are living in a world where working remotely, at least for some percentage of the global workforce, will become the norm going forward. Here are some of the considerations by employers and employees as they continue to explore the "new normal" of remote work.
Talent Mobility: Remote work allows employers to find the talent they need without being limited to their local talent pool. When the constraints of a physical office disappear, employers can widen their search and find that perfect employee who embodies all the skills they need, regardless of that employee's home base. Remote work can help eliminate talent shortages and allow those with the skills needed to find gainful employment more easily.
Safe Working Environment: Over the past year and a half, employers have had to take the health and safety of their employees into consideration as never before. For work and productivity to continue, employees have had to remain healthy and away from the risk of COVID-19; that has meant working remotely for many. The threat of contracting the virus isn't gone, even as vaccinations rise, and the best situation is one where everyone remains in their home offices. For the next year at least, studies show many employees feel most comfortable with remote work or a shortened in-person work week, with the rest of the time spent working from home.
Relocation: For those who have established a long-term virtual working environment, there is relocation happening or being considered. No longer constrained by geography, employees can live anywhere they desire. Some are making moves to big cities, while others are leaving the big city for more rural settings. Either way, this new way of working is allowing people to explore new environments and find out what really suits them, location-wise.
Management Strategies: Managing a virtual workforce is different than managing in-person teams. The walk-around style of some managers doesn't quite work the same way in a virtual world. Clear direction is important, as is clear feedback once the work is complete. A daily check -in and/or team meeting can keep tasks on schedule and moving forward, and may help team member stay more connected to one another, as opposed to feeling they work in a vacuum. Ultimately, autonomy and accountability are the key elements of a successful virtual working relationship between manager and employee, and that is the goal most managers are working toward this year.
Benefits Packages: In the virtual work world, benefits packages have to be considered slightly differently. Does the same emphasis need to be placed on flexibility and personal time off? What about sick time and vacation time? What about mileage and per diems? What about reimbursement for office supplies bought by the employee? How many breaks does one need in a day when one is at home and enjoying more freedom than ever? These are considerations for HR teams navigating in a new world. Studies show that with many employers no longer able to offer office perks or things like gym memberships, they are looking at other benefits and incentives that meet the needs of a remote workforce.
Virtual Internships
Internships at home and abroad have always been popular ways of building career skills. The ongoing pandemic curtailed travel and in-person office work around the world, however, making it difficult for young people to obtain the experience gained through internships. Virtual internships – at home or abroad – are providing university students and new graduates with the work experience they need to make career decisions.
In 2020, when it was too difficult to conduct internships in person, companies that could began offering them virtually. If much of the general workforce was virtual, it made sense to allow interns the same opportunity to work from their homes or schools.
Today, virtual internships are still a sought-after option for young people looking for professional international experiences. Since COVID-19 boosted the popularity of online programs, the number of service providers offering these opportunities has increased, and both students and facilitators are enjoying the huge potential of online experiences. It opens the door to experiences in places and at companies some would never have in person. Companies like it because they have a wider pool of interns from which to choose. It's proved a win-win.
Also, international internships, when conducted virtually, allow you to gain valuable on-the-job experience and navigate across cultures without the often-high cost of in-person internships abroad.
Good management and communication are the keys to a successful virtual internship. Having reliable technology that you understand is also a must.
Study Abroad
Early in 2020, many students studying abroad were sent home, amid some confusion and not a little panic as border closures loomed. It was a fraught time. But, today, students are beginning to venture out again. It is a slow start, but some universities have started accepting foreign students onto their campuses, while many more have plans to do so in the coming semesters.
There are, of course, more protocols and cautions than in the past, as universities do their best to keep students safe while providing them with the international programs and adventures to which they aspire. Most universities explain in detail what students can expect during their study abroad amid COVID-19, and as The University of Kansas website explained, "Studying abroad during COVID-19 will be different!" The academic experience may be a hybrid of in-person and online classes, while student housing may require fewer students a room or apartment to allow for some social distancing. Expectations when traveling independently or participating in excursions and activities may need to be adjusted to allot for abrupt changes or cancellations. There may be the need to quarantine or border closures again if the virus flairs.
While there are unknowns to studying abroad at this time, it is certain that students want to travel and experience other cultures, as they always have, and universities are working with them to make that happen. If students are flexible and adhere to the protocols set out for them, they are likely to have the experience of a lifetime.
In Conclusion
Though the pandemic has certainly changed the way we work and navigate professionally and as students, the experiences we want and need have not changed. To achieve them, we have just adapted to the times we are living in. Through such things as remote work, virtual internships and new study abroad protocols, we have charted a "new normal" for ourselves and those around us.
***
Big thanks to Mary Anne Thompson, founder and president at GoinGlobal, Inc. and GoinGlobal team for writing this article. We hope all of our students interested in studying or working abroad, find this blog useful. Please be reminded that there are many resources available to you as a Westminster student, including free access to GoinGlobal.
E: careers@westminster.ac.uk| Website | Facebook | Twitter | Instagram |Careers Blog 
Passionate about Student Engagement, Data Management and content creation
Latest posts by Anna Dolidze (see all)