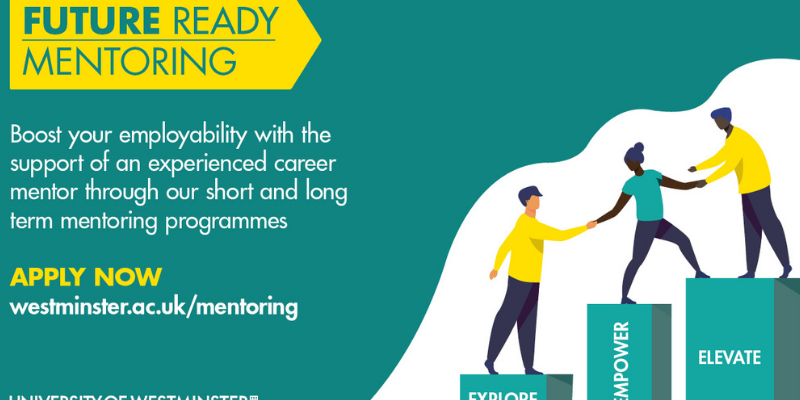 Are you looking for industry specific guidance or exploring different career pathways? Or are you looking to network and gain skills, advice and knowledge about the world of work?
If you're looking to spruce up your CV, gain industry insight, and develop important soft skills, Future Ready Mentoring can help you. Speaking to a mentor will provide you with first-hand industry insight and can support you in gaining a stronger understanding of the working world.
We have hundreds of mentors from a diverse range of industries, cultures and backgrounds who want to help you. They can equip you with the right mindset, share valuable professional insights, assist with developing your skillset and support the growth of your network. This is all so you can tackle the working world with confidence!
Long and short-term mentoring at the University is open to both students and recent graduates (of the last 3 years) This can take place over the phone, or online via Skype and Teams.
Career Mentoring Scheme (long-term mentoring)
Our award-winning Career Mentoring Programme matches participants for a long-term mentoring relationship and we have two intakes each year. Cycle 2 runs from May – July and applications are now open!
To take part, you will need to:
Be able to commit to a minimum of 3 virtual mentoring sessions over a three-month period between May and July
Apply through an online form on Engage
Complete mentee training which will take place in late February (if matched)
Applications close on Sunday 13 February 2022 at midnight.
Ask a Mentor Service (short-term mentoring)
For those of you who are looking for a short-term mentoring opportunity, the Ask a Mentor Service offers you the chance to have a one-off conversation with one of our professional mentors.
This one-off mentoring session can be used to ask for career advice on a range of topics, for example, guidance on job/internship search, application or interview preparation tips, or for asking industry-specific questions. Open all year round, you can apply via Engage here.
Whatever your goal is for 2022, we hope you add Career Mentoring to your list of New Year's resolutions!
If you have any questions, please contact us at career-mentoring@westminster.ac.uk or visit our webpage, www.westminster.ac.uk/mentoring
Passionate about Student Engagement, Data Management and content creation
Latest posts by Anna Dolidze (see all)