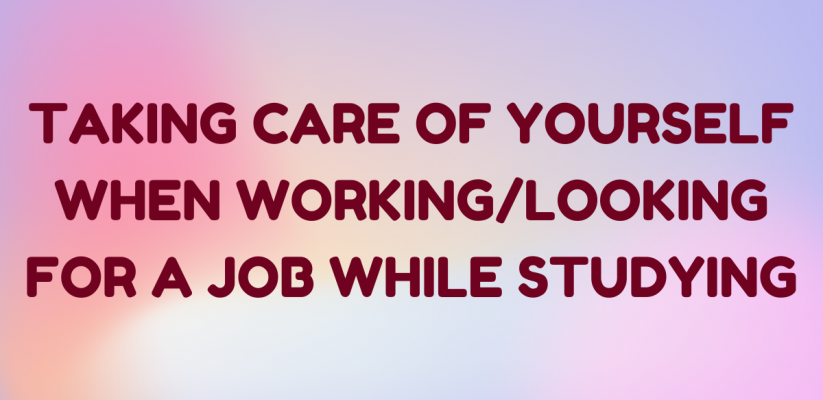 The term "well-being" derives from the Italian word "benessere" (to be in a good mental/physical/spiritual state) and has been sought after by everyone since the beginning of times, even though it had other names.
Well-being is desired and regarded by any human being every single day. However, certain events that occur in our daily life can negatively affect it and lead us to feel stressed, sad, angry, and other pessimistic emotions. One of them is working or looking for a job while studying at university. In fact, it puts more pressure on us to better deal with our time management skills and the negative feelings that come with unsuccess at work or rejection while job-hunting.
Therefore, it is crucial for everyone to adopt their own self-care strategies to release the negative emotions they're experiencing and keep themselves mentally and physically healthy.
We have asked some of your fellow students to explain how they take care of themselves during these times.
Check out their answers:
"When I feel stuck and demotivated, I just put my running shoes on and go for a run. It doesn't have to be a marathon but just enough to get endorphins in my body. This is what brings me back on track!".
BA Hons Finance and Business Management Student
"To take care of myself every week, I like going for walks, hanging out with friends, doing push-ups for 5 minutes, and going shopping".
MSc Integrative Health and Well-being (Public Health and Nutrition) Student
"I keep my mental and physical states healthy by listening to music, going to the gym, using social media like Instagram"
MA Project Management Student
"Working part-time while studying can make me feel overwhelmed at times. So, I try to take some time to focus on myself every day to do some activities I know would make me feel better such as going to the gym, playing tennis, hanging out with friends or family, reading a book, watching YouTube videos or listening to music".
BA Hons Business Management (Marketing) Student
"While working and studying, I take care of myself by changing the environment often, making sure I drink a lot of water and eat well and taking the time to go for walks or going climbing".
MA Music Management
Leave a comment below with what you usually do to take care of yourself while studying and working or looking for a job!
***
Big thanks to the students that shared their experiences!
For any careers support, please reach out to us via the channels below.
E: careers@westminster.ac.uk| Website | Facebook | Twitter | Instagram |Careers Blog

Communications Assistant
at
Careers and Employability Services
L6 Business Management (Marketing) Student - Passionate about marketing and technology

Latest posts by Francesca Sissa (see all)