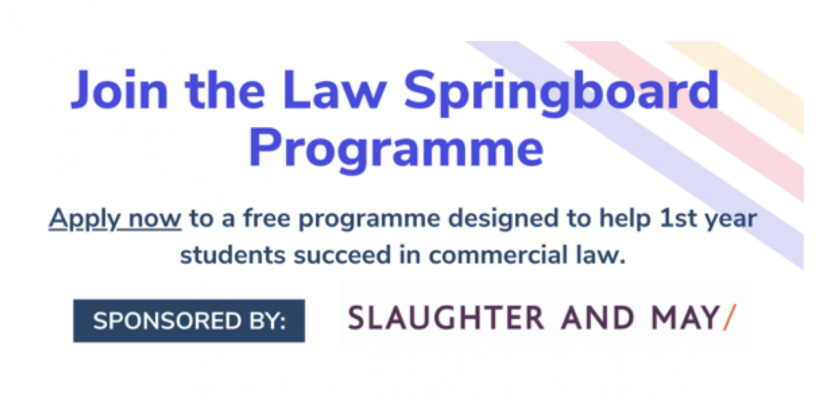 Interested in a career in Commercial Law?
upReach are looking for motivated and high capability students to take part in our free Law Springboard Programme, exclusively sponsored by Slaughter and May.
On the Law Springboard, you will have access to a dedicated Programme Coordinator who will support you with your applications through dedicated 1-to-1 CV and application reviews, as well as mock interviews on request. Being a part of the Law Springboard Programme also entitles you to a mentor from Slaughter and May as well as access to exclusive work experience with them.
To be eligible, you must:
● Be in your 1st year of university (or graduating in 2024)
● Be interested in commercial law
● Have achieved AAB at A-level or equivalent (these grades will be contextualised by our REALrating system)
● A household income of below £42,620
● Been entirely state school educated (or from age 14 if educated abroad before this)
To apply, follow this link (please select 'Law'' as your primary career interest to be selected for the Law Springboard Programme): https://upreach.org.uk/apply-now
Places will be filled on a rolling basis, so apply now to avoid disappointment!
***
For any careers support, please reach out to us via the channels below.
E: careers@westminster.ac.uk| Website | Facebook | Twitter | Instagram |Careers Blog
Passionate about Student Engagement, Data Management and content creation
Latest posts by Anna Dolidze (see all)