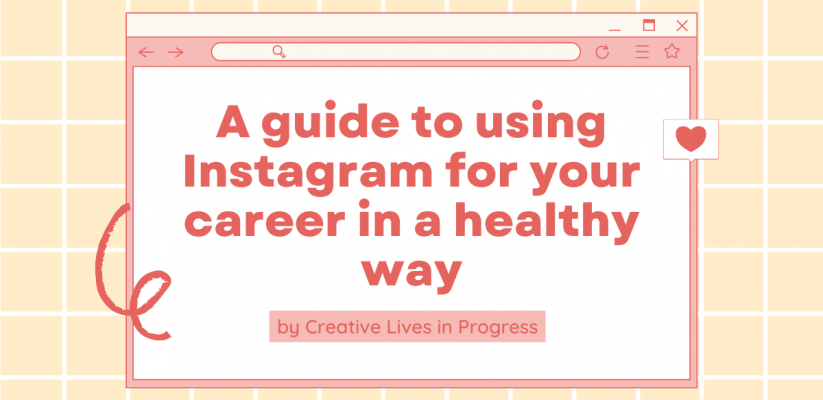 Instagram is a common talking point when it comes to creative careers; and even though it can be an amazing source of connections, inspiration and information, it's not all gravy… The app also has its repercussions, from addictive scrolling habits to toxic self-comparison – all of which can lead to questioning your own value.
As it continues to act as a shop window for creatives of all levels, we believe it's important to find a balanced approach to using Instagram. Here we've gathered advice and tips from a wide range of industry professionals, to bring you a first guide to using Instagram for your career in a healthy way.
Here are 3 steps to help you use Instagram for your career in a healthy way.
1.Setting up an account for work
Firstly, it's worth keeping in mind that people often Google potential employees and collaborators, and social media usually comes up high in the search. This is why it's important to make sure that people can find you, and that you have some control over what they discover.
🔒 Separate your accounts to create boundaries
One way to set boundaries between your public work and personal life is to set up two accounts. This separation allows you to set the right tone and make sure your business or brand remains professional.
Just finished a great design project? Show the world on your public page!
Embarrassing messages from Hinge? Private page!
If you prefer having one account for both, just know that it's a choice, and you can be conscious with how much you reveal. In this case, you can also separate content by using the 'Close Friends' functionality on Stories, allowing only a selection of followers to see more personal updates.
💼 Consider switching to a business profile
Whatever you choose, look into switching to a Business Profile. This feature will give you post insights, audience usage time (always helpful when scheduling posts!), a detailed inbox, the option to put an email on your profile, and more tailored notifications.
🔗 Add your website and contact info
And don't forget to add your website (if you have one) to your bio if you want to be contactable for work or opportunities, as well as your email address, if you're comfortable with that.
2. What to post
💌 Share what you're proud of
We all know about the infamous Instagram algorithm, but it shouldn't be about trying to crack the code to get the most likes. Instead, we recommend posting what is authentic to you; what you're proud of and demonstrates what you want to do more of.
If your work is less visual, for example if you work with words or have a more behind-the-scenes role, there are always ways of sharing your work. Writers and journalists might want to post snippets of writing using interesting typefaces and colours, or screenshots of articles on coloured backgrounds. Producers could share clips from projects they've been a part of, with clear captions about their involvement.
🎨 Think quality over quantity
Sharing what you love is far more likely to produce better connections and outcomes than sharing what you think people want to see. This will also attract the right audience: people who are genuinely interested in your work and ethos.
🖼️ Your grid doesn't have to be 'perfect'
Your content can be as curated or liberal as you like – whatever feels right for you and your work. And if you ever run out of ideas for things to share, remember to refer back to that list you made of the types of content you want to put out there.
👍 Check it with a friend
Do you ever get nervous before pressing send? There's no harm in sending your post to a trusted friend first for a second opinion. This might help you spot a mistake or even build your confidence. Consider posting work in progress too, this will remind you that not everything on Instagram has to be finished or perfect!
🛠️ Make the most of Instagram's tools

You can use Instagram's other tools for various functions such as:
• Using IGTV to showcase interviews or clips
• Using Reels or Stories to share process, ad-hoc inspiration or personal updates
• Using Guides to produce your very own how-to
• Using the Shop to sell products
📈 Optimising engagement
Using hashtags, tagging, caption mentions and sharing a Story of grid posts can all help others discover and embrace your posts. But if you want to take that a bit further, you can always do a bit of extra research, via platforms focused on tech and content. Something to bear in mind is that consistency will have a big impact. Plus, interacting with other people's content makes it more likely to come back to you.
3. Be kind to yourself
It's easy to attach the value of your work to the number of followers you have or likes and views that your posts and stories get. But try to remember the following:
😞 Don't be deterred if something performs 'badly'
Building an Instagram presence takes time, consistency and patience, so don't dwell on by how well something performs.
😒 Avoid self-comparison
Just consider that we only ever see a fraction of someone's life online, so try not to get dragged down by it. Instead try to focus on your own work, inspirations and path.
🤗 Follow accounts that make you feel good
Only follow accounts that inspire you
Mute accounts that are triggering, or that make you feel bad (we can all use a break from the endless news streams, and you can always unmute these later)
👀 Dealing with negativity
Along with praise and positivity can come criticism and negative feedback. If this happens to you, try to only take on what is constructive and useful.
For anything that verges on abusive, don't be afraid to block users and report them directly to Instagram. It might be easier said than done, but try not to let these comments get to you; and where necessary, seek support so you don't have to shoulder negative feelings on your own.
Want to read some more advice on how to successfully build and manage your Instagram work account? Read the full article on the Creative Lives in Progress website.
______________________________
Big thanks to the Creative Lives in Progress team for writing this blog! We hope you find it useful and it helps you to use Instagram in a healthier way for your work.
Please be reminded that if you need careers support, your Careers Team is only an email / a message away!
E: careers@westminster.ac.uk| Website | Facebook | Twitter | Instagram |Careers Blog
Passionate about Student Engagement, Data Management and content creation
Latest posts by Anna Dolidze (see all)