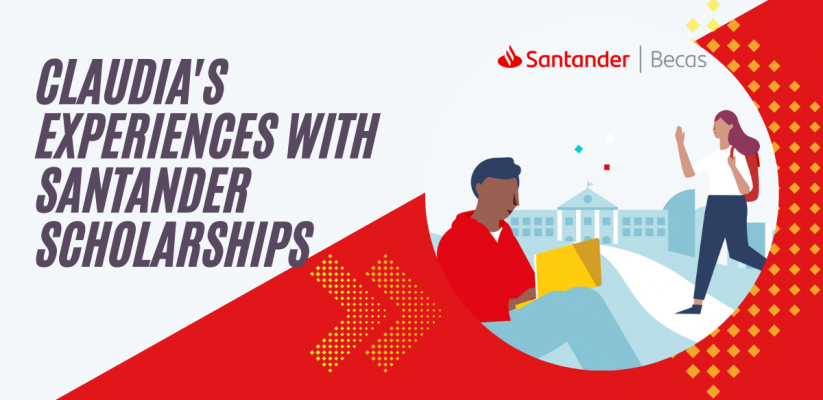 Hello! My name is Claudia Picciuto, and the following blog will entail bits of my experience with Santander Scholarships.
Throughout my year at university on my way to culminate my Master's degree in Biomedical Sciences I saw an advertisement of that organisation on the website of the university. To be honest, I had no idea that Santander could also provide scholarships and other grants to students to promote development of skills needed in the workplace after graduation. The advertisement piqued my attention, so I took a look on the website of Santander Scholarships and wow…they offer a wide array of opportunities not only in the United Kingdom but in a worldwide scale, even offering plenty of courses of different fields to cater students and professionals alike including technology, business, among others.
I went straight to the advertisement that caught my interest—it was a giveaway offering a one-year worth of tuition fees! With that amount of financial support I could be able to invest in future professional development or training courses I always wanted to do but was unable to afford before, to my frustration.
Thousands of students were applying for the giveaway, so it was sort of intimidating – the same feeling you get when applying for prospect universities and hoping you will not receive a rejection letter from your favourite one. Nonetheless, I decided to give it a try despite the hesitation.
It was last year I submitted the information required before I had to wait for a couple of months. I thought about it during New Year's Eve as a way of manifesting good luck. Oh boy…it might sound cliché, but never in my wildest dreams would I have thought that I would end up being one of the winners of the giveaway! Out of 3,000 students, only 3 or 5 were chosen, including myself!
Overall, the experience was pleasant, the people involved were very supportive with any questions or doubts I had, including Simay (one of the organisers of this initiative at the university); the application process was easy and straight-forward, and it did not take me long to complete. As long as you meet the criteria for the scholarship you've applied, everything will be fine!
For any student, recent graduate or professional that has a desire to keep developing themselves for a better future in any path of life, I would strongly recommend to keep an eagle eye on any opportunity Santander Scholarships upload on their website. '
"Carpe Diem'', take that risk and apply for the scholarship that catches your interest. Better doing it now, in the moment, rather than regretting later after missing the deadline for that grant you wanted, right?
***
Many thanks to Claudia for writing this blog and sharing her experiences, and congratulations on being one of the scholarship winners! Claudia is a MSc Biomedical Science student.
For any careers support, please reach out to us via the channels below.
E: careers@westminster.ac.uk| Website | Facebook | Twitter | Instagram |Careers Blog
Passionate about Student Engagement, Data Management and content creation
Latest posts by Anna Dolidze (see all)