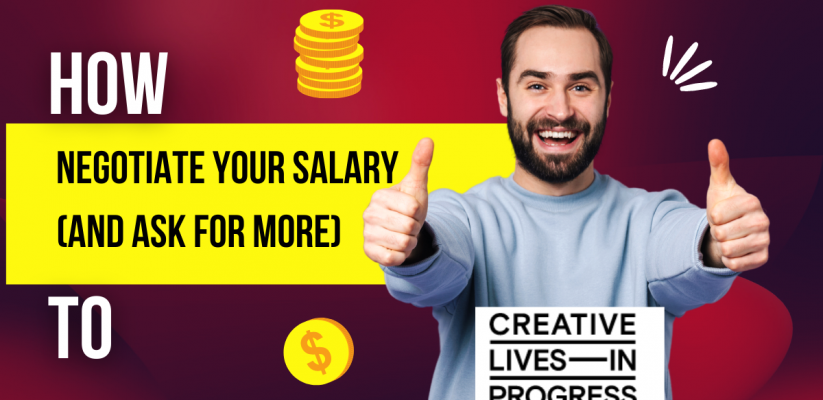 So you've landed on what seems to be the perfect role, like a shard of gold shining through what feels like a sea of job ads. And then, you notice the salary… How do you know if it's fair, and how do you go about asking for more? Negotiating your pay is never easy, especially when you're just starting out, yet this is when money conversations are at their most important. Here, we've put together some essential guiding points to help you nail those negotiations.
Why is this important to talk about this?
Your initial salaries will impact your future, which is why knowing your worth, understanding what makes a salary fair, and how to negotiate are vital skills that are best built early on. This is particularly relevant when it comes to addressing the gender pay gap. 
What do we mean by salary?
Salaries are mostly applicable to anyone in full-time, part-time or fixed-term roles. Your salary is the money you get from your employer – either as a monthly or annual payment (or hourly if you work part-time) – and is usually agreed in your contract before you start a new job. However, the final salary is not always as advertised.
For example, the salary on your contract is £22,000 this doesn't mean you will earn exactly £22,000 at the end of the year. This figure doesn't take into account deductions for:
Income tax (PAYE, or 'Pay As You Earn')
National Insurance
Pensions
Student loans
You can use many salary calculators online (including this one from Randstad or this one from Totaljobs) which can help work out your exact net salary and take home pay after these deductions.
🚨 A few salary-related warning signs
A reminder about taxes
If you work full-time, your employer sends your salary information directly to HMRC, and they work out and deduct your income tax (PAYE) for you. But if you also take on freelance work in addition to your full-time work, you'll still need to register as self-employed, submit a tax return and pay any additional taxes. 
Watch out for illegal salaries
While salaries for internships do exist, there are a few things to look out for before accepting one. If you're a worker, you're entitled to National Minimum Wage . Head here to read more about unpaid internships, and what to do if you're in one.
How to work out if a salary is fair
🏦 Work out your cost of living
You need to know exactly how much money you need to live. So first, break down all your outgoings. This should take into account things like:
Rent
Bills
Subscriptions
Local travel
Food
Social activities
Savings
⚖️ Compare and contrast other salaries
Ask around!
To start with, you could ask friends, colleagues or other contacts in similar fields what they earn (e.g. "What do you think would be a reasonable rate for a job involving X?")

Check out salary comparison sites
There are also countless salary comparison resources out there to help you understand what other companies or roles are paid across disciplines, including tools on sites like LinkedIn and Glassdoor.
📑 Analyse the job description and responsibilities
Analysing the responsibilities and skill level presented in the job description will help determine if your experience is applicable or advantageous – and can ultimately guide your salary negotiations. Consider some of the following factors:
What are the working hours like?
What level of seniority, experience or skill is needed?
How niche is the specialism or sector?
How many of the skills do you meet?
🔍 Look up company benefits
Some companies will offer benefits including extra holiday, healthcare or stock options alongside the salary. This might sway your judgement on the salary, as it could mean taking home a little less money each month for a benefits package that you're interested in.
Making sense of salary ranges
While some employers will state a specific figure on a job listing, you might see others who share a salary range. This might look something like this: "£23,000–£26,000, depending on experience."
Why? An employer might use a salary range during the interview or offer phase of a job search, and negotiate depending on the level of experience an applicant has.
Common factors that will affect the salary range here are:
How long you've worked in a field or industry
If you have strong recommendations or references from your previous employers
If you have loads of relevant skills and certifications
The cost of living in your area
Common rates in the sector you're applying for
Unfortunately, it's not a requirement for employers to list salaries, and by doing this, employers stand to gain more negotiating power. It can also be pretty frustrating for an applicant to not have this information before deciding to spend time on putting together an application. But try not to let this stop you!
Even if you don't see a salary listed on the job post, we'd still advise thinking about how much you think you should be earning. It's always good to be prepared, especially if you get called in for an interview and get asked about your salary expectations.
How to negotiate
😌 Be calm and assertive in your arguments
Be ready to back up your salary expectations with examples and research. If you don't have a rational argument for a higher salary, you run the risk of looking unprofessional.
👯 Consider mentioning that you have another job offer
If you're between two job offers, it's up to you whether you tell an interviewer or employer. It could work in your favour, as they might be quicker in their decision – and better yet, they could match or increase the salary. If you do have another offer, though, be candid about what you're being offered (without giving away the organisation's name). And… no bluffing!
🤫 Don't reveal your current salary
🤸 Be flexible
Determine what you see as beneficial in terms of a pay rise, and be prepared to compromise if they come back with another figure.
👋 Don't be afraid to walk away
Ways to negotiate
However you're negotiating, try to write down a clear argument so that if you go blank during a conversation you'll have something to fall back on. Always be sure to:
Thank the employer for the offer
Set out your case, including a specific figure or range
A final note
Hopefully by now you'll be feeling a lot less worried about any money chat. If you're ever in doubt, then always do your research – the power of knowing the company and industry you're working for is your strength here!
Be sure to look around and gain some knowledge of what's out there, and the rates that other people are working for in your sector. And finally, know the amount that you need to live. All of these ingredients will make for the perfect recipe to interrogate, argue for and negotiate your salary.
Want to read some more advice on how to successfully negotiate a salary? Read the full article on the Creative Lives in Progress website.
______________________________
Big thanks to the Creative Lives in Progress team for writing this blog!
Please be reminded that if you need careers support, your Careers Team is only an email / a message away!
E: careers@westminster.ac.uk| Website | Facebook | Twitter | Instagram |Careers Blog
Passionate about Student Engagement, Data Management and content creation
Latest posts by Anna Dolidze (see all)