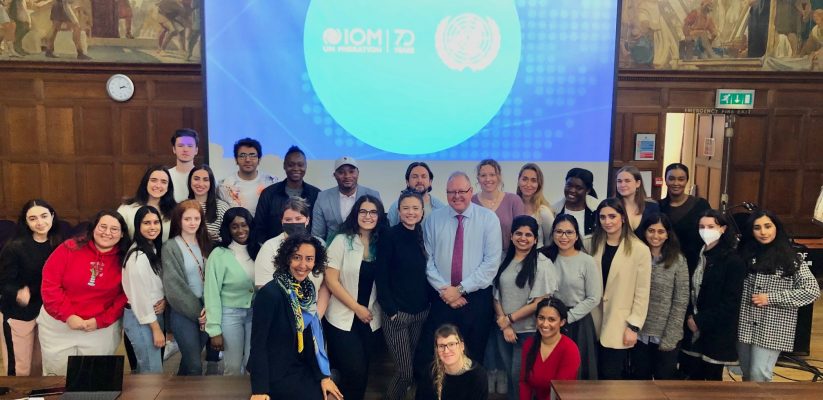 When I first got the email in February 2022 to say that I had been accepted for a field trip of international organisations, I was extremely delighted to be a part of this unique experience. This hybrid field trip would allow me to deepen my knowledge of the various international organisations and think tanks, such as the UN, IOM, the European Parliament and international NGOs, and to gain an in-depth inside look into the operations and the workings of them. I have always had a deep interest in international organisations, and it is so great to have been able to gain new perceptions.
Every workshop and session that we had over the two weeks, was useful and so interesting in its own way. They all gave me a new perspective on their organisation and various issues too, such as current issues from the Russia-Ukraine war to gender issues. Another perspective which I gained was the application process and the do and dont's of applying to the UN and the IOM. It was so insightful to hear about the application and interview processes from the director of human resources, Michael Emery, because he went through the process step by step and gave us valuable tips for applying!
One session which really made a huge impression on me was the visit to the Overseas Development Institute which is a think tank revolving around international development. The CEO, Sara Pantuliano, shared her whole professional journey from working for many years in the UNDP in Sudan, working on peace agreements to working in her current job at the ODI. It was such an amazing journey that she went through and still is going through and really left everyone in the room starstruck by her! Sara really changed my perspective on my career and what I want to go into and really made me change my mind on the path I want to go on. Her positivity and excitement really excelled through the many stories that she told through the years that she was studying to her fieldwork in the UNDP. This session was so enjoyable, and I am glad to have gained this amazing experience.
Another session which was really enjoyable and useful was the session by UN speaker Felipe Queipo who works in the UN headquarters in New York in the Global Communication department. Felipe gave us a really useful insight into the UN application and interview processes and really explained the UN system to us. We also had alumni come in and speak to us about their journeys through university and their various routes to their current jobs.
Being able to experience this field trip has been such an amazing opportunity to be a part of and I am so glad that I attended all of the sessions and met such amazing people in the international organisations and think tank as I gained such insightful perspectives from each of them and a different outlook on my future career.
***
Many thanks to Momina Nehmat, L5 BA International Relations and Politics student, for writing this blog and sharing her experience!
For any careers support, please reach out to us via the channels below.
E: careers@westminster.ac.uk| Website | Facebook | Twitter | Instagram |Careers Blog

Communications Assistant
at
Careers and Employability Services
L6 Business Management (Marketing) Student - Passionate about marketing and technology

Latest posts by Francesca Sissa (see all)