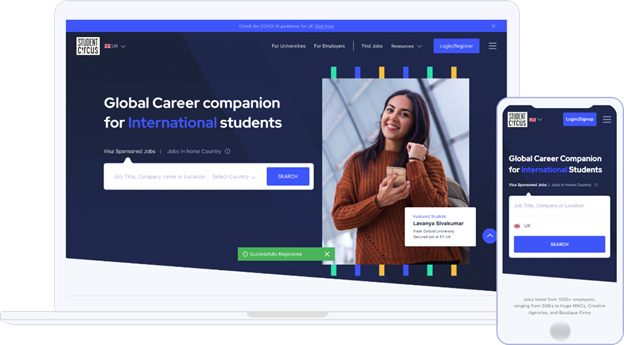 Are you an international student at the University of Westminster? We understand that international students have highly specific needs when it comes to their career journey, and we are here to provide for that.
We have partnered with Student Circus to provide you a superior and seamless experience in your job search journey. Here is everything you should know about the platform and how you can best use the resources in your job search or career journey.
What is Student Circus?
Student Circus is a niche job search platform that enables International Students secure visa-enabled jobs in the UK. International Students face the unique challenge of time and visa constraints associated when navigating the job market. At the same time, it is a learning curve for international students to acclimatise to the UK work culture.
Student Circus provides resources that empower and equip international students with the knowledge, skill sets, and world class UK universities nurture and produce the very best of international talent. At Student Circus, we believe that this skilled talent can greatly benefit the UK economy and its employers with its global outlook.
What does it offer?
Student Circus offers you customised resources and opportunities aimed at international students and graduates:
The Jobs Board lists down Skilled Worker Visa opportunities, internships (including start-up internships) and placements listings. You can explore
Immigration Guide: Have questions about the different kinds of visas available for international graduates? This guide from immigration solicitors answers them.
Jobs in Home Country: Want to return to your home country upon graduating and work in elite jobs that value your global profile? Find job and internship listings in 30+ home countries. These are complemented by Country Guides that act as manuals to help you navigate the quirks of the home country job market, sharing tips on job search, trending industries, internships, fellowships, networking, mentoring, among other things.
Workshops & Webinars: Student Circus regularly conducts webinars for the students at Westminster. These are micro-training sessions on the UK job market, the application process, information about graduate schemes and so on.
Career Almanac, Student Circus blog: All the latest news and insights about the graduate job market are made available on the regularly updated blog.
You can also read success stories to learn from your peers who have landed jobs in the UK, including Westminster alumni!
Why should I use Student Circus?
When it comes to the job search journey and getting started on their professional career, the needs of International students are very different from others. Even with the option of applying for the Graduate Route, international students still look for visa-sponsorships if they plan to work in the UK long-term. Student Circus has customised its job board and information resources to serve these specific needs of international candidates.
You can save up to 2 hours on each job application by using the Student Circus platform, which would otherwise be spent on finding appropriate opportunities and confirming sponsorship status.
How can I use the platform?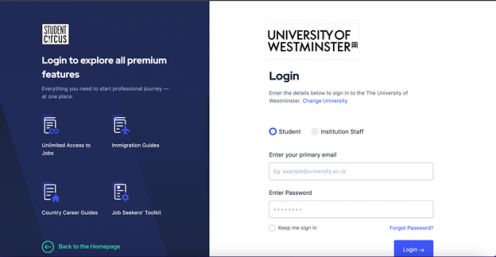 International students at the University of Westminster have exclusive, unlimited access to the platform using their student ID.
Select your university as "The University of Westminster" then select "Sign Up" on the next window. Use your .ac.uk Student Email ID to set up your account.
You will receive a verification link in your inbox, click on it, and you can access all these resources on your account.
Big thanks to Student Circus team for writing this blog! Westminster students, don't forget to have full and free access to the platform, see here.
Please be reminded that if you need careers support, your Careers Team is only an email / a message away!
E: careers@westminster.ac.uk| Website | Facebook | Twitter | Instagram |Careers Blog
Passionate about Student Engagement, Data Management and content creation
Latest posts by Anna Dolidze (see all)