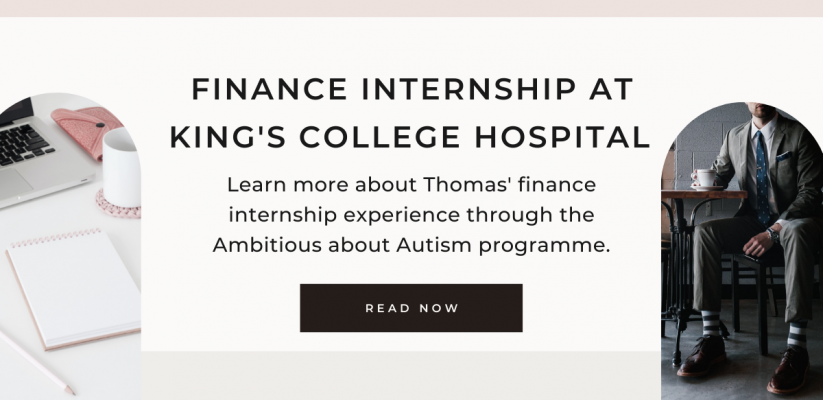 For my internship with Ambitious about autism I was a finance intern at King's college hospital where I shadowed professional accountants and learned how an NHS trust operates financially. The recruitment process was quite easy as I had done previous interviews for various jobs and had gained more confidence to apply for job applications as well as present myself as a professional during interviews. I prepared for the NHS interview by conducting research into King's college Hospital such as their values and I discovered how inclusive the trust's work culture which attracted me more towards the internship. One way that I prepared for the interview was that the interviewers had emailed me the questions that would be asked during the interview, which was extremely useful and had made me calmer for the interview as I was able to plan out my responses for the questions.
I was excited to start the internship as I had never had a proper experience of working a 9 to 5 internship. During my internship I had learned how invoices were processed through the accounting software that the finance department used and I learned more about how cost is calculated and recorded within their accounting records. I was also tasked with analyzing a large amount of data that contained different business cases and present my findings in a report during a team meeting. The most enjoyable part of the internship for me was when I was working within the management corporate team within the finance department as the work I was tasked with was to confirm the existence of transactions that were recorded within the accounting system and identifying the classification of those transactions. This experience had allowed me to apply my own prior knowledge of accounting from my first year of my degree as well as previous studies as well as I had learned that I was more suited to work within an office environment as I had enjoyed the inclusive atmosphere within the office where my colleagues would assist me in my tasks as well as educate me on using the accounting software that was used.
After I completed the internship at King's College hospital, I found that I had developed a great interest in pursing a career within the accounting professional and had enjoyed working with the NHS. By having developed a professional relationship with my line managers I was able to get a reference to apply for a placement year with the NHS, which I was successful in my application to get a placement year with King's College Hospital. I look forward to working again with my line managers and King's College Hospital to further my career as an accounting professional.
Overall, the internship that I had secured with Ambitious about Autism had allowed me to not only further my professional experience but had also allowed me to apply accounting theory that I had learned from my studies to a real-life scenario and as a result had allowed me to boost my confidence in working within a professional environment. I highly recommend others to take part in the AAA programme as it offers opportunities for individuals to gain professional experience as well as boost their confidence.
***
Many thanks to Thomas Carey, a L5/6 BSc Accounting student, for sharing his excellent experiences! 
For any careers support, please reach out to us via the channels below.
E: careers@westminster.ac.uk| Website | Facebook | Twitter | Instagram |Careers Blog
Passionate about Student Engagement, Data Management and content creation
Latest posts by Anna Dolidze (see all)