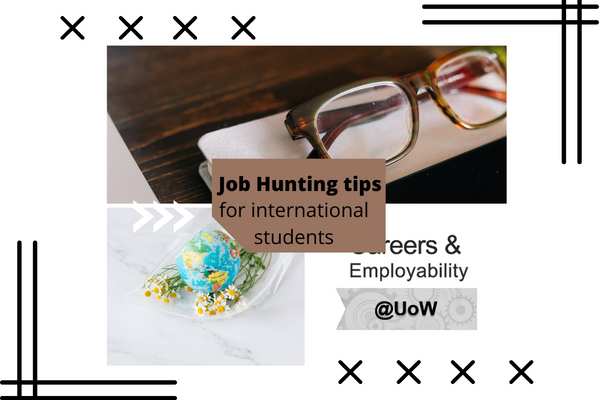 You've made it to the UK and have successfully started your degree, and now it's time to start the job hunt process. It's important to keep in mind that your Student Visa only allows you to work for a maximum of 20 hours per week (check your own situation carefully), therefore, you should really focus on searching for part-time jobs so that your job does not interfere with your coursework. Make sure to check your working rights on Student Advice before proceeding with any applications. It would be ideal for you to settle into your new surroundings, get the lay of the land before embarking on the job search journey When you are ready, there are several things you can do to make the job search process just a bit easier, first of all, make use of the University of Westminster's resources that are available to you. There are a few options available:
It is always a good idea to work on your brand and build confidence levels and maintain your well-being. Tune in to Make it, don't fake it, an employability podcast created by the students from the University of Westminster in collaboration with the Careers and Employability service. Students from different backgrounds get together to have a chat about the struggles they have overcome and more.
Register with Talent Bank
Talent Bank gives you the opportunity to apply for paid temporary and part-time work across various departments within the University of Westminster. It's a fantastic opportunity to earn extra cash, develop transferrable skills, gain valuable experience and increase job prospects for after graduation. You can email talentbank@westminster.ac.uk for more information. From personal experience, this is a great way to access internal work opportunities without disturbing your course schedule.
Graduate Success Series and Virtual Skills Academy workshops
Attend the Graduate Success Series workshops and Virtual Skills Academy workshops organized by the Careers and Employability Services that offer great insight and advice about how to make your CV look more professional, how to use LinkedIn to find jobs, and how to improve your networking skills among other topics. You can book places for events via Engage or email careers@westminster.ac.uk
There are a wide range of websites that you can explore to look for the right job opportunity for you based on your skill set and availability. Here are some websites that you can check out
Build on your existing skill set
Doing some courses in your spare time is a great way to enhance your CV and learn new skills, which will come very handy in the job search process. Coursera and LinkedIn Learning are some of the best places to get started. As a current student of the University of Westminster, you get free access to LinkedIn Learning, so make sure to sign up. Open Learn, Future Learn, Open Classroom and EdX are other great resources to refer to.
Before applying for jobs, make sure that your CV is updated with your current international phone number and address to avoid missing out on any potential interview opportunities. Writing your CV can be a confusing process so make sure to refer to this guide to cover all your bases. Shortlist.Me is a great site to practice interviews, get feedback and interview tips.
Also check out this comprehensive guide with more job hunting tips to help you along the way. Always keep in mind that there are a host of other resources available to you through the University of Westminster Career platform, and you can always book 1 to 1 consultations (face-to-face, online or over the phone) with your careers consultants for guidance and advice through Engage.
***
Many thanks to Nupur, our student helper for the Early Graduate Support project, for writing this excellent blog.
For any careers support, please reach out to us via the channels below.
E: careers@westminster.ac.uk| Website | Facebook | Twitter | Instagram |Careers Blog
Passionate about Student Engagement, Data Management and content creation
Latest posts by Anna Dolidze (see all)