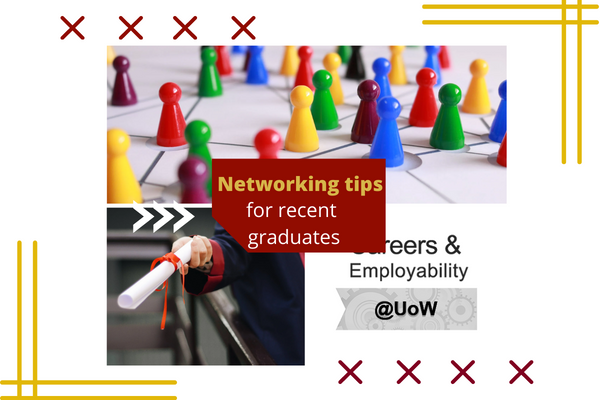 The time after graduating university is very transitional and sometimes confusing; you've just finished university but haven't quite started working yet, and you find yourself thinking how do I make the most of time and find a suitable job? A simple answer to that question is to just network! But that's easier said than done. We've compiled a list of dos and don'ts and a helpful resource guide to assist recent graduates when navigating the world of networking.
Make sure your profile is as detailed as possible, with past work experience and educational qualifications listed out clearly to enable search engine optimisation. Find groups within your industry, join them and engage with other members for potential job opportunities or just to build contacts.
Identify the people who you would like to meet – like industry leaders, members of community, potential employers etc.
Once you've identified the people who you want to network with based on your lists, make a plan. If it's someone you're meeting for the first time, try to make a great first impression. If it's a colleague, find ways to talk to them more often by setting up regular catch ups. Make a plan to perhaps attend an in-person networking session.
At networking events, or even a coffee catch-up with a colleague, make sure your body language conveys your interest in the conversation. Best way to do it is with the head tilt, have an open posture, maintain good eye contact without staring or glaring, avoid touching your face or fidgeting, and smile.
When meeting someone for the first time, do not straight away ask for a job or ask if they are hiring. Instead, have a conversation and build a connection first. Ask them for advice and let the job referral come up in conversation naturally.
After meeting someone interesting, make sure to exchange contact details with them. But do not assume that they will remember you or reach out to you. Make it a habit to politely follow up the next day with a brief email or message and ask to connect with them on LinkedIn. If you have something specific to discuss, you can ask to arrange a meeting.
Maintain the contacts you make and touch base with them regularly. Networking isn't a one and done process, it requires maintaining a sense of consistency.
Volunteer work is a great way to gain work experience and make new contacts at the same time. It also gives you a chance to show people your skill set and maybe secure a job in the future. Here are some websites that can help you get started:
Mayor of London/London Assembly
Keep a positive attitude about your past experiences. Do not be negative about your past employer. Having a negative mindset will not do you any favours and might make you come across as someone who is difficult to work with, which you do not want.
Join Westminster Connect and network with other alumni and get access to job opportunities and events organised by the University of Westminster.
Remember that as a University of Westminster graduate, you have access to careers services for the next 3 years. No matter what subject you studied, sector you wish to enter or career planning stage you are at, there is support for you. You can email careers@westminster.ac.uk for more information.
***
Many thanks to Nupur, our student helper for the Early Careers Graduate Support project, for writing this excellent blog.
For any careers support, please reach out to us via the channels below.
E: careers@westminster.ac.uk| Website | Facebook | Twitter | Instagram |Careers Blog
Passionate about Student Engagement, Data Management and content creation
Latest posts by Anna Dolidze (see all)