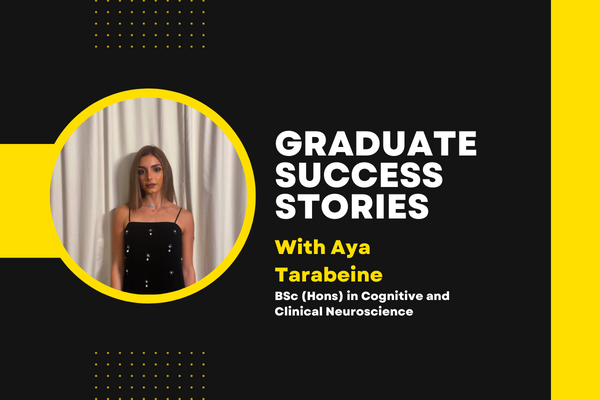 Finding employment after graduation is a daunting and confusing process. The Careers and Employability Services at UoW works very hard to make sure that you have all the support you need to make this journey easier for you. We recently spoke to Aya Tarabeine, one of our recent graduates with a BSc (Hons) in Cognitive and Clinical Neuroscience degree. Aya shared about how the job-hunting process was for her, and what university resources really helped her and the support she received from Careers and Employability Services team in the form of workshops and consultations as part of the Early Careers Support Project. The Early Careers Support Project aims at helping recent graduates and final year students enhance their career development and employability. Our graduates have access to careers support up to 3 years after they graduate.
Where do you currently work? When were you hired?
Currently, I work as a research assistant at the Phillip Lab at University College London. I am running studies at the School of Pharmacy. Here I am looking at PPAR-Y drugs to promote peripheral nerve regeneration.
How did you hear about the vacancy? What was the application process like?
I reached out via LinkedIn to an individual who was already a member of the lab. He introduced me to the head of the lab, and I started from there. I reached out in February and there was back and forth communication until I landed the position in May.
What was the interview process like?
The interview was very casual. We chatted about the reason I want to take on that particular project and what can I offer the team. I was asked to work in the lab for a trial period for a few months to make sure I got on with everyone, and my research skills fit in with the lab requirements.
Did you apply for any other position, and what were the different job search methods you used?
Yes, I applied to several positions. Some include being a science writer for Deepmind, or a clinical research assistant at GSK. I took the conventional route of applying online through LinkedIn, GlassDoor and Unitemps. But I also took the unconventional route of sending targeted enquiry e-mails to professors and research labs that I was interested in, and I used to send about 24 emails each week to try my luck.
Which of the Graduate Success Series workshops organized by CES did you attend?
I only attended one online workshop on how to build the ideal CV in 2021.
What did you learn at the workshops you attended?
I learned how to communicate my skills and past experiences. The power of self-branding and the importance of forging the right connections around you.
Which ones were particularly beneficial?
The ones where I was helped to tailor my CV depending on which sector, I was applying to (academia vs the industry).
Were you given enough one-to-one support from your career's consultants?
Yes, I was constantly being checked on. They pushed me to reach out and network with individuals I aimed to work with. I used to have meetings every week for about a month and a half, especially just before my interview which was very beneficial.
What was some of the advice given to you by the careers consultants that helped you through the application and interview process?
I was told to be more specific and eliminate the unnecessary options available to me. Be open to building from the ground up and not afraid to ask the "right" questions when needed. The career consultant helped me tailor my CV and cover letter for different research labs that I was applying to.
Would you recommend the workshops and one to one support received from the CES to other students?
Of course, do attend every workshop offered. I would say their future selves will thank them for it.
Did you have to overcome any barriers to success?
Not really, I have been quite fortunate so far.
What kind of things can students do while they're still at university to prepare for life after graduation?
The best advice would be to spend more time thinking about the important questions. These are where they want to work, with who and why. Forge as many connections in the industry they hope to get in, as possible. Also, find a mentor that could guide and support you every step of the way. That could be a professor or someone on LinkedIn.
Do you have any advice for students who aren't sure what they want to do after graduation?
I advise them to move beyond their comfort zone and to become less impressed and more involved. In addition, I recommend using the "elimination method". Especially nowadays, when there are infinite opportunities and things to do, the best way to end up where you want is by eliminating what you don't want. Lastly, make sure you are never the most knowledgeable person in the room, if you are "abort mission". Always seek growth. You can't get anywhere if you don't put yourself out there, so network as much as possible.

***

Many thanks to Nupur, our student helper for the Early Graduate Support project, and Aya for this excellent blog.
For any careers support, please reach out to us via the channels below.
E: careers@westminster.ac.uk| Website | Facebook | Twitter | Instagram |Careers Blog
Passionate about Student Engagement, Data Management and content creation
Latest posts by Anna Dolidze (see all)