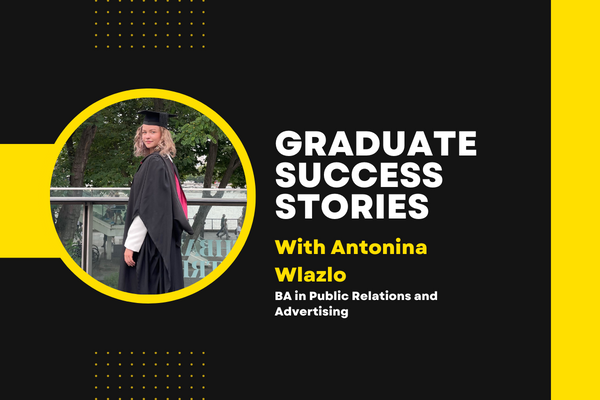 Finding employment after graduation is a daunting and confusing process. The Careers and Employability Services at UoW works very hard to make sure that you have all the support you need to make this journey easier for you. We recently spoke to Antonina Wlazlo, one of our recent graduates with a BA in Public Relations and Advertising degree. Antonina shared about how the job-hunting process was for her, and what university resources really helped her and the support she received from Careers and Employability Services team in the form of workshops and consultations as part of the Early Careers Support Project. TheEarly Careers Support Project aims at helping recent graduates and final year students enhance their career development and employability. Our graduates have access to careers support up to 3 years after they graduate.
Where do you currently work? When were you hired?
I currently work at Battenhall, which is a social media-focused communications agency. I was hired about 2 months ago, in July.
How did you hear about the vacancy? What was the application process like?
I initially heard about the company from one of the alumni from my course when she came in to speak in my 2nd year. Then in April this year, I saw a LinkedIn post from the company's founder that they were hiring on all levels and decided to email about a possible position. I heard back within a few days, had a phone interview, followed by two video interviews, and I had to complete a task.
Did you apply for any other position, and what were the different job search methods you used?
I did apply for another position in Public Relations that I found out about through one of my lecturers (one of the previous students sent it to him). I did search for some positions on LinkedIn and applied for a few, but they were not really applications I cared about as much and they didn't turn out to be successful either.
Which of the Graduate Success Series workshops organized by CES did you attend? which ones were particularly beneficial?
I attended most of the Graduate Success Series workshops organized by CES but I found the one about CVs and Cover Letters particularly beneficial. It had very practical tips and encouraged students to reach out to companies about possible job openings which is what I did.
Were you given enough one to one support from your career's consultants?
I attended one of the one-to -one sessions with careers consultants and found it really helpful. The consultant checked my CV and gave me practical tips on how to improve it specifically for the sector I wanted to go into.
What was some of the advice given to you by the careers consultants that helped you through the application and interview process?
Some of the advice given to me by the careers consultants that helped me through the application and interview process was to practice before an interview if you have a tendency to stress, have some of the possible questions and answers written down, and always ask questions at the end of an interview.
How many meetings did you have with your career consultant? Were they prior to the interview or during the process?
I had one meeting with a career consultant. The meeting took place before I applied to check over my CV and made sure it looked good and could potentially get me the job (which it did). I personally think this is one of the best things students can do because it's so hard to get an expert's opinion on one's CV and through career consultants at the university one can do that super easily.
Would you recommend the workshops and one to one support you received from the CES to other students?
I would for sure recommend the workshops and one-to -one support from the CES to other students. This is something you can only get at the university and it's always helpful to hear from experts and seek their advice.
Did you have to overcome any barriers to success?
I think the biggest barrier to success that anyone has is themselves. We all have the tendency to doubt ourselves and stress over the uncertain future forgetting that there is always something that we can do in the moment to help ourselves later on in life. But other than that, I felt pretty confident that I wanted to get into the PR industry and believed I had the skills for it and that helped me with getting to the point I am now at today.
What kind of things can students do while they're still at university to prepare for life after graduation?
I think what students can do is try to get as involved as it is possible in their university as it offers a lot of great opportunities for developing one's employability. There are some amazing events, societies, and job opportunities (Talent Bank) available that can make you feel well prepared for life after graduating.
Do you have any advice for students who aren't sure what they want to do after graduation?
It's normal to not know exactly what you want to do after graduation but it's better to be doing something than nothing. You can try different jobs as that will help guide you to what you actually like doing. But also, don't send out millions of applications, be specific. I only applied to two companies and one of them offered me a job, so spend your time really perfecting your application.
***
Many thanks to Nupur, our student helper for the Early Graduate Support project, and Antonina for this excellent blog.
For any careers support, please reach out to us via the channels below.
E: careers@westminster.ac.uk| Website | Facebook | Twitter | Instagram |Careers Blog
Passionate about Student Engagement, Data Management and content creation
Latest posts by Anna Dolidze (see all)