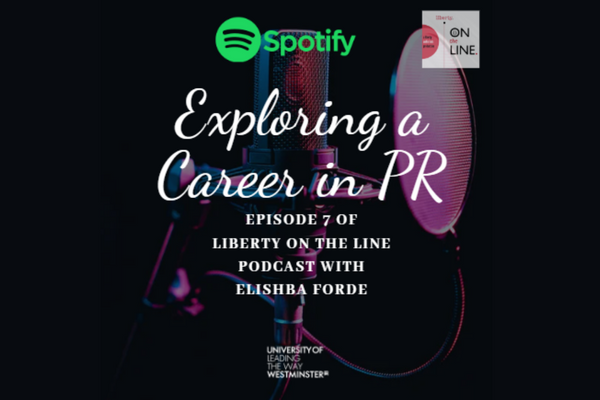 The career journey is very rarely a straight path. It will often constitute of winding roads and narrow streets, that will eventually lead you to the motorway when you spot a sign that is right for you. The same destination will have numerous different routes and there is no right or wrong direction; everyone's career journey is unique and individual to them, no matter how long or short it may take you to reach the final destination.
I had the pleasure of being one of four guest speakers on episode 7 of the Liberty Comms podcast, Liberty on the Line, which explored the various potential routes to a career in the PR industry and the important role that your University Careers Service plays in aiding this journey.
Whilst studying, University is also an excellent time to start practically exploring your academic interests through work experience; figuring out what you like and dislike, and thus building a plethora of transferable experience that can form a good foundation for when you graduate. Despite the different journeys the other guest speakers have experienced, it was reassuring to hear that they all shared a common denominator: the importance of work experience and internships. Listening to how the others have utilised the support offered by their own Universities, and how internships and work experience have shaped their own career paths, is inspiring to say the least.
Here at Westminster, you have the opportunity to experience a year in industry between your second and final year, turning your three-year degree into a four-year degree. There are many reasons to consider a placement year, and here are just some of the beautiful benefits:
Develop transferable skills
Enhance your employability
Expand your professional network
Increase your understanding of applications and the recruitment process
Test drive your chosen career and get paid for it
Make a positive career choice when you graduate
As the Work Experience and Recruiter Engagement team, we endeavour to support our students with all the practical help we can provide. This includes: 1-1 advice on writing CVs, Cover Letters, Applications; delivering presentations and workshops; and working with employers to source vacancies and ring-fenced opportunities. We want to help you realise the power of transferable skills and land that dream placement year that will allow you to explore your career in PR and form the beginning of an exciting journey in your chosen career.
Don't miss this one time opportunity, register your interest for a PR Placement Year today: https://targetfeedback.gtisolutions.co.uk/surveys/a9bca979-bd11-49d9-895d-385025e0cfcf
Keep an eye on the Year Long Placement site for opportunities, resources, and how to book an appointment with us: https://engage-employability.westminster.ac.uk/leap/placements.html?page=schemes&id=15&service=Careers%20Service
For more information on work experience and placements, please see the following: https://www.westminster.ac.uk/current-students/employability-and-career-development/improving-your-employability/work-experience-and-placements
If you would like to get in touch or have any queries, please email DCDIPlacements@westminster.ac.uk
***
Big thanks to Elishba Forde, our Work Experience & Recruiter Engagement Coordinator at DCDI, for writing this article! We hope you find it useful and it helps you start thinking about a potential career in PR.
Please be reminded that if you need careers support, your Careers Team is only an email / a message away!
E: careers@westminster.ac.uk| Website | Facebook | Twitter | Instagram |Careers Blog 
Passionate about Student Engagement, Data Management and content creation
Latest posts by Anna Dolidze (see all)