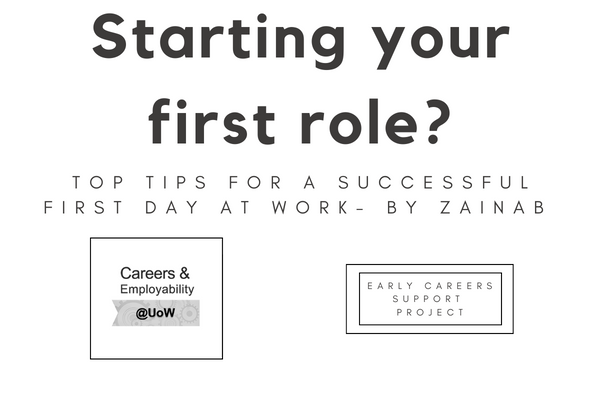 Getting a new job can be both exciting and challenging. There's so much to learn, you might not know anyone, and this can all make you feel overwhelmed. But with these 5 simple tips, you'll be off to a great start.
TIP 1 – Show that you are ready to work: Make tasks completion a priority. This demonstrates that you are a diligent and professional worker. You'd probably be doing a lot of training in your first few days/ weeks, and you wouldn't be expected to complete any major tasks. Stay on track and complete the tasks assigned to you.
TIP 2 – Get to know the office culture: You'd most likely go through an onboarding process when you first start which is an excellent opportunity to learn more about the dynamics of the company. You'd also be provided with the tools and information you need to be a productive member of your team.
TIP 3 – Demonstrate your eagerness to learn: An easy way to do this is ask questions, take notes and read. Don't be afraid to make notes and ask for clarification if necessary. You will be better prepared and understand your role and what is expected of you.
TIP 4 – Be friendly: Make your best efforts to learn more about those with whom you will be working closely with. Ask them where they are from, how did they get to where they are now in the company, and how you would be working together. This is the perfect way to build new relationships and your network.
TIP 5 – Be Kind to yourself: Allow yourself enough time to adjust. Always remember you were hired into this position for a reason. They liked you and your personality to bring you on board.
Here are some brilliant resources the University has available for current students and recent graduates to help you while you start your new job:
Many thanks to Zainab, our graduate intern for the Early Graduate Support project, for this excellent blog.
For any careers support, please reach out to us via the channels below.
E: careers@westminster.ac.uk| Website | Facebook | Twitter | Instagram |Careers Blog
Passionate about Student Engagement, Data Management and content creation
Latest posts by Anna Dolidze (see all)