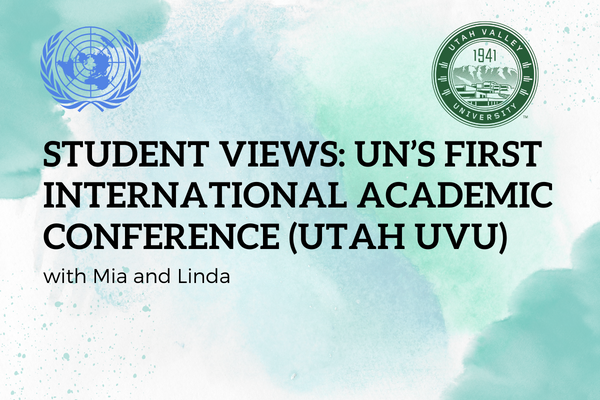 This October eight students from the University of Westminster attended and presented at the first international academic conference on Sustainable Development Goals (SGDs), entitled Why It Matters, organised by the United Nations Department of Global Communications (UN-DGC) and hosted by the Utah Valley University (UVU) in the United States. The University of Westminster received the invitation to the conference following recently acquiring UN-DGC Associate status. In this blog, our students Mia and Linda share their experiences of how the event went and what they gained from it.
Between 5th-7th October Utah Valley University hosted the UN's first International Academic Conference on the sustainable development goals. Having recently become an Associate of the United Nations Department of Global Communication the University of Westminster was invited to attend the conference on "Why It Matters" allowing 8 of us students to participate as well as give a presentation on sustainable universities. The conference was part of the Decade of Action leading up to the 2030 agenda deadline and aimed in taking a multilateral approach as a way of including all sectors of society into the action including academic institutions, the private sector and civil society organisations.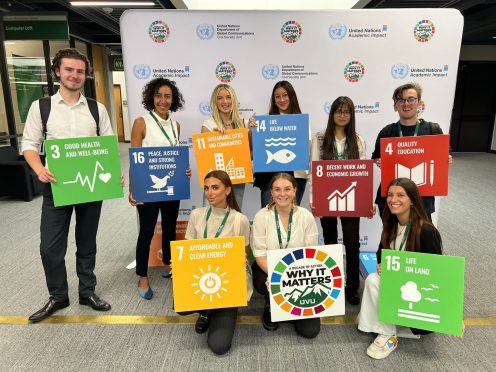 The conference was constructed by panels dedicated to each SDG as well as parallel talks focussing on more specified/micro-level work being done globally to contribute towards the goals, whether it be from the likes of businesses or research projects.
Linda Halimi, a Level 6 student of International Relations and Development says that "Looking ahead, I would argue that our ability to engage and direct the power of networking will play a decisive role in order to reach success with the SDG's. For example, Eiden Serna from BBK Kuna held a session providing insight into how their think tank method promotes sustainable development. I believe that bringing agents together and their knowledge influences the birth of initiatives that can be implemented on local, national and global level."
Another example presented at the UN conference was by David Utrilla who founded the U.S. Translation Company which has achieved adapting its business model through ensuring employment worldwide, hiring translators around the world and embracing their work through the internet.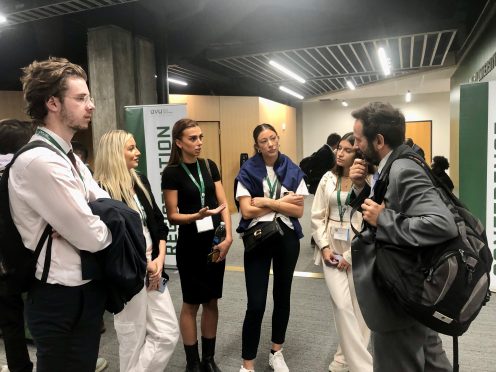 Linda also adds "Events such as these – UN conference – have helped me experience the potential to make a greater impact on our SDGs beyond the work that is made by us as an individual."
Mia Atkins, a Level 6 student of International Relations and Development, shares "Attending the conference gave me a terrific insight into the actual work being put in globally to the goals on a much more community and individual basis. It can be easy to look at the SDG's from the perspective of the work being done by a large global organisation, however, listening to panellists from all over the world opened my eyes to the work being done on a local scale and how that work truly matters and can be replicated. It also helped deepen my understanding of the goals and further has narrowed and pinpointed more specific interests of mine concerning sustainability."
Finally, Linda summarises "This experience has allowed me to see what happens behind the scenes of how ideas and approaches begin and grow for positive changes. These companies are demonstrating the power of the private sector at its best, as we unite behind achieving the SDG's.I have learnt that having the right tools does not guarantee success – but by working together with leading not-for-profits and governments to solve complex socio economic issues and bridge gaps where all sectors and systems are failing the most vulnerable and falling short."
***
Many thanks to our students Mia Atkins and Linda Halimi, as well as Sahar Taghdisi Rad – Senior Lecturer in Social Sciences, for this excellent blog.
For any careers support, please reach out to us via the channels below.
E: careers@westminster.ac.uk| Website | Facebook | Twitter | Instagram |Careers Blog
Passionate about Student Engagement, Data Management and content creation
Latest posts by Anna Dolidze (see all)