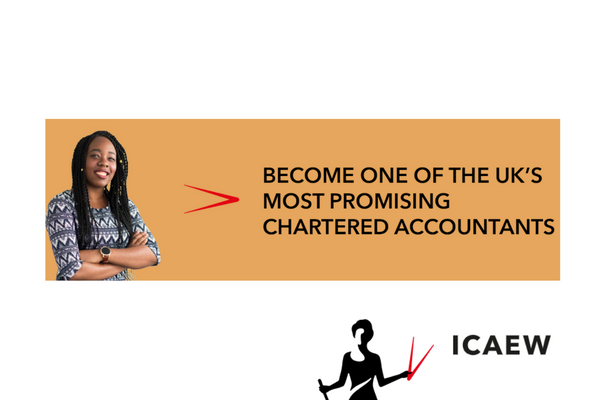 World leading professional membership body, The Institute of Chartered Accountants in England and Wales (ICAEW), have begun their search for the next generation of business leaders at universities across the United Kingdom with their ICAEW 100 competition; do you have what it takes to rank in the top 100 students in the country?
We are very excited to invite you to take part in this year's competition. ICAEW 100 is a swift 30-minute online exercise open to all university students regardless of degree discipline or year of study. If you have a keen interest in accountancy and would like to learn more about it as a career, this competition is definitely for you!
During the online exercise, you will be introduced to four ICAEW Chartered Accountants each with their own unique story to share. You will assume the role of all four ICAEW Chartered Accountants and navigate through the interactions they regularly face in their role and industry. At the end of the exercise, you will receive a detailed feedback report based on your choices, pinpointing your strengths and development areas.
This is a golden opportunity to experience the decisions chartered accountants make on a daily basis, showcase your own professional acumen when experiencing different scenarios, and be renowned as one of the brightest accountancy prospects in the country.
Test your skills against your peers, and the 100 students with the best scores by the time the competition closes in April 2023 will be in with a chance of winning some amazing prizes and exclusive opportunities, such as
£1,500 cash prize to be used for personal development towards your future career.
A one-on-one employability skills session with a member of ICAEW's Early Careers team.
£300 cash prize to be used for personal development and a sponsored prize awarded by one of 10 competition partners.
Invitation to an ICAEW 100 award winners' lunch at their London headquarters.
Distinguished ICAEW 100 certificate to celebrate your achievement.
You could have the potential to win any of these fantastic prizes as well as add your exceptional achievement to your CV and enhance your employability.
Create an account and start your ICAEW 100 journey today: https://icaew100.com/uk
Good luck!
Passionate about Student Engagement, Data Management and content creation
Latest posts by Anna Dolidze (see all)