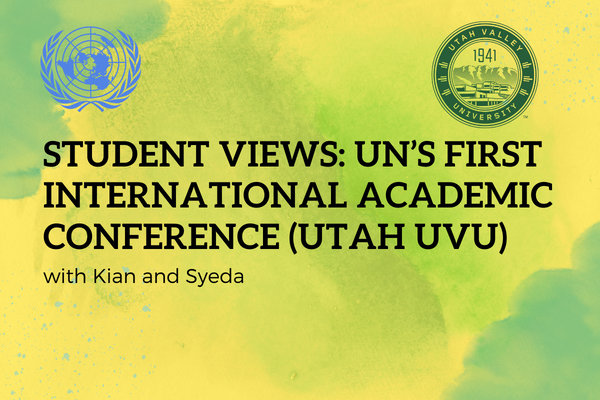 This October eight students from the University of Westminster attended and presented at the first international academic conference on Sustainable Development Goals (SGDs), entitled Why It Matters, organised by the United Nations Department of Global Communications (UN-DGC) and hosted by the Utah Valley University (UVU) in the United States. The University of Westminster received the invitation to the conference following recently acquiring UN-DGC Associate status. In this blog, our students Kian and Syeda share their experiences of how the event went and what they gained from it.
"We often debate the role of the United Nations in achieving its stated aims. Accusations of inaction and hypocrisy are commonplace, and perhaps, due to the organisation's lofty moral stature, even its most noble pursuits face intense scrutiny. The merits of the Sustainable Development Goals, for example, face praise and critique in equal measure. Admirable and ambitious, these goals offer a vision of a world that could be. Yet after years of work, we seem no closer to meeting their targets.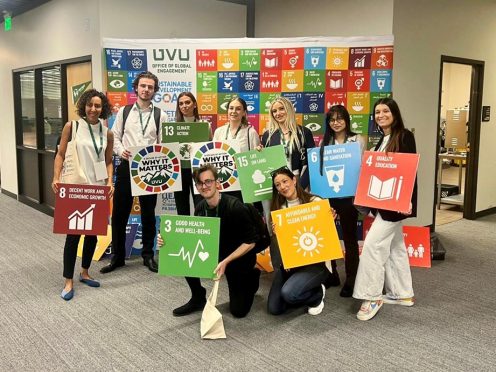 The UN is a reflection of who we are as a society. Its history is one of peace and cooperation in the face of unimaginable conflict. Peace that was not stumbled upon, but fought for in a bitter struggle. As we look to the past, it offers us a useful reminder to maintain hope when times look bleak." Kian shares.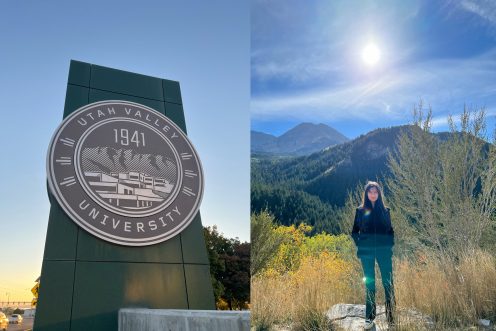 Syeda tells us more about the structure of the conference, day by day:
"Day 1 of our US excursion started off with attending the UN conference on SDGs as attendees. Hosted by Utah Valley University, as audience members we were able to listen, absorb and engage with the discussions set out by panellists from various academic and institutional backgrounds.
Day 2 of the conference, the day of our presentation, gave us insights into becoming members on the other side; international representatives and speakers. Even with minor anxieties and nerves about presenting to a large and diverse global audience, our strong preparations gave away to confidence and ultimately allowed for the presentation run smoothly whilst managing to solidify the University of Westminster's stance and messaging on Sustainable Developmental Goals; promoting sustainable partnerships, forwarding sustainable research, and maintaining a sustainable campuses.
Day 3, the final day of the conference, was filled with deep and insightful opinions on various Sustainable Developmental Goals. Panellists from many international industries discussed a series of issues related to health and poverty, as well as environment and infrastructure."
To summarise, in Kian's words "if young people are given the power to challenge their governments and the platform to make a difference, we can affect the change we so clearly need.". And Syeda reminds to pursue opportunities outside of the immediate field – "If an opportunity strikes to be a part of something exciting outside of your field, take up the challenge and enjoy the ride!".
***
Many thanks to our students Syeda Tahia and Kian Richardson, as well as Sahar Taghdisi Rad – Senior Lecturer in Social Sciences, for this excellent blog.
For any careers support, please reach out to us via the channels below.
E: careers@westminster.ac.uk| Website | Facebook | Twitter | Instagram |Careers Blog
Passionate about Student Engagement, Data Management and content creation
Latest posts by Anna Dolidze (see all)