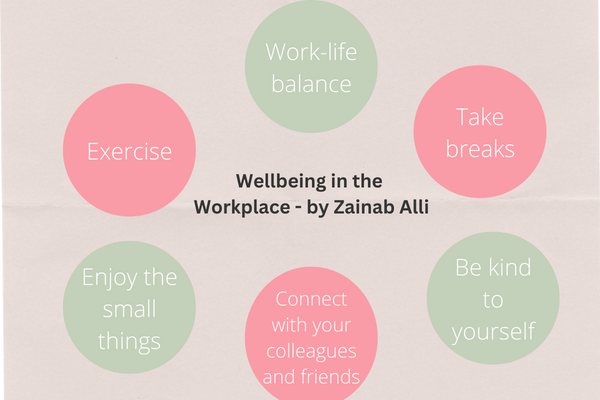 This month, the careers and employability team are focusing on self-care and wellbeing. Here are some helpful tips for managing your wellbeing in the workplace.
TIP 1: Exercise: Make time for regular exercise, even if it's just a walk. Take a short break to walk around and get some fresh air. Why not try a new 30-minute workout, a quick yoga session, or some stretches during your lunch or break if you're at home? Schedule in some time to get your daily exercise!
TIP 2: Work/life balance: Set clear boundaries between work and home time especially when working from home as you can easily blur the two. Try not to have your work emails on your phone or check them out of hours.
TIP 3: Take breaks: Taking short regular breaks throughout the working day. This is vital for supporting your mental and physical wellbeing particularly if you spend several hours a day sitting in front of a computer screen. Whether it's reading a book, making a cup of tea, or playing with your pet, find some time for yourself.
TIP 4: Be kind to yourself: It's important to appreciate that in a hybrid working world some tasks will take longer to complete. So be realistic when setting goals for yourself and figure out what works best for you.
TIP 5: Connect with your colleagues and friends: If you haven't spoken to X person in a while, say 'hello'. Take five minutes to check in by writing an email, or sending a message, or meeting in person.
TIP 6: Enjoy the small things: Grab a coffee and get some fresh air whether that's somewhere local, your garden or balcony. Remember that there is a world outside your screen.
The careers team and the university are here to support you and offers a range of services to better your wellbeing:
The Wellbeing service are here to support you during your studies providing a range of advice, guidance and support. They can help you in looking after your physical, mental and emotional health. Here are some self-help wellbeing resources available by the university.
To tackle the cost-of-living crisis, the university has introduced 'winter warmer discounts'. Present your student ID to receive free breakfast and £3 lunch deals at our campus cafés and restaurants.
Take advantage of our free Regent and Harrow gym facilities or participate in your Students' Union 'Dragons Active' programme, which offers inclusive and welcoming sessions for those looking to try a new activity or to socialise in a fun and friendly environment.
You can book your 1 to 1 consultation via Engage (face-to-face, online, or over the phone) with our career's consultants for career guidance and advice – taking some action about your career can help to reduce any stress.
Use the Ask A Mentor service to have a one-off conversation to find out more about your preferred career field and what our mentors do to take care of their wellbeing in the workplace.
Many thanks to Zainab, our graduate intern for the Early Graduate Support project, for this excellent blog.
For any careers support, please reach out to us via the channels below.
E: careers@westminster.ac.uk| Website | Facebook | Twitter | Instagram |Careers Blog
Passionate about Student Engagement, Data Management and content creation
Latest posts by Anna Dolidze (see all)