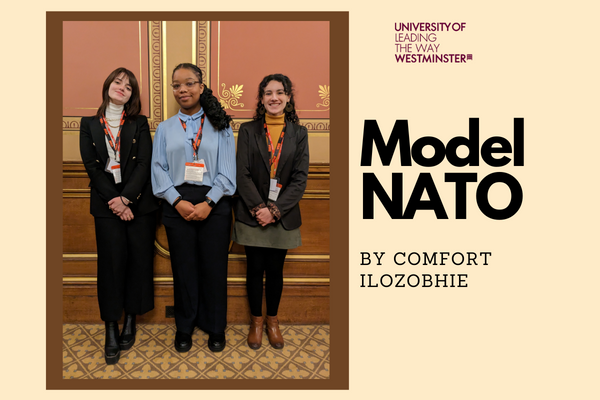 Model NATO was a fantastic and invaluable experience that gave me the opportunity to see and understand the inner workings of NATO diplomacy. The day included lots of debates and causes that definitely polished my public speaking and negotiation skills. It provided further insights into the hard work that goes behind making decisions in international institutions during a crisis. I was able to make critical decisions in a high-pressure environment and collaborate with fellow delegates.
The day was definitely hard and tiring but it is an opportunity that I would definitely experience again. However, the work didn't start on the 3rd of March but instead started 10 weeks prior when we received our country allocation – Romania.
We researched everything from Romania's history to its GDP and even exit routes out of the country which all came to be of service on the day. We had regular weekly meetings to discuss the information we had gathered and a plan of action for various scenarios. We even had the opportunity to speak to other students who had participated in Model NATO the year prior.
Overall my Model NATO experience was fantastic and I would definitely recommend students to participate when they have the opportunity. The networking connections I made on the day were invaluable and will definitely be something I cherish. 
***
A big thank you to Comfort Ilozobhie, a BA Politics and International relations student, for writing this blog, and to Dr Magdalena Frennhoff Larsén for organising this opportunity.
For any careers support, please reach out to us via the channels below.
E: careers@westminster.ac.uk| Website | Facebook | Twitter | Instagram |Careers Blog
Passionate about Student Engagement, Data Management and content creation
Latest posts by Anna Dolidze (see all)