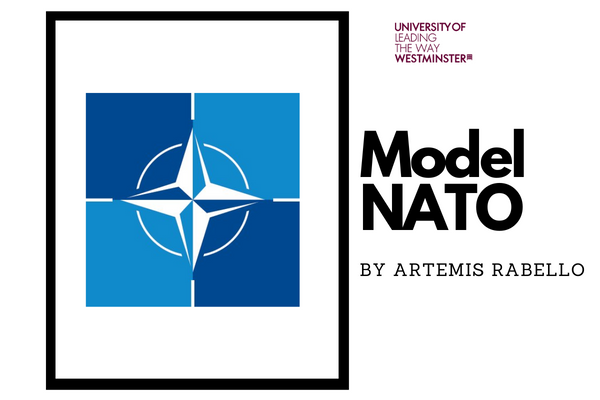 Being a part of model NATO has provided such an unique, indescribably valuable experience that few other projects within the university are able to match.
The opportunity it offers to learn not only about the inner workings of diplomacy at such a high-level, while also having to understand both the country you're representing and the NATO organisation itself is so incredibly unique. All while allowing you to see your hard work and studies actually bring the change to the table and discussion, which completely shifts your perception of the conference and the role you are representing in there.
As the Romanian delegate for the North Atlantic Committee, my job was to not only know about the foreign affairs of my country, the politics of NATO and how a crisis committee is treated at these summits, but to also keep in constant touch with my other colleagues in the Military and Civil Committees. This sounds like such a big responsibility, and while it is, nothing could ever be done without the precious teamwork of both my colleagues and my fellow delegates at the North Atlantic table on March 3rd.
I am so thankful to Magdalena, to the University of Westminster and BISA, for trusting such a role to me. Model NATO changed completely my perception of not only diplomacy, but also debating and teamwork. This was such an amazing experience that I cannot recommend enough to all who are interested!
***
A big thank you to Artemis Rabello, a BA Politics and International relations student, for writing this blog, and to Dr Magdalena Frennhoff Larsén for organising this opportunity.
For any careers support, please reach out to us via the channels below.
E: careers@westminster.ac.uk| Website | Facebook | Twitter | Instagram |Careers Blog
Passionate about Student Engagement, Data Management and content creation
Latest posts by Anna Dolidze (see all)