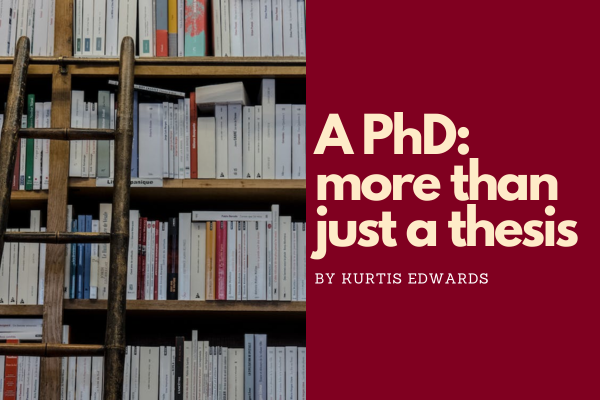 As the start date of my PhD approached, I was preoccupied by the idea of a "thesis". A thesis is a bit like a small book that contains chapters of research explaining all the novel and interesting data that you produce throughout your PhD. You are expected to write this book by the end of your studies and submit it to your examiners for scrutiny. The thought of producing such a large piece of work was daunting, and at first, I was entirely focused on putting this together as quickly as possible.
However, as I am approaching the end of my PhD at Westminster and I reflect on my experience, what I thought would be the single most important outcome of my studies – the thesis – I now realise was really a vehicle that has helped me develop as a researcher. The thesis is of course an important part of the doctoral process, as it evidences your contribution to the field; but the skills and knowledge you develop whilst completing this work are beyond what is contained within your chapters. I therefore decided to use this blog as an opportunity to point out some of the important lessons learned from my time as a PhD candidate and demonstrate that a PhD is more than just a thesis.
One thing I learned early on was that completing a PhD is largely dependent on your ability to communicate, something that I thought I was quite good at before starting, and then found there was plenty of room for improvement. Writing papers, abstracts, and the thesis itself, as well as giving talks and presentations is an essential part of studentship. At the start, working on these things seemed intimidating, not least because of the large amount of public speaking required, but by exercising different ways of communicating, I inevitably honed this skill. Good communication takes practice, and a PhD gives you plenty.
I also learned that reading papers and books is important, but it will only get you so far. A PhD isn't done in isolation but is in many ways like an apprenticeship. Through consistent interactions with others – including my brilliant supervisory team, other excellent PhD candidates and academic collaborators – I had access to knowledge and experience which is not contained within journal articles or protocols. I found that taking by advantage of others' experience through discussion, debate and by asking questions, I was able to develop my critical thinking and problem-solving skills.
Something else that I didn't fully consider when I was applying to study for a PhD was the amount of coordination required between different parties; be it supervisors, colleagues, external collaborators; to successfully complete my project. There are lots of other moving parts which go into a thesis too: managing time, budgets, collaborations, ethics, governance, grant writing and then the actual research itself. I also had the opportunity to work on various side-projects which have helped me develop my knowledge and skills beyond the scope of my own research. All these things together meant I had a lot on my plate, but it made me an excellent project manager.
A PhD is an extremely challenging but extremely rewarding experience that teaches valuable skills including communication, collaboration, project management and many others that are beyond the scope of this blog post. You will be challenged to think critically, solve problems, work across (multiple) teams (at once!) and contribute to the advancement of knowledge. All of which means that a PhD is more than just a thesis.
***
Thank you to Kurtis, a MPhil PhD Molecular Biology Biophysics and Biochemistry student, for writing this blog. We hope it inspires all of our students on their PhD journey…
Please be reminded that if you need careers support, your Careers Team is only an email / a message away!
E: careers@westminster.ac.uk| Website | Facebook | Twitter | Instagram |Careers Blog
Passionate about Student Engagement, Data Management and content creation
Latest posts by Anna Dolidze (see all)