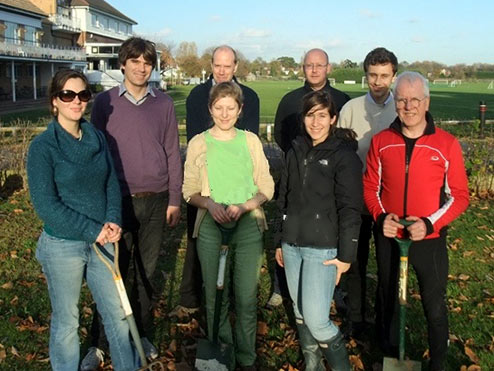 On Friday 18th November 2011, students and staff from University of Westminster gathered to plant over 2,000 bulbs at the Quintin Hogg Memorial Sports Ground in Chiswick.
We enjoyed a warm and sunny afternoon for the planting, which we were starting to get used to during this year's mild November!
After a delicious lunch of soup made with ingredients from the Chiswick food growing space, we headed out to pick up our tools! Equipped with spades and forks we got through over 2,000 bulbs in record time, enjoying some fresh air and getting to know each other as we planted to the chatter of starlings in the treetops around us.Volunteers were given  a tour of the Chiswick site, where considerable effort has been given to improving the biodiversity and sustainability of the land – We saw the food growing space and the borehole which helps to reduce the mains water used for watering the sports pitches, and heard about some of the many other projects currently underway.
It was a great afternoon, and we look forward to seeing the bulbs brighten up the landscape in Spring!
Thanks to everyone who was involved for making it such a great day, and to PGSD and PCSO Stacey Stirrat on behalf of the Metropolitan Police Chiswick Safer Neighbourhood Team, for the donation of the bulbs.