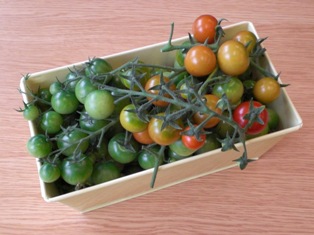 Summer 2011 gave us a huge number of delicious tomatoes of different shapes and sizes from an array of varieties. We had salads leaves and lettuces, and a range of herbs. At the end of the autumn when we wanted to prepare the ground for next season, we picked all the remaining tomatoes and some of us entered what has since become well known as the Chutney Challenge! Green Tomato chutney became a favourite condiment, and lots of us who had never made it before had fun experimenting with recipes to create the perfect pickle!
We realised that the earth in the planters was fairly low in nutrients and clayey in consistency, so towards the end of autumn we layered manure and compost to help improve the condition, and afterwards planted caliente mustard, winter peas and winter beans to act as green manure and fix the nutrients into the soil so that they did not wash away.
In spring when we are ready to plant we will cut these and dig them into the soil before we plant our next range of crops.
We have also planted broad beans and garlic which seem to be growing well, despite the lack of water on the site. Our main problem at the space is water as it is difficult to collect. We discussed that ideally we would like to use rainwater as this is better for the plants and the environment, but after some careful consideration realised that all of the drainage for the building is inside, making it very difficult to tap! So after buying a new hose we have been able to give the plants a good drink, but still need to resolve a more long term solution – perhaps asking the University to install a tap.