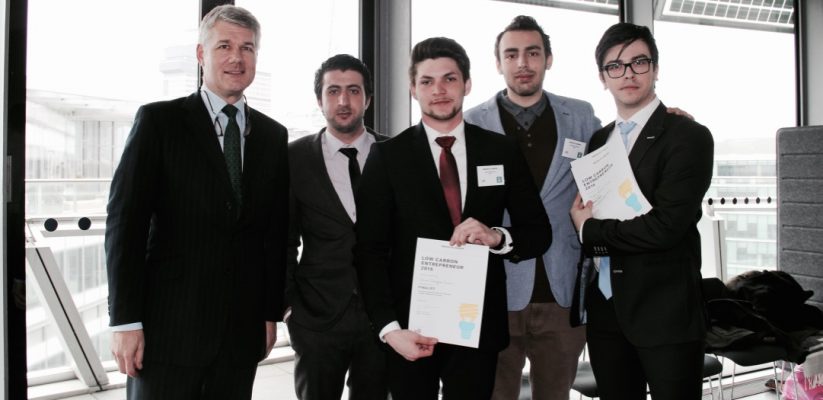 The Low Carbon Entrepreneur is a competition run by the Mayor of London.
The competition aims to find fresh new ideas to cut carbon emissions and give students employability skills.
This year the University of Westminster submitted 9 applications and 2 teams were shortlisted.
Mush + formed by Dennis Georgian Lucan, Radu Alexandru Ionescu and Khaled Mansour from Westminster Business School teamed up with Andrei Razvan Laslo from the Faculty of Science and Technology to bring a an innovative solution to reuse coffee waste and turn it into bio products like edible and medicinal mushrooms and healthcare products.
MSc student Matthew Wise joined forces with Bonnie Bley at the International Institute for Strategic Studies to create CLEANCO2MMUTE a smart transport app that reduces the impact of air pollution on citizens and the impact of citizens on air pollution.
We would like to extend our warmest congratulations to Dennis Georgian Lucan, Radu Alexandru Ionescu, Khaled Mansour, Matthew Wise and Bonnie Bley for all the effort and dedication put into this application.
For more information about LCE 2016 finalists and winner click here.
Andrea joined the Social Responsibility team in January 2016 in the role of CSR Support Coordinator and she is currently responsible for coordinating the implementation of the governance, communications, training, reporting, staff, student & stakeholder engagement elements of the CSR Strategy.

Andrea can be contacted at: a.montalvo@westminster.ac.uk
Latest posts by Andrea Montalvo (see all)