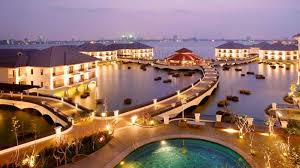 I have never really known about the true beauty of Vietnam until roughly last year, when my cousin had decided he was going to travel around Asia. Before booking his ticket we did a little bit of research where we looked into the history, looked at the different attractions and of course looked into the type of food they have there.
Once finding out that the trip was to Vietnam this summer, I was very excited, as Vietnam is… known for being a very interesting and eye-opening place.
I am not sure what I am expecting to see when I arrive, as there are so many historical places and artefacts around the country, especially Hanoi. However, due to there being such a high tourist attraction to Vietnam I also expect that there would be a lot of modern restaurants, leisure places and shopping centres.
Initially, I assumed there would be people in traditional clothing, driving old cars with a lot of agriculture surrounding the area. But after having thought about the market in Vietnam I believe there will be a lot of people in new modern clothing, very expensive outfits and new cars. Also, I think there will be a lot of people who are not locals from Hanoi/ Vietnam, as there are many people who love to travel to Hanoi throughout the year.
With regards to the modern clothing, I believe that the people will have new clothes from rich brands, however I would imagine that the people who are older will be dressed in more traditional/ non-branded clothes, as there is still the cultural aspect in Vietnam which plays a strong role. Vietnam has a lot of famous outfits and cultural attire; therefore, one would assume they would make the most of it. Regarding pensioners, it would be incorrect to think they would not take part in buying new clothes, however, my first initial thoughts are that there will be many old locals who still use very old phones as well as wearing simple clothes with little amounts of jewellery and not bothering to care about what people think of their appearance.
Before having researched Vietnamese food, I assumed it was just going to be noodles with a lot of prawn-based meals and very light courses. It is however a lot more than just that. Personally the only type of Asian food I like is "Chicken Chow Mein" or specific foods from 'Wagamammas'. Because of this I am quite anxious regarding the food I will be eating. I am hoping for a lot of rice-based meals!
I am very excited to go to Vietnam and study with people from a completely different culture, as well as be able to experience that culture first hand too! The people I have heard are very nice and welcoming, so this makes the trip even more exciting! Vietnam I am sure will surprise me in many positive ways and will hopefully make a large impact on my life!
Credits: Hannah Fakouri – University of Westminster Undergraduate student – Department of Politics and International Relations- Member of the Democratic Education Network.
Image: Vietnam Guide (2017)
Andrea joined the Social Responsibility team in January 2016 in the role of CSR Support Coordinator and she is currently responsible for coordinating the implementation of the governance, communications, training, reporting, staff, student & stakeholder engagement elements of the CSR Strategy.

Andrea can be contacted at: a.montalvo@westminster.ac.uk
Latest posts by Andrea Montalvo (see all)