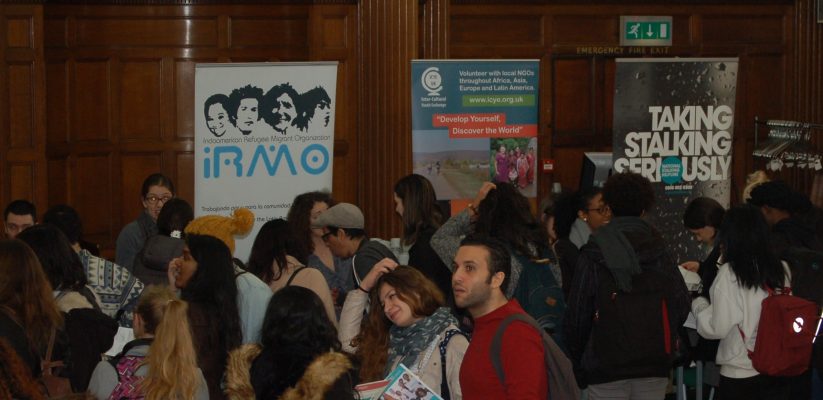 Visit our volunteering and work experience fair, to meet exhibitors and find out what opportunities they have on offer.
No booking is required – simply turn up. We will be offering priority access to Postgraduate students who need to attend a lecture at 2pm.
Check out the video of last years fair.
Why attend this fair?
Studying at university can be about much more than simply getting a good degree. Volunteering can be a great way for you to access opportunities that otherwise might not be accessible. By taking part in volunteering and engaging in tasks that are familiar and those that are not, the potential is there for you to discover and learn a great deal more about yourself, the people around you and the world at large.
A careers consultant on standby
A careers consultant, Vanissa Amliwala, will also be on standby to answer questions and offer advice about your career generally, but also how you may access and make the most of all the relevant services.
Before the event
Download the floorplan for the event (PDF)
Consider your areas of interest as well as the type of volunteering which you might be interested in.
View the list of charities and choose a few that you would like to approach at the fair.
Calculate how much time you have to spare in a week. Some charities ask for a minimum level of commitment a week and some will also expect you to commit to a longer time period, perhaps three or even 18 months. Check how much time you will be expected to commit before you consider volunteering/working for an organisation.
Research your chosen charities' websites to find out more about what they do, what their aims and objectives are and prepare some questions for the representatives on the day.
Prepare a short introduction about yourself and why you are interested in working for the charity.
Bring along a notebook and a pen.
Make a note of the name of the people you speak to or take their business cards, if available.
If you demonstrate that you have done some research and you are passionate about the organisation, your enthusiasm will help you secure a volunteering position.
After the event
Don't forget to follow-up by contacting the representatives you spoke to on the day. Be proactive!
If you have any questions about the fair or would like to know more about volunteering, email volunteering@westminster.ac.uk.
To find out more about volunteering opportunities and the great benefits of becoming a volunteer check out the Student Volunteering Service webpages.
Berekhet engages students and third sector organisations to explore volunteering, voluntary work and social enterprise for the mutual benefit of personal, professional and community development. Through this role, Berekhet contributes to achievement of the University's CSR's key objectives linked to Community Engagement, Students' Employability and Experience.
Latest posts by Berekhet Berakhy (see all)