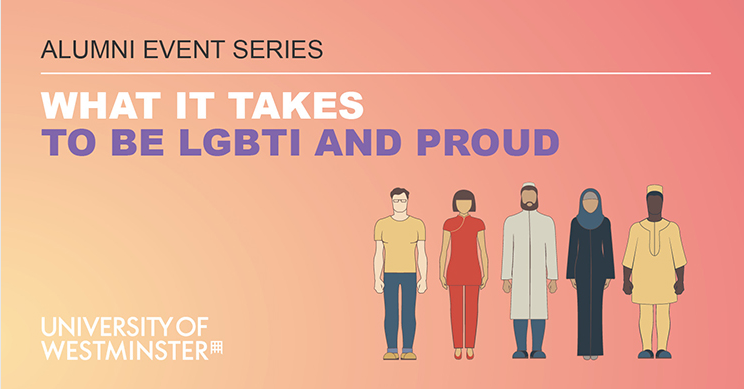 Attend the next alumni event organised by University of Westminster on Friday 2nd of February, from 6pm-8pm in Portland Hall to hear speakers from a diverse range of LGBTI backgrounds.
The panel will discuss their unique experiences and the issues they have faced, both personally and professionally, as an LGBTI individual in society.
Topics to be considered include:
the definitions of various LGBTI terminologies,
issues commonly faced in the LGBTI community,
the role of LGBTI media and the Home Office in recognising the diversity of sexuality and gender identity-based cultures,
what makes us unique as individuals.
The event is free and open to all students and alumni but requires a booking you can complete HERE.
The speakers include:
NIKKI HAYDEN, president, UWSU LGBTI society
JAMIE WAREHAM, editor, Gay Star News
ANICK SONI, charity worker, The Mix
CHARLIE-ANN MATHERS, Press Officer, National Student Pride
SHAYNE BROWN, legal Immigration Adviser
Find out more about each speaker HERE. 
About the "What it takes" series
The Development and Alumni Relations Office is launching an exciting series of events called 'What it takes'. These events take place monthly and are created to inspire and motivate students and young alumni through showcasing a diverse mix of confident alumni speakers who have achieved something amazing, overcome barriers to success or exceeded expectations.
Find more events by clicking this LINK.
Book now and do not miss the chance!
Latest posts by Karolina Lubian (see all)