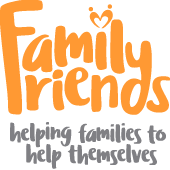 Are you passionate about becoming a mentor?
Family Friends is organising a coffee/tea morning drop in session for potential volunteers on Friday 8th June from 8.45am until 10am. This is your chance to learn more about Family Friends and the volunteering opportunities they offer.
Address: Conference Centre, 73 St. Charles Square, London, W10 6EJ.

Requirements:
Could you give two hours of your time a week and a minimum 6 months' commitment to a family?
Are you a good listener with an empathetic nature?
Can you withhold judgement?
Are you reliable?
Are you over 23 years of age?
Have you lived in the UK for the last 2 years?
About Family Friends
Family Friends provides befriending and mentoring services to disadvantaged families, through a network of trained volunteers. We help families living in deprived areas of the Royal Borough of Kensington & Chelsea, the London Borough of Hammersmith & Fulham and South East Brent. Through respect, encouragement and support, we aim to 'help families to help themselves' by discovering their strengths and building on their coping skills. We offer two services:
Parent Befriending – for a parent of a child aged 0-16
Child Mentoring – for a child/siblings aged 5-16.
Latest posts by Karolina Lubian (see all)