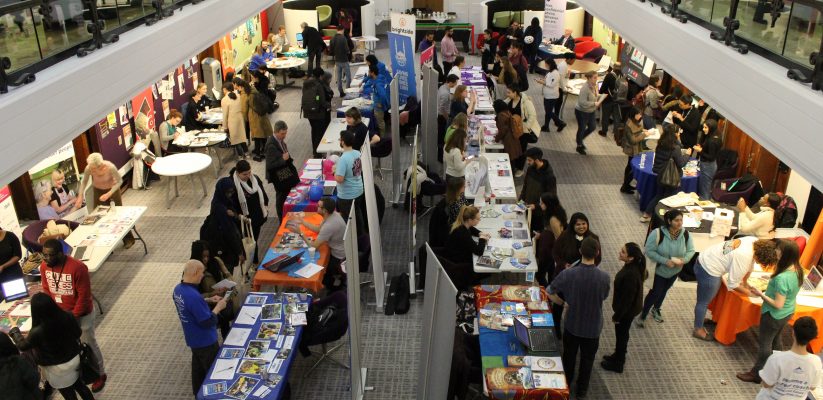 Last week 400 students attended our Volunteering and Work Experience Fair at the Regent's Street campus.  The fair, themed Level Up, was a collaboration between the Students' Union and the Student Volunteering Services and hosted 40 charities from across London.
The fair was a big hit and featured charities such as Action Space, Brightside, Oxfam, Macmillan Cancer Support, Mind, Free to be Kids, and London Basketball Association – just to name a few.
Vice-Chancellor and President of Westminster, Dr. Peter Bonfield, was also at the fair and shared his experience as a bonafide volunteer with one student, stating that "Volunteering is incredibly important to student life and adds to an individual's holistic development.  As a volunteer, you are guaranteed to get so much more than you give".   The Vice-Chancellor said he was very impressed with the Fair and the variety of charities present since there was something there for everyone, no matter the interest.
The Volunteering Fair is an avenue to expose and inspire Westminster students to develop a spirit of volunteerism.  Allowing students to give their time, passion or talent in a selfless manner, all with the aim of developing a holistic Westminster graduate.
The Student Volunteering Services falls within the Corporate Social Responsibility department at Westminster whose vision is to be a sustainable, socially responsible and pioneering University on a local, national and global scale.   Through its theme, Change for Good, the CSR team continues to find innovative ways to expose students to the plethora of professional opportunities available through strategic partnerships and community support.
---
To get involved, please don't hesitate to contact the Volunteering Services.
Email: volunteering@westminster.ac.uk
Phone: 020 3506 6112
Book a 1-2 1: https://engage.westminster.ac.uk/students/login?ReturnUrl=%2f
Regular Volunteering: https://engage.westminster.ac.uk/students/login?ReturnUrl=%2f
One-off Volunteering: https://goo.gl/roSK3u
Latest posts by Michaela Western (see all)