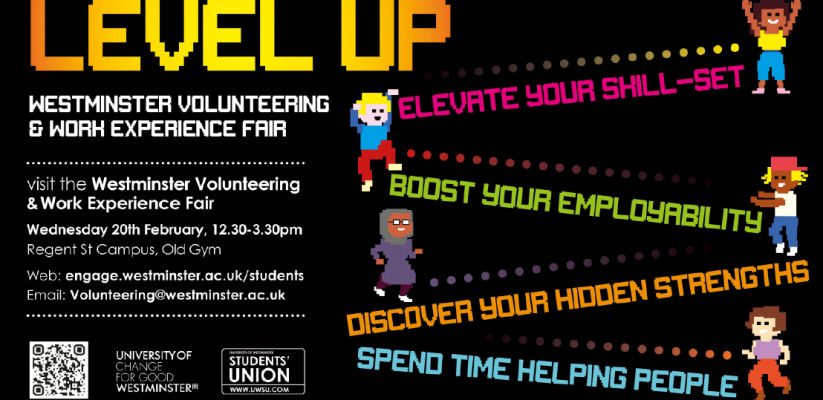 Hello Westminster Business School students!
If you are wondering who will be at the volunteering fair this year, look no further! Today's post is going to be about some of the charities that will be present at the fair that might be of interest to you.
Brightside is a social mobility charity, creating inspirational mentoring relationships which help young people make life-changing decisions. Their mentoring introduces young people to opportunities from employers and universities so they can develop the knowledge and confidence they need to succeed. Their mentors get the satisfaction of making a real, positive difference to somebody else's life.
Housing for Women is a charity and housing provider with a mission to empower women and challenge inequality. They provide a unique blend of housing and support services for women and their families in London. They support women through affordable housing, help women and children escaping domestic abuse, survivors of trafficking, women leaving prison and older women.
TES Youth is a Social Enterprise and NFP organisation and stands for Training, Employment Opportunities & Social Development for Youth. Their aim is to tackle and reduce youth unemployment by equipping and empowering young people with soft skills, knowledge and professional skills.
Crutch Haringey is a Big Lottery Funded Help through Crisis project delivered by Citizens Advice Haringey. The project provides support to local residents living in financial hardship. By drawing on the expertise of people with lived experience of crises and working with partner organisations, they provide advice and practical help for people in their borough who need it most, supporting them to get back on their feet again.
Positive East has been on the forefront of HIV service and care for over 26 years; supporting people from point of HIV diagnosis to longer term care. Their mission is to to improve the quality of life of individuals and communities affected by HIV – they have developed a holistic range of health and well-being programmes from counselling to workshops to HIV testing and prevention.
Human Appeal is a British international development and relief charity. It is made up of a diverse staff and works in 25 countries. It runs targeted poverty relief programmes that ranges from emergency response (both in the UK and abroad) to sustainable development projects.
Southwark Cathedral is an Anglican Cathedral on the south bank of the River Thames, set in the heart of a changing and thriving community. They aim to involve volunteers fully in the work of the Cathedral, with the principal objective being to further the mission and ministry of the Cathedral.
Diabetes UK is a British-based patient, healthcare professional and research charity. They are one of the leading UK charities that cares for, connects with and campaigns on behalf of all people affected by and at risk of diabetes.
These are just some of the charities that will be present at the fair. If you would like to know more about all 47 charities that will be present at the fair or know more about the fair, watch out for the fair booklet to be released soon. You will be notified through the e-newsletter.
What are you waiting for? Sign up to the fair HERE!
Venue: Old Gym and Deep End , Regent Street Campus.
Location:  309 Regent St, Marylebone, London W1B 2HW
Time: 12.30 -3.30 pm.
Date: Wednesday, 20/02/2019
---
To get involved, please don't hesitate to contact the Volunteering Services.
Email: volunteering@westminster.ac.uk
Phone: 020 3506 6112
Book a 1-2 1: https://engage.westminster.ac.uk/students/login?ReturnUrl=%2f
Regular Volunteering: https://engage.westminster.ac.uk/students/login?ReturnUrl=%2f
One-off Volunteering: https://goo.gl/roSK3u
Latest posts by Jayashree Padmanaban (see all)