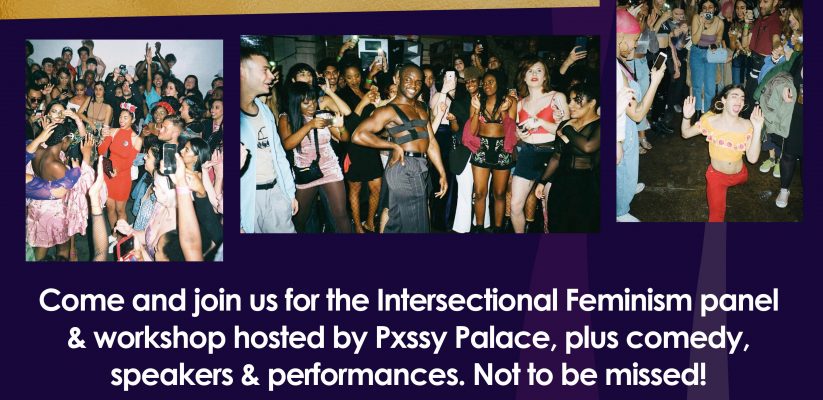 In celebration of International Women's Month; the LGBTI+ Students' Society, the LGBTQ Staff Network, and the Students' Union Women's Officer at Westminster, will be collaborating to host an evening of 'Intersectional Feminism'.  The event, which consists of a panel discussion and workshop, will be facilitated by Pxssy Palace and will include comedy and other exciting performances.
Intersectional Feminism is discussed in critical feminist theories and examines how oppressive institutions (racism, sexism, homophobia, ableism, xenophobia, classism, transphobia) are interconnected. In spite of intersectional feminism being one of the trendiest buzzwords of the moment, its popularity has obscured two main facts; it is decades old and it is pretty straightforward.
This event is free and open to the public.  Join Pxssy Palace at the Little Titchfield Street campus for this thought provoking panel discussion demystifying one of the most important concepts of modern feminism. Attendees will have the opportunity to consider the intersections in their own lives and engage with what it really means.
Pxssy Palace is a DJ and Arts collective that prioritises women and femmes of colour and other queer, intersex and trans-people of colour (QTIPOC).  Situated at the intersection of political activism and the best club night in London, Pxssy Palace is a vision of what the future of nightlife should be.
If you're a Westminster student or staff member remember to walk with your Westminster ID to the event.  Not a Westminster student or staff member?  That's OK, just register here for a free ticket, 24 hours before the event.
Don't miss it!
Title: Intersectional Feminism Panel by Pxssy Palace 
Date: Friday 22nd March
Time: 18:00 – 22:00
Location: Portland Hall, Little Titchfield Street Campus 
For more information on the University of Westminster LGBTI+ society find us on Facebook, Instagram and Twitter
Berekhet engages students and third sector organisations to explore volunteering, voluntary work and social enterprise for the mutual benefit of personal, professional and community development. Through this role, Berekhet contributes to achievement of the University's CSR's key objectives linked to Community Engagement, Students' Employability and Experience.
Latest posts by Berekhet Berakhy (see all)