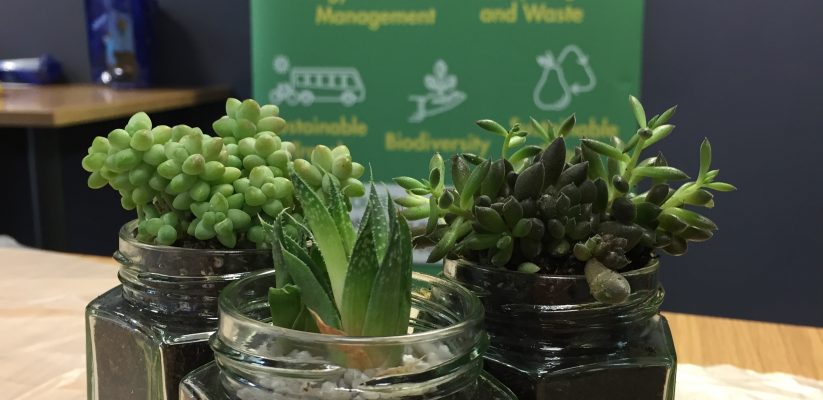 We've thrown together some of our favorite moments from Sustainability Week
Meat Free Monday
On Monday we focused on ways to reduce our carbon footprint. Reducing the amount of meat we eat is the biggest action we can take to reduce our carbon on a daily basis.
So we kicked off the week by only serving vegetarian meals across every campus. This resulted in 260 meat free meals being sold! By choosing to have one meat free day a week you can save 2.5 tonnes of CO2 and 500,000 litres of water over a year!
Our award winning Chef from Aramark, Nick Thwaites (image on the right), created the Chow Patty Corner for our Meat Free Monday. This consisted of a delicious range of Masala dishes.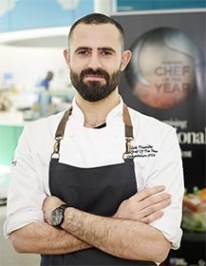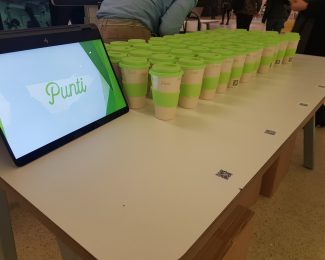 We also had Punti, a company that rewards you for making sustainable choices, handing out free reusable coffee cups!
They handed out 400 cups at New Cavendish Street & 500 at Marylebone. Make sure took check out their app to find out what rewards you could earn for choosing more sustainable options.
Using a reusable coffee cup everyday is a small action that can have a big impact if everyone does it!
FairTrade Pancakes
Pancake day! We wanted to test our pancake flipping skills on tuesday and set up a stall in New Cavendish Street. It was a huge success handing out over a 100 free pancakes to students, its safe to say our Fairtrade ingredients went down a treat.

Our first growing space workshop took place at Marylebone where we were sowing seeds a range of seeds from carrots to runner beans.
Those that attended got to take away some some plants to keep by their bedroom windows whilst the weather warms up. We look forward to seeing you at the next workshop to plant those grown up seeds into the raised beds.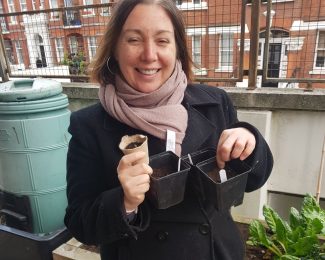 Waste Wednesday
Bywaters, our waste management contractor and recycling experts, joined us on Wednesday with their recycling game demonstrating what can and cannot be recycled.
Recycling Champion
Congratulations to Lorenzo Marchesan who won the recycling challenge on the day! He complete the challenge in an impressive 36 seconds! Meaning he is the lucky winner of the chocolates that were up for grabs.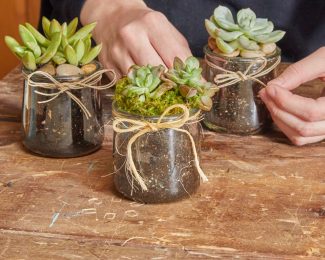 We ran a series of eco-crafternoons for staff. We reduced our waste production by re-purposing some old bottles and jars to create some desktop plants, bringing some life onto staff desks.
30 Staff members joined us for the workshops and we got loads of great feedback. The guys especially liked the idea of using old beer bottles as plant pots. 
Smoothie Life
To raise awareness of us relaunching the cycling newsletter we set ourselves up in The Learning Platform at Marylebone; over 50 students enjoyed a free smoothie and signed up to the newsletter.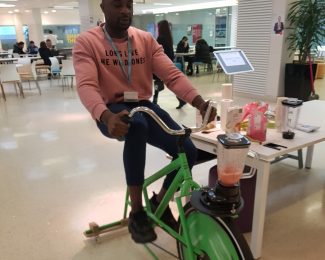 To sign up to the newsletter email us at sustainability@westminster.ac.uk
There will be loads of great content in the newsletter from events and workshops to updates about the universities cycling facilities. We also encourage you to give us your feedback on the current facilities and changes you'd like to see!
Latest posts by Jordan Lamb (see all)